Richard Osman: '7 things TV has taught me…'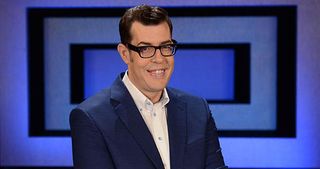 (Image credit: BBC/Remarkable/Kieron McCarron)
As Two Tribes returns for series three, Pointless star and TV producer Richard Osman reveals what he's learned from his life in telly…
1. Never go to Midsomer "If you saw Midsomer in a brochure you'd think it was a lovely place in the middle of the Oxfordshire countryside. You might book a holiday in a nice country cottage, but you're almost certainly going to be murdered, so that's not the perfect weekend break. The same is true if you're in America and you see Jessica Fletcher – just get out of there as quickly as you can. I love Midsomer Murders and Murder She Wrote, though. I'll watch anything with a murder in it."
2. Suits are slimming "There are lots of presenters, including me, who only ever wear suits and there's only one reason. It's not because they think they look smarter, it's because they're amazingly flattering. It's only the youngsters who can wear skinny jumpers, while rest of us men over 40 will cling to those suits till the day we die. It's deference to our middle-age spread. William Shatner always used to wear a corset beneath his Star Trek uniform, but if he could have worn a suit he would have done."
3. TV belongs to the viewers "Films belong to actors and directors, but viewers have such power in television because it's a really immediate medium and people care about it so much. TV audiences instantly sniff out a host who is not authentic or a show that doesn't work. If you're presenting a programme you have to try to be yourself, not a nicer or nastier version of you. I think that's where Xander [co-host and friend Alexander Armstrong] and I were so lucky with Pointless, because it's a format that allows us to just be us."
4. Be careful what you call your quiz show "If you call your show Pointless, people will shout that out to you in the street for the rest of your life. I've spotted this. I can't regret giving the show that name because you need to have a gimmick, but I do hear that word a lot as well as, 'You're tall!' It's nice, but I always find it unusual when people shout at me. Sometimes they yell out from miles away and I'm never sure what they want me to do in that situation. Should I wave? Should I tell them it's a good joke? One day they'll stop and I shall miss it."
5. People love to play along "I really wanted Two Tribes to be a proper old-fashioned quiz show that had loads of quickfire questions in it, just like Fifteen to One used to be. I think that's really important because people love to test and challenge themselves. I also work on 8 out of 10 Cats Does Countdown and it's so fascinating because we did that as a one-off special and we've now made 40 episodes. Although it's obviously funny there's also a game in the middle of it and audiences love that – that's why the show has really taken off."
6. Clarice Cliff jugs are worth a fortune "I watch endless episodes of shows like Flog It!, Celebrity Antiques Road Trip and Bargain Hunt, and when a bit of Clarice Cliff comes along, blimey, they get very excited. As soon as I see it coming out of the tote bag I think, 'Hello, [Flog It! host] Paul Martin is going to be interested here, because that is a piece of Clarice Cliff. Unless I'm very much mistaken someone's about to take home £250 at auction.
"I'm not really a ceramics man, but I absolutely love those moments. Unfortunately, I can't do Celebrity Bargain Hunt because I'd have to go on with Xander and he would never say yes. He's classier than I am."
7. Don't meet your heroes... unless they're the Chuckle Brothers "Celebrities are like everyone else: most of them are nice and some of them aren't. I think there's a lot of fun to be had in not meeting your heroes, because it's rare that people live up to your expectations. However, I did meet the Chuckle Brothers and I still love them, so sometimes it works! They've been on Pointless Celebrities three times and my worship of them is undimmed.
"Last time we tried to launch a campaign to get them knighted, but so far no luck. I still have ambitions in my life and 'Sir Paul and Sir Barry' is one of them."
Two Tribes returns to BBC2 on
Get the What to Watch Newsletter
The latest updates, reviews and unmissable series to watch and more!