Sherlock's Andrew Scott: Being gay 'is just a fact'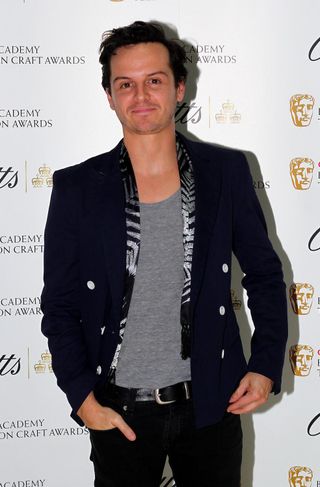 Sherlock star Andrew Scott says he doesn't need to be 'secretive' about his sexuality.
The actor, 37, who shot to fame as Moriarty in the TV adaptation of Arthur Conan Doyle's detective series, said that he did not want to make a big deal about being gay, but he didn't want to hide it either.
He told The Independent: "Mercifully, these days people don't see being gay as a character flaw.
"But nor is it a virtue, like kindness. Or a talent, like playing the banjo. It's just a fact.
"Of course, it's part of my make-up, but I don't want to trade on it. I am a private person; I think that's important if you're an actor. But there's a difference between privacy and secrecy, and I'm not a secretive person.
"Really I just want to get on with my job, which is to pretend to be lots of different people. Simple as that."
The actor said he was happy that his career had taken off after appearing in Sherlock, which will return for a third series early in the New Year.
"Sherlock has changed all our careers, and I'm really pleased about that. It gives you the benefit of the doubt because executives like to see recognisable faces.
"It was overwhelming to be on a TV show that is quite so popular. That took me totally by surprise," he said.
"There is this impression that the fans are crazy, but they're not - they're very respectful. They don't overstep the mark.
"I get a lot of fan mail. Of course, some of it is a bit creepy, but mostly it's very moving and creative."
Get the latest updates, reviews and unmissable series to watch and more!
Thank you for signing up to Whattowatch. You will receive a verification email shortly.
There was a problem. Please refresh the page and try again.