Special Forces finale: who were the final two left standing?
Many people wouldn't have predicted this duo to be crowned the winners at the beginning of the season.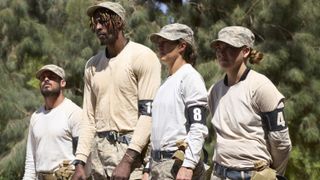 (Image credit: Pete Dadds / FOX)
After the inaugural season of Special Forces: World's Toughest Test wrapped on Wednesday, March 1, only two people proved to be tough enough to survive all of the grueling tests (as determined by the trained directing staff).
These two celeb recruits managed to outlast 14 other contestants, which included Olympians, professional athletes, reality stars and even a Spice Girl. So which two people were announced as the winners in the Special Forces finale? Let's just say, their victory was quite the nod to 2023's Women's History month.
Who wins in the Special Forces finale?
In the last episode of the season, the final four of the competition consist of Danny Amendola, Dwight Howard, Carli Lloyd and Hannah Brown. The challenge placed before them is to survive a 12-hour interrogation at the hands of the directing staff.
Essentially, they are placed in tight holding cells, having to endure the cramped quarters and painfully annoying sounds, only to be let out occasionally throughout that time to be questioned about why they were theoretically wandering around the desert at night. The celebs' goal is not to crack under pressure and to stick to the cover story they were provided.
For Amendola in particular, being confined in the cell was incredibly difficult and exhausting. Ultimately, after nearly seven hours of being detained and questioned, he decided he'd rather leave the competition. With his departure, it left three celebs to compete.
Now for those that remained, they were on course to successfully ride out the 12-hour stint. However Howard seemed to be a little confused with the fact that he had to not only survive the tight space and noises, but he also had to remember his story for why he was in the desert and not crack. The directing staff ultimately felt he failed to hold up during interrogation.
In the end, only two successfully complete the day's challenge and are deemed the "toughest recruits." The winners of Special Forces are Olympic gold-winning soccer player Carli Lloyd and Bachelorette alum Hannah Brown.
Given her athletic training, Lloyd's place in the winner's circle is not too surprising. However, Brown has managed to consistently shock viewers all season long with her ability to survive the directing staff's mind games and her relentless drive to succeed in every physical obstacle thrown her way. Again, Brown lasted longer in the series than other Olympians Nastia Liukin and Gus Kenworthy and professional athletes Amendola, Howard and Mike Piazza.
Special Forces fans react to the season 1 winners
While fans are happy for both Lloyd and Brown, Brown's "surprise" victory is really being celebrated on Twitter. Take a look at what viewers have been saying.
If you missed the Special Forces: World's Toughest Test finale, you can watch it now on Hulu.
Get the What to Watch Newsletter
The latest updates, reviews and unmissable series to watch and more!
Terrell Smith has a diverse writing background having penned material for a wide array of clients including the federal government and Bravo television personalities. When he's not writing as Terrell, he's writing under his pseudonym Tavion Scott, creating scripts for his audio drama podcasts. Terrell is a huge fan of great storytelling when it comes to television and film. Some of his favorite shows include The Crown, WandaVision, Abbot Elementary and Godfather of Harlem. And a fun fact is he's completely dialed into the TLC 90 Day Fiancé universe.