Special Forces: things get a bit too scary for one celeb
Plus, two Olympians clash, with one tucking out of the show.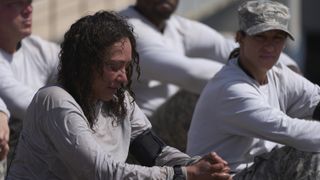 (Image credit: Pete Dadds / FOX)
After another week of grueling activity, Special Forces: World's Toughest Test once again proved to be too much for some of the celebrities. While in the premiere episode, four of them packed their bags, three due to medical emergencies, the episode airing on January 11, saw another three leave. But not because they were injured or sick, just because they no longer wished to be in the wild with the other contestants.
Who left in week 2? Well, let's get right to it. (Apologies in advance for some of our puns, just couldn't help it.)
The first one to call it quits in episode 2 was none other than Jamie Lynn Spears. Things proved to be a bit too "Toxic" for the younger sibling of Britney Spears, as she found that trying to prove herself was not worth time away from her kids. The mother of two felt guilty not being around her children and opted to leave the show to return to them. While her reasons for exiting may not have been well-received by everyone, "Sometimes" a mother has to do what she feels she has to do.
Next up to flip her way off the Special Forces canvas was the Olympic gold medalist, Nastia Liukin. Given the rigorous training she went through to be a world-class gymnast, her exit was a surprise to viewers. The only thing more shocking was the circumstances around which she left.
It all started when the directing staff agents informed the celebs that their challenge for the day would be to hold their breath underwater for 20 seconds. Essentially, each of them had to get into a car submerged in water and sit there until time passed. Unfortunately for Liukin, she's claustrophobic and the idea of being trapped in a car was too much for her. While you'd think her fellow castmates would be supportive of her, fellow Olympian Gus Kenworthy called her out for being scared and was not moved by her reaction, feeling she wanted to quit a few challenges prior.
Liukin eventually managed to find the strength to successfully complete the underwater task, but unlike the other celebrities, she had a directing staff agent sit in the car while she did it. Instead of seeing this feat as a win, she beat herself up for receiving "special treatment" and thought other contestants somehow thought less of her. Despite Gus, of all people, lobbying for her not to quit, she opted to go home.
Last, but not least, is Mel B. Things proved too scary for the Spice Girl and she too waved "Goodbye" to Special Forces. The events around her departure seemed to boil down to the fact that while the celebs are on the show they are not allowed to have contraband, which includes cigarettes. Mel B is a smoker and has had a pack of them with her since the start of the series.
Shortly after the directing staff was made aware that she's been smoking, she claimed to have achieved enough of what she set out to accomplish and left. We'll let you draw your own conclusions here on this situation.
Special Forces fans react to week 2's round of departures
It looks like Special Forces viewers had plenty to say about Spears, Liukin and Mel B leaving. They also weren't happy with Gus dueling it out with Nastia. Take a peek at what they've been saying.
Special Forces: World's Toughest Test continues to air live on Wednesdays on Fox. Episodes become available to stream the next day on Hulu.
Get the latest updates, reviews and unmissable series to watch and more!
Terrell Smith has a diverse writing background having penned material for a wide array of clients including the federal government and Bravo television personalities. When he's not writing as Terrell, he's writing under his pseudonym Tavion Scott, creating scripts for his audio drama podcasts. Terrell is a huge fan of great storytelling when it comes to television and film. Some of his favorite shows include The Crown, WandaVision, Abbot Elementary and Godfather of Harlem. And a fun fact is he's completely dialed into the TLC 90 Day Fiancé universe.
Thank you for signing up to Whattowatch. You will receive a verification email shortly.
There was a problem. Please refresh the page and try again.