Special Forces proves too tough as four celebs forced to pull out
In the first week of the show, a quarter of the cast called it quits.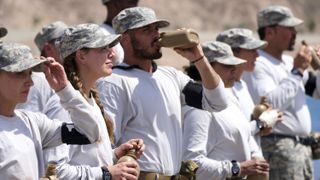 (Image credit: Pete Dadds / FOX)
There was a lot of buzz about the new reality show Special Forces: World's Toughest Test. While the idea of celebrities stepping outside of their comfort zone to participate in a competition isn't necessarily unique, the new series was being promoted as the "toughest test of their lives." It's so far proving to be true as the challenges make Dancing with the Stars look like a cakewalk.
Now although Special Forces: World's Toughest Test series premiere provided an interesting two hours of television, it also left viewers questioning if the series was perhaps too tough as four celebrities quit in week one, three of leaving the competition due to medical injuries.
So just who are the Special Forces cast members that went home? Here's what we know.
Four celebrities quit Special Forces: World's Toughest Test in week one
Let's start with the medical withdrawals from the show. First up is Dr. Drew Pinsk. The famous rehab doc was able to make it through the first challenge of the competition fine. However, he became noticeably ill prior to the start of the second challenge and was later diagnosed with severe heat exhaustion. With that being the case, he wasn't cleared to continue on in the competition and was forced to quit.
Another celeb sidelined because of medical concerns was Kate Gosselin. The Jon & Kate Plus 8 star was successful in overcoming her fear of heights and water to do the first challenge, but she injured herself in the process. Not long after jumping from the helicopter into the water, she complained of excruciating neck pain. It was suspected she may have broken her neck, but exited the competition to get a more thorough assessment.
The last celeb to go home because of an injury was the "This Is How We Do It" singer, Montell Jordan. He actually made it to the final challenge of the night, but he hurt himself while hitting the padded combatant volunteer. It's believed he broke his thumb as he was unable to grip anything with his injured hand. He later stated on Twitter that he tore the main ligaments in his thumb on his dominant hand.
Now one celeb that left the competition without suffering a medical setback was celebrity chef Tyler Florence. He allegedly promised his wife that he wouldn't get hurt on the show and he assumed he would do just that if he participated in the rope challenge, which required celebs to balance across a canyon using a harness and two ropes. Even though the other cast members and special forces operatives conducting the training respected his decision to leave more or less, it doesn't look like viewers were as gracious.
Special Forces: World's Toughest Test fans react to the week one exits
Check out what viewers have been saying about a quarter of the cast leaving the show in the first week. As we mentioned, Tyler Florence isn't finding much sympathy among Twitter users for his decision. Take a look.
Special Forces: World's Toughest Test continues to air Wednesdays on Fox. Episodes become available to stream the next day on Hulu.
Get the latest updates, reviews and unmissable series to watch and more!
Terrell Smith has a diverse writing background having penned material for a wide array of clients including the federal government and Bravo television personalities. When he's not writing as Terrell, he's writing under his pseudonym Tavion Scott, creating scripts for his audio drama podcasts. Terrell is a huge fan of great storytelling when it comes to television and film. Some of his favorite shows include The Crown, WandaVision, Abbot Elementary and Godfather of Harlem. And a fun fact is he's completely dialed into the TLC 90 Day Fiancé universe.
Thank you for signing up to Whattowatch. You will receive a verification email shortly.
There was a problem. Please refresh the page and try again.