Strictly Come Dancing: The show's most entertaining contestants - ranked!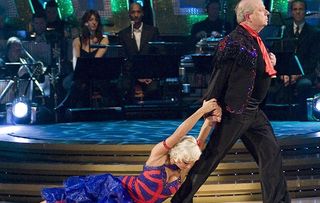 (Image credit: Press Association Images)
Strictly Come Dancing has given us some amazing laughs!
While this lovely lot might not have been the best dancers in the competition, they have become etched on Strictly Come Dancing fans' minds over the years for their pure entertainment value. Okay, so they might not be scoring perfect 10s every week, and they know they're not going to win, but they have put a smile on our faces, and that's why we love them! Here we've ranked out top 6 Strictly stars with the best entertainment value…
6. Scott Mills - Samba
It's not every day you see Sebastian the crab dancing with the Little Mermaid, but Scott's Disney-themed samba to "Under the Sea" bought just that to Saturday night TV in 2014 when he was partnered with Joanne Clifton. Scott knew he wasn't the best dancer, but admitted he was ready to embrace the spandex and fake tan, and we couldn't love him more for it.
http://www.youtube.com/watch?v=7xc5iVxP2R0
5. Alison Hammond - American Smooth
Alison's infectious laugh and zest for life made her the life and soul of series 12. She bought energy, humour and enthusiasm to every dance that she preformed with professional partner Aljaz Skorjanec, and loved the sequins more than anyone.
Along with the brilliance that was her Samba routine to "Bootylicious", Alison's funniest moment was when the floaty sleeve of her costume landed on Aljaz's face during their American Smooth performance to "Wuthering Heights" and she couldn't stop laughing!
http://www.youtube.com/watch?v=D421zGrclz0
4. Russell Grant - Jive
Astrologer Russell will go down in Strictly Come Dancing history as the only contestant to be literally fired out of a cannon! This hilarious take on a Jive is what made his time on the dance competition so brilliant. His willingness to throw himself into the show and take on whatever character he needed to for that week made him a huge fan favourite.
http://www.youtube.com/watch?v=iCEhbksKkW8
3. John Sergeant - Paso Doble
The former ITV political editor joined the show with the intention to have fun, but even he admitted it became embarrassing when he continued to get through each week via the public vote, while other - let's be honest, much better - dancers were booted out.
In the end John made the controversial decision to quit the show, stating in his official statement about his departure that: "I'm sorry to say I have decided to leave Strictly Come Dancing. It was always my intention to have fun on the show, but the trouble is that there is now a real danger that I might win the competition. Even for me that would be a joke too far."
http://www.youtube.com/watch?v=urb0dpHJX2w
2. Ed Balls - Gangnam Style
Anyone who watched MP Ed Balls dance a salsa with professional dancer Katya Jones to "Gangnam Style" will remember the moment for ever more. The sheer brilliance of the look of concentration on his face, combined with the lifts that were part of the amazing choreography… well, you've got to give it to the man, he was pure entertainment! In fact, he was so brilliant, he was a very close contender for the number one spot.
https://www.youtube.com/watch?v=Czqtjk_iGFU
1. Ann Widdecombe - Samba
Who could forget the moment that Anton du Beke threw politician Ann around the dance floor at Blackpool like a giant yellow duster? The pair knew they weren't going to win the show, and quite honestly, they didn't even care, but the look for pure joy on everyone's faces as they performed their Samba in the infamous ballroom was priceless.
https://www.youtube.com/watch?v=oTlRufBoeYg
Strictly Come Dancing 2010 will go down in history as one of the most memorable series to date, purely because of Ann and Anton.
Strictly Come Dancing continues this weekend.
Main pic: Press Association Images
Get the latest updates, reviews and unmissable series to watch and more!
Thank you for signing up to Whattowatch. You will receive a verification email shortly.
There was a problem. Please refresh the page and try again.