Strictly's Anton and Ola: 'We think we know who'll partner who, but we never get it right!'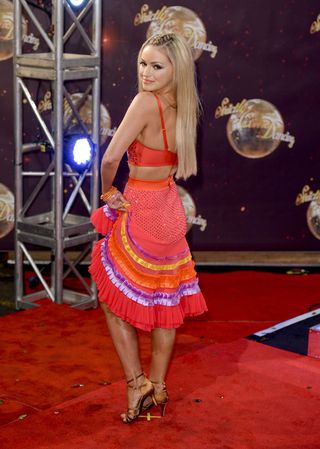 (Image credit: Doug Peters)
It's time to dig out the fake tan and slap on those sequins as another 16 famous faces are about to show off their dancing prowess, or lack of it, on Strictly Come Dancing.
As TV's most sparkly show launches this Saturday and the nervous celebs are paired with their professional dancers, TV Times (opens in new tab) took seasoned pros Anton du Beke (opens in new tab), 49, and Ola Jordan (opens in new tab), 32, for a spin around the floor to find out more…
So are you excited to be back?
Anton: "So excited. I love the launch show where we see who we get. It is hilarious when we stand there having a measure up going, 'Is she about the right height for him?'"
Ola: "Yes, some of the guys this year like Ainsley Harriott and Jeremy Vine are tall and most of us girls are short so that will be funny. We do wind each other up, we think we know who'll partner who, but we don't ever get it right!"
Are you nervous about who you might get?
Anton: "No, I never mind. People say to me, 'Do you wish you could dance with somebody who might win?' Last year it would have been lovely to have danced with Caroline Flack or Pixie Lott, but I wouldn't have had the great time I did with Judy Murray."
Ola: "Every year, when people ask who I want to do Strictly, I say Peter Andre, so I'm glad he's doing it this year, but I'd love to get anyone!"
How are your rehearsals for your professional group dances going?
Anton: "It has been great messing around and our new pros have settled in immediately with the banter as though they've always been there."
Ola: "They have really fitted into our dysfunctional Strictly family! It is hard work doing the rehearsals, but really fun too."
Have you started any special preparations yet like topping up your spray tan?
Ola: "Not yet, but I will before the launch show. As soon as you know you are doing Strictly again you have to prepare yourself. This is the calm before the storm; it takes over your life."
Anton: "I don't do the spray tan because I wear too many clothes, it'd be a waste! But I have makeup, a little touch-up round the gunnels, I do like a bit of powder. I've had my hair done a couple of times so I'm starting to beautify, but it takes longer than it used to.
What's the first advice you give your celebs?
Anton: "We start with, 'This is your left foot, this is your right, try not to get them mixed up.' I tell them how nervous they're going to be, but they don't understand until it starts and then they say, 'I can't feel my legs, I'm so nervous.' The most important thing is that they have a great time. I'd be mortified if my celeb said, 'I didn't enjoy that'."
Ola: "Yes, you want them to say, 'We had fun, I'm going to miss it.' Nerves can take over and there is so much going on in Strictly world that people get stressed and forget to enjoy it."
Are you proud to be among the longest-serving pros?
Anton: "Enormously. Brendan Cole and I have been there from the start and every year we always say, 'Well done old sausage and good luck.' I hope we continue as long as the show runs. I'm the most mature, or I should say experienced, but my enthusiasm gives me energy. You never get tired doing something you love and I've looked after myself down the years so everything is still in working order."
Ola: "I'm so happy to be back for my 10th series and it's extra special after my injury [Ola had knee surgery after getting injured during training for C4's The Jump]. It has been a horrible year; I never thought I would be back dancing, let alone this quickly. My husband James (former Strictly pro James Jordan) helped me a lot and I am pleased with myself that I worked hard and I'm back on my feet. So you just watch me on Strictly!"
Get the What to Watch Newsletter
The latest updates, reviews and unmissable series to watch and more!