Strictly's Kellie Bright: 'Kevin said if I forget the dance I have to walk over to the judges and flirt with Len!'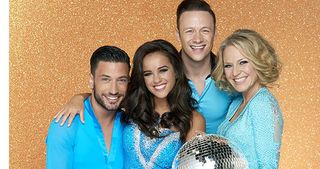 (Image credit: Dan Goldsmith)
It's Saturday morning at Elstree Studios and four of Strictly (opens in new tab) 2015's sparkliest stars have given up their morning off to smile for TV Times' exclusive cover shoot.
The dazzling foursome – EastEnders (opens in new tab) star Kellie Bright, professional dancer Kevin Clifton, former Corrie (opens in new tab) actress Georgia May Foote and Italian new boy Giovanni Pernice – don't seem to mind though, as they excitedly compare notes on training.
Kellie, 39 and Kevin, 32 have been working hard on their first dance, a slick tango, while Georgia, 24 and Giovanni, 25 are exhausted after rehearsing their fast and furious jive. But how are the new couples getting on? And are they ready for the pressure of dancing live on a Saturday night?
How is training going so far?
Georgia: "Being able to dance every day is amazing, but I'm so tired and hungry – I'm having sports massages and lots of hot baths because I'm in agony! I keep finding sequins everywhere at home too. Even my boyfriend [Corrie star Sean Ward] is covered in glitter!"
Kellie: "I'm loving it but the dance is harder than I thought it was going to be, even walking is difficult! At the moment, we're focusing on drilling steps and making sure I don't tread on Kevin's toes."
Kevin: "Right now we're doing an average of eight hours a day and it's tiring, but your body starts to adapt. I haven't done intensive Strictly training since last year so it's a shock to me as well!"
Are you still pleased with your partners?
Kevin: "Yeah, Kellie and I have the same sense of humour – we're laughing a lot! We'll have to cram in our training around EastEnders, but Kellie's committed to working hard so it's going to be awesome."
Kellie: "I'm so lucky to have Kevin as my partner, he's brilliant, lovely and really patient."
Georgia: "Giovanni has got such a good personality and we're around the same age, so I knew we'd make a good partnership. He's a massive wind-up merchant though, and I'm quite a gullible person so I end up believing his stupid stories! He's an idiot, but he did get us some 'Team GG' T-shirts that I'm really chuffed with."
Giovanni: "I'm really happy with Georgia, because she's cheeky and determined. But I only started learning English in May and now I have to try to understand her Manchester accent. She always speaks in such a funny way, it's not how I learned to pronounce the words!"
Giovanni, welcome to Strictly! Has everyone helped you settle in?
Giovanni: "Yes, in the beginning I was really panicked because I didn't know what I had to do or say, but the other pros have given me lots of advice, especially Anton – he's hilarious! Kevin and Aljaz have made me feel very welcome too. I used to rehearse at the same dance studio as Joanne in Bologna, so she's been like my mother. Everyone keeps asking if we are dating but we're just really good friends!"
Boys, are you up to date with EastEnders and Corrie?
Kevin: [looking sheepish] "I only really watch Match of the Day and sometimes The Great British Bake Off because my wife, Karen, likes it…"
Giovanni: "What is Coronation Street? Georgia said she's in it, but I haven't seen it."
Georgia: "I can't believe this! I don't blame him really, he's Italian."
Kellie: "I quite like the fact Kevin doesn't watch EastEnders – it means he doesn't have any preconceptions of me."
How competitive are you feeling at this stage?
Kevin: "I've come second in the last two series, so I'm always the bridesmaid. Winning this year would be lovely, but we've got a lot of hard work ahead of us."
Kellie: "Kevin's never been in a dance off so if we end up in the bottom two I'm going to feel terrible and completely responsible! It would be hard for me if I felt I hadn't done him justice."
Giovanni: "I know that there are a lot of great couples this year but we are very good too! I have a tattoo in Italian, which translates as 'Born to Win'. This is my first year so I want to do my very best."
Georgia: "Giovanni's so competitive, he really does want to win!"
Kevin, you married fellow pro-dancer Karen this year – congratulations! Do you help each other with choreography?
Kevin: "Sunday is choreography day so we both put our headphones in and dance around each other in the lounge. We work separately, but I'll grab Karen if I can't work out something girly in the dance, and vice versa. Our downstairs neighbours are actually moving out and we think it's because of our Strictly training!"
Are your friends and family excited to see you dance?
Giovanni: "Yes, they are really proud of me, my mother keeps crying. Every time I show her a picture of me on a red carpet or with Georgia she is in tears! She is coming over from Italy for the first live show."
Georgia: "I've got amazing family and friends, we had a party for the launch show to watch it all together. I've had lots of good luck messages from Corrie!"
Kevin: "My parents are dancers so they cannot get enough of it. They're in the audience every week and they're always phoning me. They told me they thought Carol Kirkwood would do well!"
Kellie: "My husband, Paul, is amazing and we've braced ourselves for a busy couple of months. I'm really excited for him to see us dancing."
Kellie, your co-star Danny Dyer has been tweeting about you a lot!
Kellie: "I know, he's so supportive! He finds the idea of Strictly terrifying so he can't believe I'm doing it, but he's behind us 100%."
Kevin: "I can't wait to meet him properly. He called me 'that geezer from Grimsby' on Twitter the other day. I'm looking forward to the rest of his comments!"
How are you feeling ahead of your first dance?
Georgia: "I think I'll be fine once I'm comfortable with the dance. I'm just going to keep looking at Giovanni and he can tell me what to do next!"
Kellie: "I'm not sure how I feel about dancing in front of anybody except Kevin! He told me if I forget the dance I should just walk over to the judges, flirt with Len and then Kevin will spin over and grab me!"
Get ready for a bumper weekend of Strictly on Friday September 25 and Saturday September 26 on BBC1.
Get the latest updates, reviews and unmissable series to watch and more!
Thank you for signing up to Whattowatch. You will receive a verification email shortly.
There was a problem. Please refresh the page and try again.