The Voice quarter-final sees four acts sent home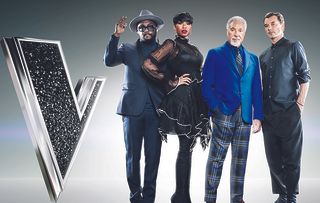 (Image credit: ITV)
Four contestants had their dreams of a record deal cut short tonight after they were sent home from The Voice in the quarter-final.
Four acts were sent home from The Voice tonight after a tense quarter-final.
Tanya Lacey, Nadine McGhee, Sarah Morgan and Jack Bruley will not be singing in next week's semi-final, cutting their dreams of a record deal short.
The twelve remaining acts took to the stage in a bid to wow the mentors and the public with their chosen songs.
The mentors, who each had three acts, were given the chance to save just one, while the general public could vote to save their favourites.
Will.i.am's Tanya Lacey was the first contestant to take to the stage, singing Basement Jaxx's Good Luck.
After the performance, Will said: "People are going crazy on Twitter for you - you are on fire."
Jason Jones was next up, singing a soulful rendition of The Weeknd's I Feel It Coming. After the performance Jason admitted he had been struggling with his voice, but he gave it all he had.
Michelle John was up next, singing disco anthem I'm Every Woman by Chaka Khan.
Will was then faced with a tough decision as he was forced to choose just one of his three acts to take through to the semi-final. The coach decided to pick Jason Jones. He then begged the public to save the other two members of his team.
The next team to strut their stuff were Team Tom. Craig Ward was the first singer to perform, singing The Killers' All These Things That I've Done.
Next up was Nadine McGhee singing A Different Corner by the late George Michael.
Tom's final act were Welsh duo Into The Ark, who sang Jealous, by Nick Jonas.
Choosing the act he wanted to save, Tom said: "All of my acts are so different, that's what makes this so difficult."
After a moment of thought, Sir Tom decided to save Into The Ark.
Team Gavin were up next, with Max Vickers performing first. Max sang The Black Keys' Lonely Boy.
Next up was Truly Ford, singing Ellie Goulding's hit Lights.
Gavin's last performer was 16-year-old Sarah Morgan, singing Royals by Lord.
Gavin decided to take Truly through to the live semi-finals next week.
Team Jennifer were the last team to perform, with Jamie Miller up first. Jamie blew the audience away with his rendition of Rihanna's Love On The Brain.
Jennifer's next performer was Jack Bruley, singing Maroon 5's This Love.
Bookies' favourite Mo Adeniran was the last performer of the night, singing Bob Dylan's Knockin' on Heaven's Door.
Jennifer chose to save Mo, leaving Jamie and Jack to face the public vote.
The Voice continues with the semi-final next Saturday.
Thank you for signing up to Whattowatch. You will receive a verification email shortly.
There was a problem. Please refresh the page and try again.