The Voice: The final Battle Round in full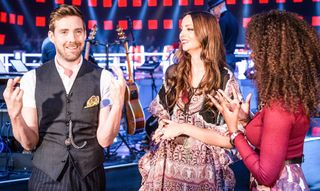 In the second and final Battle Rounds of The Voice, Will and Rita were the only coaches with 'steals' to use up and it was Ricky who benefited when they poached singers from his team…
Vikesh Champaneri was nervous when Ricky him with Letitia George to sing Under Pressure by Queen. He worried that his opponent in the Battle would drown him out with her powerhouse voice, so when Ricky declared Letitia the winner, Vikesh must have thought it was all over for him but he needn't have worried because Will snapped him up for his team.
http://www.youtube.com/watch?v=MiLpGVGfzVk
Ricky also pitted Hannah Wildes against Autumn Sharif and got them to sing If I Ain't Got You by Alicia Keys. He said he felt a little bit sick when he had to choose between them but decided to keep Autumn. He was relieved though when Rita used her last 'steal' to nab Hannah for her team. With all the coaches having used their steals, it meant that Ricky would have to say goodbye to one of the acts in his pairing of the night. After Classical Reflection sang The Living Years by Mike & The Mechanics with Emmanuel Nwamaldi, Ricky decided that he had to let go of the twins to save Emmanuel.
Over in Team Will, it was the Battle of the hunks when Stephen Cornwell was pitted against Jake Shakeshaft. The boys sang Coldplay's Every Teardrop Is A Waterfall but only one could be declared the winner and after some help from the audience, Will chose Jake. At this point, Rita still had a 'steal' but was saving it and that meant having to say goodbye by sexy Steve! Hollie Barrie cut short her honeymoon for her Battle with Sheena McHugh. After the girls sang Sisters Are Doing It For Themselves by Aretha Franklin & The Eurythmics, Hollie's time in The Voice came to an early finish too when Will chose to keep Sheena. Later, when Will paired Andrew Marc with Esmee Denters, he didn't seem very impressed when Andrew's impersonations of Tina Turner and the like. But he was impressed by Esmee when she duetted with Andrew on Every Little Thing She Does Is Magic by The Police and decided to keep her on his team.
Rita's first pairing of the night was Vanessa Hunt and Liss Jone singing Straight Up by Paula Abdul. While Tom said Liss had the edge over Vanessa, Will thought the girls had gone into "scream mode" and Rita said she had been dreading the moment that she would have to choose between them but decided to declare Liss as the winner of the Battle. Rita then put the two duos from her team in the ring, but after The Mac Bros performed Maroon 5's Maps with DTwinz, she decided that the girls cracked it in the Battle, which meant having to say goodbye to the lads from Liverpool. Later, Rita paired NK with Karis Thomas to sing Don't Speak by No Doubt. The coach said, " NK's voice is so smooth he makes me want to have babies. His voice is so sexual. He does it to me." But she didn't let that sway her decision because she decided Karis was the winner of the Battle.
Over in Team Tom, it was a case of chalk and cheese when the coach put Daniel Duke together with Cai Williams. After the guys sang Am I Wrong by Nico & Vinz, Tom decided his fellow Welshman didn't quite have the edge over Daniel. After saying goodbye to Cai, Tom sent Sasha Simone and Lisa Ward into Battle with The Track of My Tears by Smokey Robinson & The Miracles. Afterwards, Tom said, "Lisa is a rock singer who sings with a rock band. Sasha is a shy person and hasn't done a lot of performances. But the person I could take further would be Sasha." Next, Tom got Kim Alvord and Lara Lee sang My Kind Of Love by Emeli Sande, and decided that his gut was telling him that Lara was the winner of the Battle.
With their teams whittled down to eight, the coaches face a bigger challenge in next week's Knockout Rounds. They will have turn their teams of eight into teams of three!
Get the latest updates, reviews and unmissable series to watch and more!
Thank you for signing up to Whattowatch. You will receive a verification email shortly.
There was a problem. Please refresh the page and try again.