The Time It Takes – Everything you need to know about the new BBC1 Saturday night show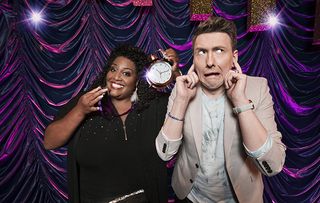 (Image credit: BBC/Hattrick)
Beat the clock! Joe Lycett and Alison Hammond on their fun new game show...
Have you ever wondered which takes longer: filling a pint glass with baked bean juice by filtering the beans through a pair of tights; opening five tins of dog food and putting it in a dog bowl; or unwrapping 20 boiled sweets? If you have, then BBC1's new quiz The Time It Takes is for you!
Hosted by comedian Joe Lycett with This Morning favourite Alison Hammond acting as referee, the eight-part game show asks contestants to choose a task and then, while it is being performed, they must answer as many questions as possible.
The winner competes for a luxury holiday, while losers head home with a tea towel!
TV Times met up with Joe Lycett, 30, and Alison Hammond, 43, to find out more about The Time It Takes
Can you describe the premise?
Joe Lycett: "Have you ever seen Game of Thrones? Well, it's nothing like that! We have three contestants all vying for a holiday. In order to get to the final they have to answer general knowledge questions, but they have to choose their timer – and they can be bonkers!"
Alison Hammond: "It's really simple and really good! I often perform the timed tasks, but sometimes we have video footage of celebrities performing them. You'll see Ainsley Harriott using a leaf blower to blow a ball into a football net!" [Guest stars appearing later in the series include Debbie McGee and Paul Chuckle.]
Have you practised the tasks?
Alison: "Yes, I practised every single one. I have to do them to the fastest of my ability and so do the celebrities."
Joe: "I love how simple and silly it is. There was a task with custard that I'm surprised Alison didn't say no to, because she really hates custard!"
Are you good timekeepers in real life? [Joe and Alison burst into laughter, as Alison was a few minutes late for our interview.]
Joe: "Are you asking Alison who was late and me who was early?!"
Alison: "That pretty much sums up the whole thing!"
Are you nervous about hosting a Saturday evening show?
Joe: "I am a little, because it's a level of exposure I've not had before. And this is the first time I've hosted a TV show. But we had such a blast making it, it's a joyful show."
Alison: "You'd never guess it was Joe's first time hosting, he was so funny. Before filming he talked to the audience and had them in the palm of his hand."
Joe: "You're very kind. I hope the audience at home enjoy it… We'll soon know from Twitter!"
Joe, you're also the new host of The Great British Sewing Bee. Have you finished filming yet?
Joe: "Yes, it's all done. I loved doing it, but I don't know any more about sewing. I thought I might learn one thing! I know what a hem is, but that's entry-level stuff. It's my mum's favourite show and she kept saying, 'Don't do too many innuendoes,' and, 'Don't ruin this for me!'"
The Time It Takes is on tonight on BBC1 at 5.40pm.
Get the latest updates, reviews and unmissable series to watch and more!
Thank you for signing up to Whattowatch. You will receive a verification email shortly.
There was a problem. Please refresh the page and try again.