Top 10 Romantic Movies | No.10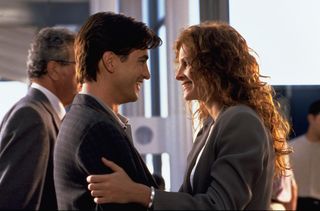 With Valentine's Day fast approaching, singletons and loved-up couples alike will be unable to deny the appeal of a good romantic movie. We have put together a list of the 10 ultimate films about love that will have you grabbing a box of tissues, scoffing down chocolates and curling up on the sofa. Come on, who doesn't like a good love story?


My Best Friend's Wedding , 1997

Director: PJ Hogan
Two friends make a deal to marry one another if they are still single when they are 28. It sounds like something that many people have at least joked about, but this is the reality for Julia Roberts and Dermot Mulroney – except Dermot has just become engaged to dizzy Cameron Diaz. Julia plays a woman on the verge who decides to sabotage the competition with an interesting mix of lies and Karaoke.
Her actions are tragically relatable to anyone who has experienced unrequited love, but inside every crazy woman is a rational one who just wants her friend to be happy - even if he is clearly leading her on a little. My Best Friend's Wedding is undoubtedly bittersweet, just like the chocolate you'll be eating to make yourself feel better.



Best Movie Quote: "Michael… I love you. I've loved you for nine years, I've just been too arrogant and scared to realise it, and… well, now I'm just scared. So, I realise that this comes at a very inopportune time but I really have this gigantic favour to ask of you. Choose me. Marry me. Let me make you happy. Oh, that sounds like three favours, doesn't it?"



The countdown continues... No.9
Get the latest updates, reviews and unmissable series to watch and more!
Thank you for signing up to Whattowatch. You will receive a verification email shortly.
There was a problem. Please refresh the page and try again.