Torvill and Dean on Dancing on Ice final: 'It's anybody's to win!'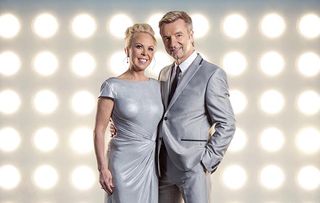 (Image credit: ITV)
Skating legends Jayne Torvill and Christopher Dean give out their awards for Dancing on Ice 2018 and look ahead the Dancing on Ice final
It's almost time for the Dancing on Ice final! After weeks of spins, lifts, twirls, jumps – and headbangers! – the three remaining celebrity skaters are preparing themselves for the final on Sunday night.
Having helped choreograph the routines in previous series, skating legends Jayne Torvill and Christopher Dean took up their positions as head judges on the panel this year. And it seems they've loved every minute.
"I've really enjoyed getting that seat warmed up and having an opinion," says Chris. "I've missed the creative side of helping with the choreography – but the 12-14 hour days, not so much!"
On Sunday night, the celebrities – and their professional partners – will have to pull more show-stopping routines out of the bag to prove they've got what it takes to be crowned this year's champion. And there will be a few surprises in store on the night. Although Torvill & Dean haven't set their skates on the ice all series, it's all-change for the final when they'll treat fans to a special performance.
"Yes, we have dusted our skates off, got the rust off the blades and we will be performing," confirms Chris, with Jayne adding. "We've been training for the past five or six weeks getting ready for it, so we're looking forward to it." But the question on everyone's lips is: will it be a version of their 1984 Olympic gold medal-winning routine, the Bolero? "Bolero's probably in a museum now," teases Chris. "So it will definitely be something new!"
Once this year's winner has been revealed, however, the skating is far from over, as Torvill & Dean will be hosting, judging AND performing on the Dancing on Ice UK tour, starting later this month. "We like multitasking," jokes Jayne. "The tour is on a much bigger scale than the TV show and it's where we'll get to know this year's celebrities more. Past winner Ray Quinn will be on the tour as well – he'll really shake things up among the boys!"
Before that though, ahead of the final, Torvill & Dean have the job of dishing out gongs to this year's skating stars…
SURPRISE PACKAGE
Chris: "I suppose from a viewers' point of view, Kem was a real surprise. He was good on Love Island but you wouldn't necessarily expect him to be good on the cold ice rink. But he's been as hot in the rink as he was on the island!" Jayne: "As we haven't choreographed the routines this year, we don't know what we're going to see each week – so we always get a nice surprise on the night!"
BEST PARTNERSHIP
Jayne: "I think that would have to be Jake and Vanessa. She has done wonders with Jake, they obviously work well together and he listens to her. Not only has she come up with some really interesting choreography but I think she still keeps on at Jake to work on the basics because I can see his basic skating improving as well."
MOST IMPROVED
Chris: "I would have to say Brooke. There seemed to be several weeks where it was a case of: 'Come on Brooke, you've got to get better'. Then, suddenly, a few weeks ago, she did!"
SHOW-STOPPING MOMENT
Chris: "It would have to be Jake's routine from Fairytale week when he got 9.5s across the board – that was definitely a show-stopping moment. It was all put together really well; the concept of it was good and what he was doing was really well constructed. The routine had good flow over the ice, great lifts, great intensity, which made for a complete performance. Jake's 'headbanger' the previous week could have been a show-stopping moment – but he needed a bigger 'bounce' to call it a headbanger!"
MOST DETERMINED
Jayne: "I would say Cheryl Baker because she gave it everything she could. Cheryl's in her Sixties and doing something when you're older is really intimidating. But she worked really hard and really tried."
THE 'SECOND CHANCE' AWARD
Chris: "I'd give this award to Candice. It's always hard for the first person to be eliminated and there could have been more from Candice but she was up against Lemar in the skate-off and, on the night, Lemar was the better skater. Candice perhaps could have improved but we have to judge things on that 'Save Me' skate. Given the opportunity, though, I think Candice could have come back and really developed."
MOST ENTERTAINING
Chris: "I think that's got to be Kem. His storytelling is great; he seems to really 'live' the routines, you can tell through his face. Also, he and Alex seem to have a good relationship and that shows. Kem's like a little on the puppy on the ice – he does everything with so much enthusiasm!"
BEST ROUTINE
Jayne: "I don't actually think we've seen it yet. All of the celebrities are getting better and I just want the improvement in all the remaining skaters to continue – that's what the show's all about really."
AND THE WINNER OF DANCING ON ICE 2018 IS…
Chris: "I think the standard of skating overall has been really good this year. There have obviously been breakout skaters like Jake, who are clearly doing well but, in any competition, if you make a mistake, you can lose it all. So if that happens in the final, there's still that jeopardy and it's anybody's to win!"
The Dancing on Ice final is on Sunday March 11 at 6pm on ITV.
Get the latest updates, reviews and unmissable series to watch and more!
Thank you for signing up to Whattowatch. You will receive a verification email shortly.
There was a problem. Please refresh the page and try again.