TV stars pay tribute to Joe Longthorne after entertainer dies aged 64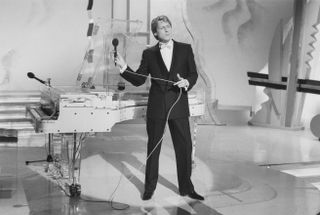 (Image credit: Getty Images)
The singer and entertainer passed away peacefully at home in the early hours of Saturday morning
Tributes have been flooding in for Joe Longthorne after the singer and impressionist died on Saturday morning.
A message on his website said he passed away peacefully in the early hours of the morning at his home in Blackpool.
The post continued, "Joe died in his bedroom, laying in the arms of his devoted husband of 21 years Jamie, with his rosary beads clutched tight to his chest. He leaves behind sister Ann and brother John."
Comedy writer and actor Darren Litten, who is behind hit TV series Benidorm, remembered an "amazing talent" as he paid tribute to the singer.
He tweeted: "Very sad to hear of the passing of Hull born entertainer Joe Longthorne MBE. From first sneaking into seeing him at The Ferry Boat pub in Hessle when I was a kid to watching him play the @LondonPalladium many times I've always been in awe of his amazing talent. RIP."
Darren also shared a link to a YouTube video of Joe performing the Don Black track If I Never Sing Another Song, and wrote: "He came back so many times from such a terrible illness, rest now Joe."
Joe was great at Bassey and Tom Jones. Here he is proving he could do the crooners with ease. Joe Longthorne RIP X https://t.co/ZXsvYuvpf6
— Les Dennis (@LesDennis) August 3, 2019
Fellow entertainer Les Dennis tweeted, "So very sad to hear that Joe Longthorne has died. Worked with him many times. A supreme talent and a nice man. Thoughts with his family."
Paddy McGuiness also paid tribute to the Hull-born entertainer on Twitter after the sad news was announced.
"I was invited to Joe's club years ago. A then frail Joe Longthorne walked on stage and began to speak. He was mumbling, I could hardly hear him and I feared the worse. He then began to sing and totally blew me away! 10 minute standing ovation, what a talented man. RIP Joe," he wrote.
RIP Joe Longthorne great talent & entertainer. Love and prayers to friends and family . 🙏🏻x https://t.co/15dSnwjiFA pic.twitter.com/lRslELZhFr
— John Thomson (@JohnnyThomson2) August 3, 2019
Actress Cheryl Fergison shared, "So sad to hear that another amazing funny talented artist has passed away .. Joe Longthorne ...may you rest now ... no more pain ... sending love to family and friends ... Joe always the fighter right till the end."
Joe, who first came to national prominence on ITV's Search for a Star in 1981, was diagnosed with the blood cancer lymphoma in 1989 at the peak of his career.
"Cancer is not a word you expect to hear when things are going so well," he later said.
"I felt invincible and suddenly out of the blue I felt helpless. I had two choices - to give in or fight. I chose the latter. I got up, dusted myself off and got on with life".
After recovering, he went on to tour the world. In 2005, he received a bone marrow transplant but suffered life-threatening complications and was given last rites by a priest. He eventually recovered and continued to perform.
Thank you for signing up to Whattowatch. You will receive a verification email shortly.
There was a problem. Please refresh the page and try again.