EastEnders spoilers: Jay Brown CHEATS on Lola?
Airs at 7:30 pm on Wednesday 15 March 2023 on BBC One.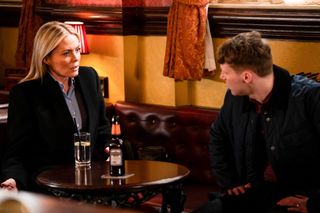 (Image credit: BBC)
Jay Brown faces questions from Lola Pearce in Wednesday's episode of EastEnders (7:30 pm. see our TV Guide for full listings).
Jay Brown has NOT been happy with Emma Harding's reappearance in the Square. She's been confusing his seriously ill wife Lola Pearce Brown with misplaced advice and it's causing trouble.
After Jay had managed to convince Lola to let her daughter Lexi Pearce see a counsellor to help her deal with the stress of Lola's brain tumour, Emma changed Lola's mind, saying she was better off keeping it in the family.
Continuing to clash over what's best for Lola, Emma tells Jay he needs to stop being so overprotective with her, as she needs a bit of space. Jay, however, is worried that Emma doesn't realise how tired Lola is getting and he insists Lola needs to take things very easy.
After being worn down by Emma's arguments, Jay reluctantly agrees to go for a few drinks with Ben Mitchell and Callum Highway while Emma accompanies Lola to the hospital.
When Lola gets to see the doctor, however, she's given some bad news...
Back home, Lola tries to process what she's been told and tells Emma not to disturb Jay on his night out. A concerned Emma goes against Lola's wishes and heads out to bring him home.
The boys are enjoying a few drinks and have been joined by a girl named Shanti, who has sidled away from a hen night that she's not enjoying.
Jay and Shanti are soon deep in conversation and when Emma walks in she is horrified to see Jay apparently chatting up another woman. What she doesn't know is that it's completely innocent and Jay has been telling Shanti all about Lola and how much he loves her.
After enjoying the drinks, Jay gets home in a good mood only to be confronted by a furious Lola!
She reveals that Emma saw him with another woman and she tells a stunned Jay she wants him out of the house!
Whitney Dean steels herself to return to her job on the market, after encouragement from her friends and family to find something to distract herself.
She's been in a bad way ever since losing her unborn daughter after a diagnosis of a chromosomal syndrome and locking herself up indoors has not been helping with her grief.
It turns out that It's just the wrong time to be back out in public, as everyone's chatting about the upcoming Mother's Day and it leaves her feeling anxious.
When she gets a call to say that her baby's ashes are ready to collect, it's the final straw.
Zack Hudson tries to talk to her about collecting the ashes and he's taken aback when she rushes off, saying she was forced to return to work too soon.
After finding Whitney hiding away at home, Zack tries to talk to her about the ashes but she insists she can't handle saying goodbye to Peach.
Stacey Slater and Kat Slater are still at odds after Kat offended Stacey by telling her she'll sort out all her money problems!
An attempt by her mum Jean to get Stacey to see sense and give up on her feud with Kat comes to nothing, leaving Jean at a loss over what to do.
Martin Fowler is back from working abroad and he's flush with cash for a change. After finding out what's been going on between Stacey and Kat, he advises her that being stubborn about Kat's offer only leaves the whole family worse off.
Taking heed of Martin's wise words, Stacey agrees to apologise to Kat. But in true Slater style instead of offering an olive branch, the ladies end up in another slanging match!
Chelsea Fox agrees to a date with Keanu Taylor after he convinces her he won't muck her around again.
But as soon as Keanu's back is turned, a waiting Ravi Gulati moves straight in to flirt with her and Chelsea is flattered.
EastEnders continues on BBC One on Thursday at 7:30 pm.
Get the What to Watch Newsletter
The latest updates, reviews and unmissable series to watch and more!