EastEnders spoilers: Lola Pearce tells Lexi she's dying
Airs at 7:30 pm on Tuesday 31 January 2023 on BBC One.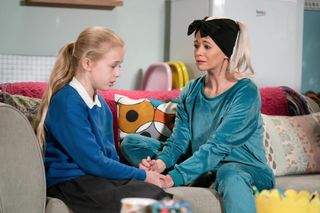 (Image credit: BBC)
Lola Pearce shares her devastating diagnosis with Lexi Pearce in Tuesday's episode of EastEnders (7:30 pm. see our TV Guide for full listings).
Lola Pearce is planning on being honest with her young daughter Lexi Pearce about her brain tumour.
Finding it too tough to distress her daughter by delivering the heartbreaking news, Lola has let her believe that she will recover from the cancer. In fact, the doctors have made it clear that there's nothing further they can do and she's looking at a terminal diagnosis.
But aware that Lexi needs to know the truth, Lola steels herself to confess. As a devastated Lola delivers the news, Lexi finds it difficult to process it.
Instead of crying, she lashes, demanding to return to school and yelling at Lola for lying to her.
After school, Lexi heads to the playground to try and get her head round Lola's revelation. When she's approached by a kindly woman who offers her some comfort, she has NO idea that they mystery woman is her grandma Emma Harding!
When Billy Mitchell approached Lola's long lost mum Emma, she was reluctant to have any contact with her daughter. Lola had been put in care as a teenager after her dad, Billy's son, died.
Emma's curiosity seems to have got the better of her, as she investigates Albert Square. Heading to the salon where Lola works she books an appointment, asking specifically for Lola.
Will Emma finally mend bridges with the daughter she gave up so many years ago?
Denise Fox is thoroughly fed up at home with the latest drama over husband Jack Branning's children. After causing ructions with Lily Slater's family over the young girl's plan to keep his son Ricky Mitchell's baby, Jack ended up pushing Ricky Jnr to move in with his mum Sam Mitchell.
Although she's done her best to try and Jack to calm down and see the bigger picture, he's continued on in his stubborn ways and failed to meet his son - and the Slaters - half way.
Denise is grateful for some advice from Patrick Trueman, who suggests that she needs to find someone to talk sense into Jack if it's not going ot be her.
Approaching Lily's mum Stacey Slater, Denise suggests that they convince Lily's dad Martin Fowler to encourage Jack to accept that the pregnancy is going ahead.
Stressed out by the situation, when Denise bumps into Ravi Gulati, she off loads her troubles.
Denise and Ravi have already been flirty over a few drinks in the Peggy's and despite Denise making it clear she's married, she can't seem to resist him!
Ravi is more than happy to offer her a shoulder to cry on and despite herself, she enjoys the attention.
When she gets back home she finds herself straight back into the drama after finding Jack's daughter Amy Mitchell in tears.
Zack Hudson continues to hide his HIV positive status from Whitney Dean, even though she's having his baby. Zack was only tipped off that he might have HIV when old acquaintance Brett turned up early in the New Year to warn him to get checked.
Whitney has been left feeling abandoned after he suddenly backed off from his promise to be there for her and their child.
Torn up by guilt, Zack wants to help Whitney on the quiet and he asks Kat Slater to give Whitney a buggy he's bought without letting on that it's from him.
Kat is completely confused by Zack's subterfuge, wanting to know why he can't just step up and be there for the baby.
Now that Sam Mitchell is staying in the Square to support her troubled son Ricky Mitchell, Zack worries that she might have another reason for deciding not to move abroad with Ricky Butcher.
He assumes that she might have caught HIV from him when they had their fling. Trying to find out the truth behind her decision to stay, Zack slips up and leaves Sam suspicious. She's had a text from the GUM clinic and it dawns on her that the message was related to Zack.
Struggling with his diagnosis, Zack confesses that he has HIV.
Also, Sonia Fowler hasn't caught on to the fact that Reiss Colwell was hoping to be her new lodger!
EastEnders continues on BBC One on Wednesday at 7:30 pm.
Get the latest updates, reviews and unmissable series to watch and more!
Thank you for signing up to Whattowatch. You will receive a verification email shortly.
There was a problem. Please refresh the page and try again.