EastEnders spoilers: Stacey Slater TERROR over sinister threat!
Airs at 7:30 pm on Wednesday 22 March 2023 on BBC One.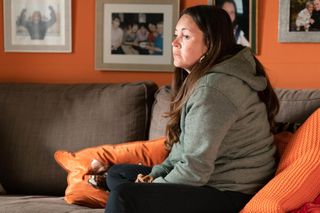 (Image credit: BBC)
Stacey Slater fears for her safety after a horrifying encounter with a loan shark in Wednesday's episode of EastEnders (7:30 pm. see our TV Guide for full listings).
Stacey Slater is on edge after borrowing money from nasty loan shark Shiv. Her money troubles have been mounting in recent months, especially with a new baby on the way after daughter Lily Slater fell pregnant.
After taking various handouts from family, including Kat Slater and Lily's step dad Martin Fowler, her pride stopped her from taking any more. But going to a loan shark was always going to be a bad idea...
After getting together the money to pay off Shiv, she's relieved at the prospect of having him out of her hair. But she's left stunned when after she hands over the cash, he demands another £200 — by tomorrow!
When Stacey is obviously reluctant to hand over anything else to the dangerous criminal, he menacingly threatens her with violence.
How far will Stacey go to find the cash?
Denise Fox has been trying to distract husband Jack Branning from his investigation into Ravi Gulati.
Worried that he may find out about her illicit meet up with ex-con Ravi, when Jack is up all night working on the case she begs him to take some time off.
Despite losing his access to the investigation via Denise, Ravi has come up with another plan, sending flirty texts to Denise's daughter Chelsea Fox.
Chelsea is completely oblivious to what Ravi and Denise got up, let alone the fact that Jack is in the middle of a police investigation into him!
When Denise asks Chelsea to come over for a family games night, Chelsea's housemate Felix Baker does a bit of stirring and suggests Chelsea should bring a plus one.
As soon as Ravi finds out, he invites himself along as her guest.
Denise and Jack are HORRIFIED when Chelsea turns up with Ravi but as they both have secrets about Ravi, neither of them can find a way to tell him to get out.
As the night progresses, a smug Ravi delights in how uncomfortable Jack and Denise are and he starts to make digs...
Zack Hudson is relieved when Whitney Dean agrees to finally have a talk with him after a momentous week, including the unfortunate mix up when Zack did a runner after Whitney kissed him!
After meeting up in the Vic, the couple put aside their differences to have a proper heart-to-heart.
With all their issues now out on the table, they have a big decision to make about their future.
But will it be a future together?
EastEnders continues on BBC One on Thursday at 7:30 pm.
Get the What to Watch Newsletter
The latest updates, reviews and unmissable series to watch and more!