Best Christmas movies on Hulu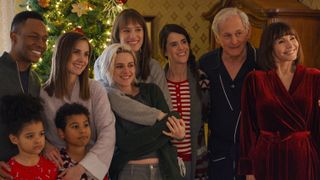 (Image credit: Hulu)
Christmas movies are a genre unto themselves and Hulu has you covered with a range of classics, popular holiday rom-coms and its own Hulu originals celebrating the season. Here's a rundown of some of the best Christmas movies on Hulu right now.
12 Pups of Christmas (2019)
Two things just perfect to warm your heart — puppies and Christmas — are combined in 12 Pups of Christmas. The story sees a woman (Charlotte Sullivan) tasked with finding homes for abandoned puppies before Christmas, though in the process she manages to find love with a co-worker. This is just one of many Christmas movies with dogs that you can enjoy this holiday season.
A Christmas Movie Christmas (2019)
The textbook romantic comedy style "Christmas movie" feels like it is beyond parody at this point, but that's exactly what A Christmas Movie Christmas is trying to do. The ultra-meta film is about Eve, an obsessed Christmas movie fan with dreams of a movie-perfect love story and her cynical sister Lacy, who finds Christmas movies predictable and cheesy. After the two make wishes to Santa Claus, they wake up in a place called Christmas Town and realize they're living in a Christmas movie, and they're both the leading ladies. It's a cute film unafraid of poking fun at Christmas movie conventions, but also leans ridiculously hard into those same tropes to show why people love these films in the first place.
Dear Santa (2020)
Dear Santa puts a spotlight on a bit of true-life Christmas magic, as this documentary film spotlights the 100-year-old "Operation Santa" program that the U.S. Postal Service runs. With hundreds letters to Santa Claus being sent to the Post Office each year, Operation Santa brings the public together to help make children's Christmas wishes come true.
Happiest Season (2020)
Clea DuVall's lesbian Christmas movie starring Mackenzie Davis and Kristen Stewart just about broke LGBTQ+ twitter with the discourse that followed in the wake of its release. Happiest Season is not the surface-level cheesy Christmas love story that so many people wanted it to be, but instead a nuanced albeit sometimes difficult look at how gay couples' lived experiences aren't "just like everyone else." It's a monumentally important film in regard to queer representation in Christmas cinema, and to quote What To Watch's own Leigh Monson, "Happiest Season is a deeply heartfelt film that earns its spot as a holiday staple."
The Holiday (2006)
An all-star cast of Kate Winslet, Cameron Diaz, Jude Law and Jack Black lead this Nancy Meyers-crafted Christmas rom-com that sees Iris (Winslet) and Amanda (Diaz), each having their own relationship issues, decide to trade homes for the Christmas holiday, where they each then meet a local guy they fall in love with. The romance is definitely more central than the Christmas setting in The Holiday, but the charm of the film from the cast and Meyers makes it easy to forgive.
Holly's Holiday (2012)
Have you seen Mannequin? Have you seen A Mom for Christmas? Good. We're on the right track. Holly is an advertising executive feeling a bit down that she's going to be spending yet another Christmas alone. After she smacks her head outside of the storefront, one of the mannequins in the store window comes to life in the form of the ultra-perfect Beau. Now, Holly seems to have found her "perfect man," but at what cost? Will she truly find happiness with this mannequin or will this mannequin just serve as a MacGuffin to teach her to appreciate what she already has? Your guess is probably the correct one.
Jingle All the Way (1996)
Mileage may vary depending on if you're watching Jingle All the Way as a kid or parent. For kids, its a fun physical comedy that sees Arnold Schwarzenegger and Sinbad get into a bunch of hilarious hijinks. For parents, it might cause from Black Friday flashbacks of rushing to get this year's hottest toy. Jingle All the Way may best be described as a Christmas movie guilty pleasure, perhaps best illustrated when Schwarzenegger punches a reindeer.
The Man Who Invented Christmas (2017)
Charles Dickens' A Christmas Carol is the most famous Christmas book ever written and has been adapted for TV and movies countless times. The Man Who Invented Christmas, however, depicts the creation of arguably Dickens' most famous work. Dan Stevens stars as Charles Dickens, who in need of a hit, sets out to write a new Christmas story in a short window. Christopher Plummer co-stars as Dickens' imagined version of Ebenezer Scrooge.
National Lampoon's Christmas Vacation (1989)
Considered as one of the funniest Christmas movies ever made, National Lampoon's Christmas Vacation sees Clark Griswold (Chevy Chase) and the rest of the Griswold family try to have the best Christmas ever as they welcome extended family, put up elaborate Christmas decorations, go sledding and eagerly await a Christmas bonus.
Naughty & Nice
Tilky Jones plays Pepper (no, seriously) is a cynical and cocky L.A. radio host who takes it too far and upsets an advertiser with his on-air antics and is shipped off to a small town in Colorado as punishment. Upon arrival, he is assigned to co-host a love doctor style advice show hosted by Sandra Love (Haylie Duff). As to be expected by the title and the "opposites attract" premise of the film, the two are constantly bickering on air-which becomes the most popular show in town. You can predict the ending from a mile away, as with most holiday romcoms, but this one is a fun journey getting to the destination with some excellent humor throughout.
Rare Exports: A Christmas Tale
Without any exaggeration, Rare Exports is one of the best Christmas horror movies of all time. In this Finnish film exposing the truth about Santa Claus, a small boy named Pietari (Onni Tommila) and his friend Juuso (Ilmari Järvenpää) accidentally discover the tomb of St. Nick, but he's a vengeful monster and nothing like the holly jolly depiction they've always known. Pietari's father inadvertently captures a feral old man in a wolf trap, who very well may be the missing link as to why reindeer are being killed, children are disappearing, and just what the hell those kids found in the tomb.
Trolls Holiday in Harmony (2021)
Trolls Holiday in Harmony is a brand new holiday special featuring the cast and characters of the popular Trolls animated movies. In it, Queen Poppy plans the first annual Trolls Kingdom Secret Holiday Gift Swap, but things don't go according to plan. Anna Kendrick, Justin Timberlake, Kenan Thompson, Rachel Bloom, Travis Scott, Kunal Nayyar, Anthony Ramos, Kyline Jenner and Da'Vine Joy Randolph all provide their voices for the animated movie.
BJ Colangelo is an award winning filmmaker and film analyst specializing in dismissed cinema and television. She writes about horror, wrestling, musicals, adult animation, sex and gender, kicking pancreatic cancer's ass, and being a fat queer in places like Fangoria, Vulture, The Daily Dot, Autostraddle, Playboy.com, and a handful of books college students get assigned to read. She's also the co-host of the teen girl movie podcast, This Ends at Prom, with her wife, Harmony.

Get the latest updates, reviews and unmissable series to watch and more!
Thank you for signing up to Whattowatch. You will receive a verification email shortly.
There was a problem. Please refresh the page and try again.