Best comedies on IMDb TV
These comedies are available for free on IMDb TV if you're in need of a laugh.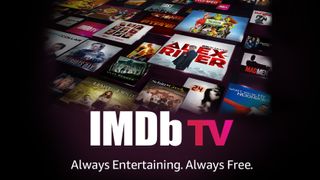 (Image credit: Amazon)
IMDb is home to practically all the movie information that you could ever want, and with IMDb TV you can now watch a bevy of the best movies and shows via the internet movie database, including some of the best comedies around.
IMDb TV is a free, ad-supported (AVOD) streaming service. All you need is to create a free IMDb account and you can start watching all of their available titles through the website or streaming platforms like Roku or Amazon Fire TV and other smart TVs.
Here's a peek at some of the best comedies that are currently available on IMDb TV.
Accepted (2006)
The college comedy is a time-honored tradition that goes back all the way to the Marx Brothers with Horse Feathers. Accepted fits right into the mold with its story of loveable losers who, after failing to get into any college, decide to create their own.
Playing like a more earnest version of Animal House, Accepted checks off many of the classic college comedy boxes — the free-spirited heroes vs. the uptight frat boys, wacky teachers and outrageous parties. We've seen it all before, but fresh-faced Justin Long and Jonah Hill help bring a sincere angle to the film.
Blake Lively, Lewis Black, Anthony Heald, Columbus Short, Maria Thyer and more co-star.
All of Me (1984)
Steve Martin and Lily Tomlin are an iconic duo in All of Me, a body-inhabiting comedy directed by Carl Reiner. In it, a dying, selfish millionaire (Tomlin) attempts to have her soul transferred into the body of a younger woman, only for things to go very wrong and instead she winds up sharing the body of her lawyer (Martin).
The scenario gives Martin some great opportunities to perform physical comedy, while the verbal sparring between Tomlin and her co-star is fantastic. In fact, each of them were nominated for Golden Globes for their performances.
Both Martin and Tomlin were two of the biggest comedy stars of the 80s, but All of Me was the only time they worked together.
The Big Lebowski (1998)
For as prevalent as The Big Lebowski has been in our culture over the last 20 or so years, it's easy to forget that the film wasn't a hit when it first came out in theaters. The Coen brothers' comedy, thankfully, found its audience because it's weird to think of a world without Jeff Bridges' the Dude.
The plot of the movie follows the Dude, after being mistaken for a millionaire that shares the last name of Lebowski, getting involved in a missing person case. But what's more important are the memorable performances from Bridges, John Goodman, Julianne Moore, John Turturro and others, in addition to some of the memorable sequences and lines the Coens concocted ("That rug really tied the room together").
The Dude abides.
But I'm a Cheerleader (2000)
Groups of people always find the movies and shows that speak to them, and that's exactly what happened with Jamie Babbit's But I'm a Cheerleader. Not loved by critics when released, the LGBTQ+ community, and others, have rediscovered it over the years and turned it into a cult classic.
The story follows a high school cheerleader who is sent to conversion therapy after her parents and friends begin to suspect that she is a lesbian. But I'm a Cheerleader stars an incredible cast featuring Natasha Lyonne, Clea DuVall, Cathy Moriarty, Michelle Williams, RuPaul and Melanie Lynskey.
It's Pride month, so there's no better time to watch great LGBTQ+ movies and shows on IMDb TV and other streaming platforms.
Dolemite (1975)
Eddie Murphy gave us the story of Rudy Ray Moore, who created the popular Dolemite character of Blaxplotation films in the 1970s, with Netflix's Dolemite Is My Name, but you can see the original Dolemite for yourself on IMDb TV.
Moore stars as the titular Dolemite, who after being released from prison teams up with his all-girl army of kung fu warriors to take on the criminals and corrupt police officers that framed him. D'Urville Martin, Jerry Jones and Lady Reed co-star.
The New York Times described Dolemite as "The Citizen Kane of kung-fu pimpin' movies." With that kind of description how can you not want to watch?
His Girl Friday (1940)
If you think Aaron Sorkin's characters talk fast, wait until you see Cary Grant and Rosalind Russell go a mile a minute in His Girl Friday.
Howard Hawks directed His Girl Friday, which sees Grant star as the editor of a newspaper who schemes to keep his ace reporter, and ex-wife (Russell), on staff instead of running off to remarry.
One of the all-time classic comedies should put to bed any complaints that old black-and-whtie movies are slow-paced and dull.
In Bruges (2008)
In Bruges writer and director Martin McDonagh has a unique comedic sensibility in his story about two hitmen sent to Bruges, Belgium, after a botched job, and thank goodness for it. In Bruges is a darkly comic crime story that put McDonagh on the map and may very well still be his best film.
Colin Farrell and Brendan Gleeson are fantastic together as the hitmen, while Ralph Fiennes nearly steals the movie as their foul-mouthed boss. Clémence Poésy and Jordan Prentice round out the supporting cast.
Isle of Dogs (2018)
Wes Anderson is very exact in his filmmaking style, so it should be no surprise that he is a natural stop-motion filmmaker, which requires painstaking detail in their creation. Isle of Dogs was his second entry into the animation art form (after Fantastic Mr. Fox) and it features not only some gorgeous stop-motion work but the director's trademark dry wit.
Set in a fictional Japan where the government has banished all dogs to a remote island, Isle of Dogs follows a pack of these canines who help a young boy who sneaks onto the island to find his missing dog. The main group of dogs are voiced by Bryan Cranston, Ed Norton, Jeff Goldblum, Bob Balaban and Bill Murray, all of whom are hilarious.
Koyu Rankin, Greta Gerwig, Frances McDormand, Scarlett Johansson, Liev Schreiber and Tilda Swinton also lend their voices.
Love Actually (2003)
It may be summer, but if you want to partake in the Christmas spirit year-round, it's never really a bad time to watch Love Actually. The film has become a holiday staple with its massive ensemble and varying story lines, some of which can lean into drama, but all have their comedic moments.
The Richard Curtis film features Hugh Grant, Martine McCutcheon, Liam Neeson, Laura Liney, Bill Nighy, Emma Thompson, Alan Rickman, Keira Knightley, Chiwetel Ejiofor, Andrew Lincoln, Martin Freeman and Colin Firth among a host of others.
Christmas in July is a thing, so why not celebrate it by watching Love Actually?
Midnight Run (1988)
If you've ever wanted to take a cross-country road trip, it shouldn't be hard to have a better experience than Robert De Niro and Charles Grodin did in the '80s comedy Midnight Run.
De Niro stars as a bounty hunter who is tasked with tracking down a former mob accountant (Grodin) and bringing him back to Los Angeles. However, De Niro's character isn't the only one after him — the FBI, other bounty hunters and the accountant's former mob bosses are also in pursuit. De Niro and Grodin are great as the complete opposites at the center of the story.
The film is able to have a full balance of laughs, character development and intrigue, a rarer and rarer feat in comedies.
My Man Godfrey (1936)
A 1930s comedy is a genre almost entirely to itself, and My Man Godfrey is a classic example of it at the height of its powers, with William Powell and Carole Lombard as the classic pairing leading the way.
My Man Godfrey follows a ditzy socialite who hires a vagrant from off the street to be her family's new butler. However, as they all quickly learn, there's more to Godfrey than what they initially assumed.
Sideways (2004)
Like a bottle of wine, Sideways keeps getting better with age. The Alexander Payne-directed dramedy stars Paul Giamatti and Thomas Haden Church as two buddies who become involved with Sandra Oh and Virginia Madsen on a Napa Valley bachelor party weekend.
Sideways was a critical and awards darling in 2004, winning an Oscar for Best Adapted Screenplay and Haden Church and Madsen both being dominated for their performances (how Giamatti was snubbed is still a mystery).
Sing Street (2016)
It's a classic story of boy meets girl, boy tries to impress girl with a rock band he doesn't have, band turns out to be … good? John Carney's Sing Street is a love letter to the music of the '80s while also serving as a funny and lovely story about a boy's growing confidence in himself as he forms a relationship with the girl.
Add the fact that the original songs for the film are legitimate toe-tappers and Sing Street is endlessly fun to watch.
Submarine (2010)
Quirky British indie film is a pretty well-established genre at this point. Richard Ayoade's entry into it, Submarine, is one that is definitely worth checking out.
Following teenager Oliver Tate, Submarine has Oliver striving toward two objective's, being a perfect boyfriend to his new girlfriend Joanna, and preventing anything from happening between his mother and an ex-lover who's moved into the neighborhood.
Craig Roberts stars as Oliver, with Sally Hawkins, Paddy Considine, Noah Taylor and Yasmin Paige in support. There's also a young Gemma Chan in the film if you can spot her.
Michael Balderston is a D.C.-based entertainment writer and content producer for What to Watch. He previously has written for TV Technology and Awards Circuit.
Get the latest updates, reviews and unmissable series to watch and more!
Thank you for signing up to Whattowatch. You will receive a verification email shortly.
There was a problem. Please refresh the page and try again.