Best shows on IMDb TV
Some of the best shows in TV history, available for free on IMDb TV.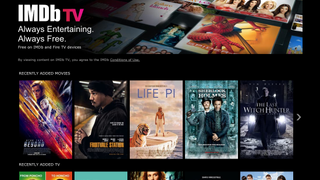 (Image credit: IMDb)
Paying for multiple streaming services can add up quickly nowadays, so a free option like IMDb TV — which lets viewers watch premium content with some ad interruptions — can keep you entertained while keeping the monthly bill in check.
IMDb is one of the largest reference centers for TV shows and movies on the internet, but with IMDb TV it is now also a place to watch great content. Here's a peek at some of the best shows on IMDb TV.
24
The ticking clock of 24 was one of the most iconic sounds of TV in the 2000s, as the show raised the tension level of network TV dramas to new heights.
Kiefer Sutherland's Jack Bauer just kept having the worst days, as terrorists and other enemies would threaten to kill the president, launch dangerous weapons on civilians or mess with his family. Viewers, however, couldn't get enough.
Sure, the later seasons started to push the boundaries of what is acceptable for Jack Bauer to do — and there really is no need to talk about the attempted reboots — but when 24 was firing on all cylinders there was little else on TV at the time like it.
All eight days (seasons) are available on IMDb TV.
All in the Family
Norman Lear is the master of the American sitcom, and All in the Family may just be his most popular and influential work.
All in the Family followed the working class Bunker family, particularly Archie Bunker, the head of the family. Portrayed by Carroll O'Connor, Archie would often clash with people over the hot-button issues of the day, allowing the show to serve as a sounding board for its viewers. In addition to O'Connor, the show starred Jean Stapleton as Edith Bunker, Rob Reiner as Michael "Meathead" Stivic and Sally Struthers as Gloria Bunker-Stivic.
Part of the All in the Family legacy is also how it was a launching pad for another classic Norman Lear show, The Jeffersons. Sherman Hemsley's George Jefferson and his family first appeared on All in the Family before getting their own spin-off in 1975.
The arrival of All in the Family on IMDb TV is part of the licensing deal Lear struck with Amazon Prime.
Anthony Bourdain: A Cook's Tour
Anthony Bourdain was one of the most popular celebrity chefs in the world, mostly for his CNN original series, Anthony Bourdain: Parts Unknown. While there is the new documentary, Roadrunner: A Film About Anthony Bourdain, this year, you can also relive the chef's early work with his first TV series, Anthony Bourdain: A Cook's Tour.
Running for two seasons, A Cook's Tour saw Bourdain travel around the world to taste local cuisine while also getting the chance to meet with eccentric characters.
Both seasons of Anthony Bourdain: A Cook's Tour are available to watch on IMDb TV
Bates Motel
For more than 60 years, Psycho and its killer Norman Bates have been terrifying people. So in 2013, inspired by Alfred Hitchcock's film, A+E debuted Bates Motel, a contemporary prequel that pulls the curtain back on Norman Bates and the troubling relationship with his mother.
Freddie Highmore and Vera Farmiga star as the son and mother duo, joined by a cast that includes Max Thieriot, Olivia Cooke, Nestor Cabonell and Nicola Peltz.
Bates Motel ran for five seasons, all of which are available to watch on IMDb TV.
Boston Legal
A spin-off of David E. Kelly's The Practice, Boston Legal followed Alan Shore, played by James Spader, at a new firm in — you can probably guess — Boston. Starring alongside Spader in the series were the likes of William Shatner and Candice Bergen.
That trio of stars helped give Boston Legal the comedic edge that was its calling card, in addition to the usual intrigue and drama that comes from courtroom-based shows.
Spader would win two Emmys for Best Lead Actor in a Drama Series during the show's run. Shatner would win one for Best Supporting Actor in a Drama Series, while Candice Bergen was nominated multiple times, but never won.
Catch up with all five seasons of Boston Legal on IMDb TV.
The Carol Burnett Show
Carol Burnett is one of the most influential comedians in TV history, and The Carol Burnett Show is arguably her crowning achievement.
The Carol Burnett Show was a sketch show that featured Burnett and her comedy troupe. Joining Burnett was Vicki Lawrence, Harvey Corman and Tim Conway. Some of the show's most memorable sketches included Burnett as the secretary Mrs. Wiggins, the butler and the maid, the dentist and many more.
Burnett's influence on TV has been so great that the Golden Globes named its Lifetime Achievement award recognizing TV after her.
Discover as many skits as you want with all 11 seasons of The Carol Burnett Show available on IMDb TV.
Columbo
Peter Falk's unassuming yet brilliant Los Angeles detective Columbo is one of the most popular crime solvers ever to appear on TV. The evidence for that, besides Falk's multiple Emmys for the show, is that the series enjoyed two long runs in the 1970s and early 1990s, then again as a limited series in the late 90s and early 2000s.
Head out on the case with Columbo yourself, as the first seven seasons of the show (from the 1970s) are available free to watch on IMDb TV.
Dallas
The primetime soap opera Dallas is best known for one thing, it's season-ending cliffhanger over who shot powerful oil baron J.R. Ewing. The moment was so popular that The Simpsons spoofed it to a T with the who shot Mr. Burns plotline.
Dallas had more than that one seminal cultural moment, though. The show ran for 14 seasons, spanning the late 70s, the 80s and into the early 90s. Viewers can watch all of them on IMDb TV.
The Dick Van Dyke Show
Many young TV viewers may have gotten their first taste of The Dick Van Dyke Show from watching WandaVision on Disney Plus. A testament to the show's impact on the TV format, WandaVision paid homage to The Dick Van Dyke Show in style and direct reference throughout its episodes.
The Dick Van Dyke Show was created by Carl Reiner and starred, of course, Dick Van Dyke, as well as Mary Tyler Moore. It was revolutionary in the way that it dealt with the characters both at home and at work.
See for yourself what The Dick Van Dyke Show was all about by watching it on IMDb TV.
Good Times
Another of Norman Lear's classic TV sitcoms, Good Times depicts the Evans family, who work to make the best of things in Chicago's housing projects. In addition to Lear, the show was created by Mike Evans and Eric Monte.
The series starred Ja'net DuBois, Ralph Carter, BernNadette Stanis, Jimmie Walker (who delivered the show's famous catch phrase "dyn-o-mite!), Esther Rolle, John Amos and even Janet Jackson for a couple of seasons.
The first two seasons of Good Times are available to watch on IMDb TV right now.
Heroes
Heroes took the world by storm when it premiered in 2006, giving fans some fun superhero content before the MCU took over. The show followed a group of people who discover that they have super powers and must come together to save the world from a dangerous event.
Heroes starred Hayden Panettiere, Milo Ventimiglia, Masi Oka, Zachary Quinto and Ali Larter.
Fans can watch the entire series again (or for the first time) on IMDb TV.
The Killing
What Mare of Easttown was to viewers in 2021, The Killing was pretty much the same in 2011. Based on a Danish TV series, The Killing follows the investigation a 17-year-old girl found dead in the trunk of a submerged car.
Mireille Enos, Joel Kinnaman, Billy Campbell, Liam James and Michelle Forbes starred in the series, which ran for four seasons, initially on AMC for its first three seasons than had its fourth and final season stream on Netflix.
All of The Killing, however, is available to watch on IMDb TV.
Leverage
Leverage was a fan favorite TNT series that followed a crew of high-tech crooks that serve as modern-day Robin Hoods, working with the needy to steal from wealthy, corrupt businessmen. The Leverage team consisted of Timothy Hutton, Gina Bellman, Christian Kane, Beth Risegraf and Aldis Hodge.
Now, much to the delight of Leverage fans I'm sure, IMDb TV is getting ready to launch Leverage: Redemption, an IMDb TV Original, that sees Bellman, Hodge, Kane and Risegraf return to once again take on the powerful and corrupt. Leverage: Redemption will debut on the streaming service July 9.
Catch up before Leverage: Redemption debuts with all five seasons of Leverage available to watch now on IMDb TV.
Lost
It started with a group of survivors of a plane crash stranded on a deserted island, but Lost soon became one of the most twisty shows on TV that kept people guessing and tuning in every week.
Created by J.J. Abrams, Damon Lindelof and Jeffrey Lieber, Lost became a touchpoint for many as fan theories about the show were almost as popular as what was actually happening — something that has continued and grown for shows today. Among its fans, Lost was talked about in a similar way to Game of Thrones or Breaking Bad in its day.
Depending on who you talk to, Abrams, Lindelof and Lieber may or may not have stuck the landing, but you can determine that for yourself by catching the entire series on IMDb TV.
Mad Men
From the late 2000s to mid 2010s, AMC was home to some of the best TV shows on the air with Breaking Bad and the Matthew Weiner created Mad Men. Set in the world or 1960s advertising, Mad Men lured audiences in with its style, writing and world class acting.
Leading the way was Jon Hamm, who came onto the scene in a big way with his performance as Don Draper. However, not enough can be said for the entire cast, which included Elisabeth Moss, John Slattery, January Jones, Vincent Kartheiser, Christina Hendricks and more.
Mad Men is one of the most critically acclaimed shows ever, as well as one of the most awarded — it is one of only four shows to win Best Drama Series at the Emmys for four straight seasons, joining Hill Street Blues, The West Wing and Game of Thrones (four straight seasons, though not in consecutive years).
IMDb TV is the place to watch all of Mad Men for free.
Malcolm in the Middle
Bryan Cranston was able to play both Walter White in Breaking Bad and Malcolm in the Middle patriarch Hal to perfection, confirming that he is one of our best living actors.
But Malcolm in the Middle isn't just about Cranston. Malcolm in the Middle was a true ensemble following the dysfunctional family of a young genius played by Frankie Muniz. In particular Jane Kaczmarek's Lois has become an iconic TV mom and the legendary Cloris Leachman would show up for fantastic guest spots.
The show was also an influence for one of the episode's in Disney Plus' WandaVision, as it lovingly paid homage to TV history.
Malcolm in the Middle ran for seven seasons, and IMDb TV carries all of them.
My Name Is Earl
My Name Is Earl follows Earl Hickey, who after winning and then immediately losing a $100,000 lottery ticket when he is hit by a car, comes to believe in karma and sets out to right out all of the wrongs he has ever done.
The concept gave way for some fun and memorable episodes, but the real pull of the show was the great dynamic between its cast members, led by Jason Lee as Earl, Ethan Suplee, Nadine Velazquez, Eddie Steeples and Jamie Pressly, who was the scene-stealer as Earl's ex-wife Joy.
IMDb TV has the entire four-season run of My Name Is Earl ready for viewing.
Schitt's Creek
There may not be a better example of a show that found its audience thanks to streaming than Schitt's Creek. Originally airing on CBC in Canada and Pop TV in the U.S., Schitt's Creek took off when people began to discover it on Netflix and it eventually became a phenomenon.
After finding themselves totally broke, the self-absorbed Rose family are forced to live in the small town of Schitt's Creek. Filled with a plethora of unique characters, the Rose's eventually settle in and find themselves a part of the community. The character arc for the Rose family is one of the best that's been put on TV in recent years.
Dan Levy created and stars in the series with his dad Eugene Levy. The standout cast is filled with Catherine O'Hara, Annie Murphy, Chris Elliott, Emily Hampahire, Sarah Levy, Noah Reid and more.
If you've been wondering what people mean when they go "Ew, David," or weirdly pronounce baby (bay-bay), it's time for you to catch up on Schitt's Creek. All seasons are available on IMDb TV.
White Collar
White Collar introduced us all to Matt Bomer as the charming con artist Neal Caffrey, to this day his most famous role. The USA Network original series follows Caffrey who is convinced to help the FBI in order to capture more white-collar criminals, utilizing his expertise as one of the world's best con artists.
Joining Bomer along for the ride, which lasted six seasons, was Tim DeKay, Willie Garson, Tiffani Thiessen and Sharif Atkins, with Marsha Thomason, Hilarie Burton, Diahann Carroll and James Rebhorn showing up occasionally throughout the series.
Watch the entire series on IMDb TV.