Best thrillers on IMDb TV
Sit back and enjoy these gripping thrillers that are available on the free IMDb TV service.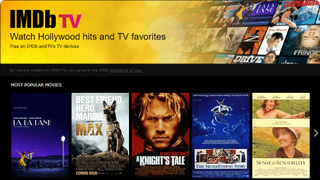 (Image credit: Amazon)
Thrillers are fun to watch because they take us down dangerous paths and into dark places that we never hope to go but can safely enjoy on the screen. IMDb TV has a number of the best thrillers available to do just that.
IMDb TV is the free, ad-supported (AVOD) streaming service from IMDb.com and its parent company Amazon. It offers thousands of movies and TV shows for viewers to enjoy on their TV (Roku or Amazon Fire TV), computer or mobile device.
Take a peek to see what thrillers are currently available to watch on IMDb TV.
Affliction (1997)
Paul Schrader has written some of the most iconic movies in film history, including Taxi Driver and Raging Bull, while also being the director behind critically-acclaimed titles like the recent First Reformed. He pulls double duty with Affliction, based on the Russell Banks novel, which goes a bit under the radar for his career but is one of his better reviewed works.
Affliction centers on a small-town cop who is investigating a suspicious hunting death to the point of obsession. Meanwhile, his fraught relationship with his father only pushes his mental fortitude closer to the edge.
Nick Nolte, Sissy Spacek, James Coburn and Willem Dafoe headline Affliction, with Nolte being nominated for Best Actor and Coburn taking home the Best Supporting Actor Oscar.
All the Money in the World (2017)
While there was plenty of drama in the making of All the Money in the World when they were forced to replace Kevin Spacey with Christopher Plummer, the film itself was able to overcome it all and deliver a pretty satisfying thriller where Plummer proves to be an asset more than a distraction.
The story of All the Money in the World is a dramatization of the kidnapping of J. Paul Getty's teenage grandson in 1970s Italy, and the tension that arises between the boy's mother (the always reliable Michelle Williams) and Getty on paying the ransom money.
Black Swan (2010)
If you don't think a story centered in the world of ballet can fit into the thriller genre, then you haven't seen Darren Aronofsky's Black Swan, which should be remedied immediately.
Black Swan is a psychological thriller about a professional ballerina (Natalie Portman) who pushes herself to be her very best in order to perform the lead role in Swan Lake. However, the harder she works the more she becomes paranoid and begins to lose her sanity.
Portman won an Oscar for her performance. She is joined in the cast by Mila Kunis, Vincent Cassel, Barbara Hershey and Winona Ryder.
The Boys from Brazil (1978)
More than 30 years after the end of World War II, The Boys from Brazil posed the idea that exiled Nazis were still at play in this thriller that sees former members of the Third Reich attempting to enact a devious plot to reassert their power.
The Boys from Brazil is stacked, featuring Gregory Peck as Dr. Josef Mengele, Laurence Olivier as a Nazi hunter (his tenth and final Oscar nomination for acting), James Mason, Uta Hagen, Steve Guttenberg, Rosemary Harris, and Bruno Ganz.
Bridge of Spies (2015)
Steven Spielberg and Tom Hanks have hooked up a couple of times before for some movie magic (Saving Private Ryan, Catch Me If You Can), and Bridge of Spies was another foray for the Hollywood power duo.
Set during the height of the Cold War, this based-on-a-true-story tale stars Hanks as an American lawyer first tasked with representing an accused Soviet spy (Mark Rylance in his Oscar-winning role) and then brought in to help facilitate a trade for the spy and a captured American pilot behind the Iron Curtain.
Bridge of Spies has all the makings of a quintessential "dad film." But in the hands of Spielberg and Hanks (not to mention a script credited to the Coen brothers) the film makes for an enjoyable watch for all.
Charade (1963)
It doesn't get any more classic Hollywood than the pairing of Cary Grant and Audrey Hepburn, and their one film together is the fun and twisty thriller Charade.
Hepburn plays the widow of a recently killed man, who she soon learns was not who he said he was. Now a group of men believe that she is in possession of a large sum of money her husband had that they want to get their hands on. Grant introduces himself as an ally to Hepburn's character, but he has plenty of secrets of his own.
Walter Matthau, James Coburn and George Kennedy help round out the cast for this Stanley Donen directed film.
The Constant Gardener (2005)
Brazilian director Fernando Meirelles (City of God, The Two Popes) took the reins of legendary spy novelist John le Carré's The Constant Gardener and delivered a taut, gripping thriller with an A-plus cast that includes Ralph Fiennes, Rachel Weisz (with an Oscar-winning performance) and Danny Huston.
The story of The Constant Gardener sees a widower who embarks on discovering what really happened to his murdered wife. First believing that it may have been a crime of passion done by his wife's companion, he soon discovers a larger corruption behind everything.
Donnie Darko (2001)
When looking for a prime example of a cult classic, Donnie Dark will almost surely be among the films mentioned. The dark tale of a teenage boy (Jake Gyllenhaal) and the imaginary bunny named Frank who manipulates him didn't immediately find success, but it is widely praised nowadays.
The film was a breakout for Gyllenhaal (both, as sister Maggie Gyllenhaal also stars), and featured other future stars including Seth Rogen and Jena Malone. Drew Barrymore, Patrick Swayze and Katharine Ross also have supporting roles.
Farewell My Lovely (1975)
Philip Marlowe is one of the most iconic detective characters in literature, created by Raymond Chandler, and he also happens to have a pretty good run on film as well. Dick Powell, Humphrey Bogart, Robert Montgomery, James Garner and Elliot Gould all played Marlowe at one point, but in Farewell My Lovely he is portrayed by screen legend Robert Mitchum.
The plot of Farewell My Lovely sees Marlowe hired to track down the lost love of an ex-convict while also trying to get the scoop on the murder of one of his clients. However, he soon realizes that the two cases are connected.
Young versions of recognizable faces show up in Farewell My Lovely, including Charlotte Rampling, Sylvester Stallone and Harry Dean Stanton. Sylvia Myles, Jack O'Halloran and John Ireland also star.
The Guest (2014)
Slipping under the radar with audiences when it first came out, The Guest is a strong thriller from Adam Wingard (Godzilla vs. Kong) that expanded on what Dan Stevens can do as an actor after only really being known for Downton Abbey at the time.
The Guest follows Stevens' David, who arrives at the home of the Petersons, telling them he was an army friend of their son who died in action. However, with David comes a series of deaths in the town that lead the Peterson kids to wonder just who this stranger is and why he is there.
Memento (2001)
Memento, Christopher Nolan's breakout film, is smaller in scale to more recent efforts like Tenet or his Dark Knight trilogy, but that does not mean it is any less ambitious, as he constructed a gripping thriller that plays out in reverse.
With his protagonist Leonard (Guy Pearce) suffering from the inability to create new short term memories, Nolan puts the audience in a similar situation by starting from the end of Leonard's story so that they are forced to fill in the gaps along with him. Even 20 years later, it's a choice that has not lost any of its intrigue as Memento holds up as one of Nolan's best.
The Whistleblower (2010)
Rachel Weisz stars in The Whistleblower, a based-on-a-true-story film about a cop serving as a peacekeeper in post-war Bosnia. While there she discovers a sex trafficking scandal that is being covered up by the United Nations.
Weisz earned rave reviews for her performance as a woman taking on the system. She was joined in the film by Monica Bellucci, David Strathairn, Vanessa Redgrave, Liam Cunningham and a before-he-was-famous Benedict Cumberbatch.
Wind River (2017)
In the snow covered wilderness of a Wyoming Native American reservation, a girl is found murdered. This brings a young FBI agent to the scene, who enlists the help of a veteran hunter to help figure out what happened and track down the killer.
Taylor Sheridan, after writing Sicario and Hell or High Water, made his feature directorial debut with Wind River, which stars Elizabeth Olsen and Jeremy Renner. The film features Sheridan's usual grit and brutal realities, proving that he could direct those aspects as well as he could write them.
Michael Balderston is a D.C.-based entertainment writer and content producer for What to Watch. He previously has written for TV Technology and Awards Circuit.
Get the latest updates, reviews and unmissable series to watch and more!
Thank you for signing up to Whattowatch. You will receive a verification email shortly.
There was a problem. Please refresh the page and try again.