Doc Martin season 10 — episode guide, UK and US release date, cast, plot, first look, interview and all about the final-ever series in 2022
Doc Martin season 10 and Christmas special will see Martin Clunes play Portwenn's grumpy Dr Martin Ellingham for the last time.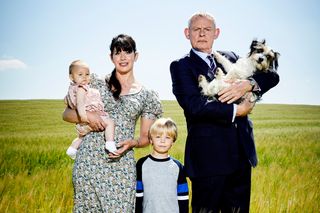 (Image credit: ITV)
Sadly, Doc Martin season 10 is the final ever series of the Martin Clunes hit drama. So, it will be bittersweet for fans when the show returns on ITV in autumn 2022, then ends with a Christmas special.
The drama set in the Cornish village of Portwenn has been a regular part of the ITV schedules since 2004 and is popular around the world, from Spain and Italy, to Scandinavia and Australia.
Martin Clunes who's played grumpy Dr Martin Ellingham for nearly two decades says: "I have loved going to Cornwall to make Doc Martin over the last 18 years, and I have looked forward to returning to this beautiful county this year for the tenth and final series. The people of Cornwall, and Port Isaac in particular, have always been so helpful to us when we are making the series.
"We have some great story lines for the new series, and for the Christmas special, which I hope Doc Martin fans will love. I shall miss Cornwall, and all the lovely people we have worked with. But it is the right time to say farewell to the Doc, and Portwenn.
Caroline Catz who is back playing Martin's wife Louisa Ellingham, says: 'The final readthrough was emotional,' says C. 'I'm finding it hard to say goodbye. I shall miss Cornwall, and all the lovely people we worked with,' adds Martin. 'But it's the right time to say farewell to the Doc and Portwenn."
So here's everything you need to know about Doc Martin series 10...
Doc Martin season 10 release date
Doc Martin premieres on ITV on Wednesday September 7 at 9pm, as a big part of the autumn TV schedules 2022, with the Christmas special hitting ITV in December. This is an eight-episode series.
Doc Martin season 10 will launch in the US on Monday October 17 on Acorn TV.
There's also a celebratory documentary about the history of Doc Martin to accompany the final series but a date for this is yet to be confirmed. The "last hurrah" Christmas special will then arrive in December 2022 and will be a Christmas TV highlight.
Is there a trailer for Doc Martin season 10?
ITV has yet to release a trailer for Doc Martin series 10, but we expect it to arrive imminently and we'll post right here..
Doc Martin season 10 plot
At the end of the last series of Doc Martin in 2019, the Doc decided, after having his medical career scrutinised by the General Medical Council because of his blood phobia, that he would resign from being Portwenn's GP. So this final series of Doc Martin sees the Doc making efforts to overcome his phobia, and beginning to question whether he made the right decision about resigning. He and wife Louisa have also welcomed a baby daughter, Mary Elizabeth, a sister for four-year-old James Henry, so we're guessing their household will be pretty raucous in this series.
With Louisa pursuing her new career as a child counsellor in his old surgery, the Doc is left literally holding the baby, and indulging his hobby of repairing clocks on the kitchen table. But does he really want his old job back?
"The Doc resigned in the last series, and when we start the new season, he's left holding the baby – literally! – as he and Louisa have had a second child, daughter Mary Elizabeth" explains Martin Clunes. "He begins to question whether he's made the right decision about resigning!"
There have also been some new filming shots which show Martin beside a car on the edge of a cliff! It's unclear exactly what happens in the scene but there's also a shot of a woman at the bottom of the cliff.
Doc Martin season 10 cast
In Doc Martin season 10, Martin Clunes is back starring as Dr Martin Ellingham, the grumpy local GP in the fictional Cornish seaside village of Portwenn who has a very brusque bedside manner and a phobia of blood. In recent years Martin Clunes has starred in a number of hit dramas including playing DCI Colin Sutton in Manhunt and Manhunt season 2 on ITV. He's also presented a number of travel shows on ITV including Martin Clunes Islands of the Pacific
Caroline Catz also returns to plays Doc Martin's wife, Louisa Ellingham, who resigned from her job as headmistress at the local school to pursue a new career in child counselling. Other returning regular cast include Dame Eileen Atkins who plays Doc Martin's formidable Aunt Ruth. Ian McNeice is back to play Bert Large, with Joe Absolom as his son Al. John Marquez is again playing PC Joe Penhale, Jessica Ransom is the doctor's receptionist Morwenna Newcross and Selina Cadell is the local pharmacist Mrs Tishell.
Doc Martin series 10 guest stars
There are some amazing guest stars to look out for in Doc Martin season 10. Among them are Cold Feet's Fay Ripley as a poorly mum Abigail. David Hayman stars as George Upton who is considering selling his home, Ben Miller (Professor T, Death In Paradise) plays an eccentric park ranger Stewart James, while Lesley Nichol (aka Mrs Patmore in Downton Abbey) plays keen sea swimmer plays Irene Moore. Later episodes will be joined by Kenneth Cranham who reprises his role as Louisa's dad Terry Glasson and Hermione Norris (Spooks) is a medical conference attendee. Vincent Franklin and Beth Goddard play Chris and Helen Parsons who get into difficulty sea swimming, and Rupert Graves stars as Arthur Collins who has moved to Cornwall from London.
Doc Martin season 10 episode guide
Here's our guide to what happens in each episode of Doc Martin series 10, which we'll be updating every week, so do check back...
Episode 1: Wednesday September 7
The Doc is no longer Portwenn's GP and spends his time with his four-year-old son James Henry and new baby daughter Elizabeth Mary. He also whiles away the hours fixing clocks, reading medical journals, rearranging the kitchen and quietly driving wife Louisa (Caroline Catz) to distraction! "We left off with the Doc resigning because he was about to get struck off! So at the start of the series we find him twiddling his thumbs," chuckles Martin Clunes, who's played the sarcastic surgeon since 2004. "Louisa has moved into his consulting room, as she's a practising child therapist." Elsewhere, the Doc's former receptionist Morwenna (Jessica Ransom) is happily married to Al Large (EastEnders' Joe Absolom), but things get tricky when his dad, Bert (Ian McNeice) invites himself to stay… on their wedding anniversary! Doc devotee and local pharmacist Mrs Tishall (Selina Cadell), has launched a petition to get him reinstated while the Doc's formidable aunt Ruth (Eileen Atkins) is working with him on overcoming his blood phobia. But it's the appearance of poorly mum Abigail (Cold Feet's Fay Ripley) that forces his return to medicine. "Abigail has a medical condition that only he can identify and fix," reveals Martin
Episode 2: Wednesday September 14
The Doc is back where he belongs, behind his desk and barking orders, but life hasn't yet returned to normal in Portwenn! With husband and wife Martin and Louisa Ellingham sharing the GP surgery, chaos reigns as new receptionist Max Foreman isn't up to the task of managing two sets of patients. Elsewhere, it's starting to dawn on the Doc's former receptionist Morwenna that her new career as an estate agent isn't all it's cracked up to be. "It's not a job she enjoys because the boss, Samantha, gives her a hard time - despite Morwenna being very good at it," explains Jessica Ransom, who's played Morwenna since 2011.
But when Max disappears unexpectedly and the Doc finds himself in need of Morwenna's help, she steps back into her old job temporarily to help out. Will the curmudgeonly GP realise Morwenna's indispensable and ask her back on a permanent basis?
"Morwenna eventually comes back to her rightful place working for the Doc," reveals Jessica. "But she makes him work for it - she's not just going to bow down to him!'"
Episode 3: Wednesday September 21
Ben Miller makes a special one-off return to Doc Martin, as eccentric park ranger Stewart James, popping up to try to persuade PC Joe Penhale (John Marquez) and Al Large (Joe Absolom) to test run his new survival course. "I love playing Stewart. We've seen him at various stages, including when he was living on Bodmin Moor and hallucinating a giant squirrel!" laughs Ben, 56, who first played him in 2004 and again in 2005. "Every time Stewart comes back you think he's OK, but then he'll lose it. In this episode the wheels come off - the squirrels are back big time!"
At the GP surgery, the Doc is alarmed by test results from Stewart's annual checkup. Meanwhile, at the isolated woodland camp, Stewart's acting erratically and has taken a hostage! Can the Doc sort things out?
Episode 4: Wednesday September 28
The Doc has his work cut out for him thanks to herbalist Jane endangering patients, chemist Mrs Tishell interfering with his treatment for widow Irene, played by Downton Abbey star Lesley Nicol, and beautician Janice starting a fishy new business! Will the shock arrival of old flame Sophie (Cold Feet star Hermione Norris) cause him to spin out completely?
Episodes 5: Wednesday October 5
To say Louisa Ellingham is stunned to find her estranged father in her kitchen making a cup of tea is an understatement! The child counsellor hasn't seen dad Terry Glasson in years and, given his dodgy past, she's worried about his return to Portwenn! Last time Terry popped up in the village he was planning a robbery. This time, it appearsTerry (The Good Karma Hospital's Kenneth Cranham) is genuinely ill. But this places Louisa's GP husband in a predicament as, after examining Terry, the Doc is bound by patient confidentiality. Unable to tell Louisa (Caroline Catz) what's wrong with her dad, the Doc is forced to keep his father-in-law's secrets. But it looks like the truth could be exposed as Martin's forthright Aunt Ruth, an experienced criminal psychiatrist, realises Terry's been released from jail on compassionate grounds, and pays him a visit. "Ruth's not met Terry before and is immediately suspicious of him. She's onto him" reveals Dame Eileen Atkins, 88, who plays Ruth. "She's sussing Terry out! It's been fun for me because I've known Ken Cranham forever. It's lovely acting with an old friend!"
Meanwhile, Bert Large's latest money making scheme is destined to end in disaster, but, as ever, he doesn't let that stop him! There are explosive consequences when he tries to force squatter, Ross, out of a valuable vintage caravan. Has irresponsible Bert finally gone too far?
Episode 6: Wednesday October 12
Doctor Martin Ellingham's relationship with child counsellor Louisa has had its ups and downs over the years, and this week the married couple are tested as never before when his ex Sophie Trent makes a move! The trouble starts when Louisa and Martin attend a prestigious medical conference in London, where the Portwenn GP is a speaker. Consultant Sophie, played again by Cold Feet's Hermione Norris, is also a guest and immediately starts causing trouble between the Ellinghams…
"It's amazing how the Doc and Louisa's relationship has evolved. They're always at odds with one another," laughs Caroline Catz, who plays Louisa. "They don't always connect!"
The couple's lack of communication comes to the fore at a drinks reception, when Sophie reveals that Louisa is the case study for the Doc's speech… It's all news to Louisa, who's horrified her husband will be discussing her troublesome cervix and showing slides of her insides! Later, after one drink too many, Sophie lets slip that Martin broke her heart when they were medical students and she's going through a painful divorce. Initially, Louisa's sympathetic. But later on, she feels very differently when she walks in on Sophie and Martin in a compromising position. Pushed to her limits, Louisa demands answers!
"There is a gentleness to Louisa but at the same time a strength," teases Caroline. "I can't believe that we're closing the book on these characters. We've worked hard on keeping it fresh."
Does this mean the Doc has cheating feelings for Sophie? Or is his love for Louisa still strong?
Episode 7: Wednesday October 19
When it comes to causing chaos Bert Large is the poster boy for DIY disasters in Doc Martin. This week, in a nod to the very first episode where he flooded Dr Martin Ellingham's GP surgery, the hopeless handyman enrages his ex Caitlin (Angela Curran) by damaging the pipework at her pub The Crab and Lobster, causing the cellar to become flooded. Then when he attempts to fix the situation, he ends up making it even worse! "Over the years Bert's got into so much trouble. He made everybody ill when he sold contaminated bottled water, he flooded the surgery, and all sorts of other things," laughs Ian McNeice, 72, who plays him.
There are more dramas for the Large family this week when Chris and Helen Parsons (Vincent Franklin and Beth Goddard) get into serious difficulty at the rock pools. Bet's son Al and his wife Morwenna perform a daring rescue, with a little help from the Doc!
But the disasters mount up for Bert. Desperate to get the problem sorted she hires local plumber Bob Jackson, played by comedy actor Stephen Frost, but even he isn't safe from Bert's ability to make a bad situation worse. The unfortunate tradesman ends up being injured by Bert and unable to work…
"Bert has a heart of gold, apart from the fact that he mucks everything up," says Ian, who teases that this could be the end of the road for the recently separated couple. "Caitlin and Bert were very close, but it's all fallen apart this series. She's thrown him out and he's living in the caravan park. I'm going to miss playing such an extraordinary character. I've had tremendous fun and fantastic times."
Will Caitlin finally wash her hands of Bert once and for all? Or can the couple kiss and make up before next week's last ever episode?

Episode 8: Wednesday October 26
Doc devotee and local chemist Mrs Tishell (Selina Cadell) is determined to stop Martin and his family leaving and stages a protest, while the family dog, Chicken, does a runner! Farmer Arthur Collins (Rupert Graves) finds Chicken on his land. But disaster strikes while Martin and wife Louisa (Caroline Catz) retrieve their pet. Martin's involved in a life threatening accident and rushed to hospital. "It's a life or death emergency," says Martin Clunes. "It's emotional, but very satisfying. For people who care about the show, it's dramatic."
More about the Doc Martin Christmas special in 2022
Talking about Doc Martin Christmas special, ITV's Head of Drama Polly Hill says: "If this really has to be the final series of Doc Martin, we thought we'd also commission a Christmas special! It'll be sad to see the series come to an end after entertaining audiences on ITV for the last 18 years, but we'll make sure the finale is memorable and befitting such a success story. Our thanks to Martin Clunes, Philippa Braithwaite and the amazing cast and crew for creating such a special series."
Filming Doc Martin in Port Isaac, Cornwall
The huge popularity of Doc Martin has brought thousands more tourists to the pretty hamlet of Port Isaac, and the surrounding areas of the north coast of Cornwall, to see where the series is filmed and all the local hotspots made famous by Doc Martin. This boost to tourism was recognised by Cornwall Tourism which presented a special award for outstanding contribution to tourism to the Doc Martin team. Over the years Buffalo Pictures has made regular contributions to Port Isaac's village funds. The funding has been used by the villagers to help and support a range of local facilities.
Doc Martin the worldwide hit
The first seven series of Doc Martin have been produced locally in seven territories worldwide — the UK, Germany, France, Greece, Netherlands, Czech Republic/Slovakia and Spain — and the drama has been sold to 138 countries in total. Various fishing villages in each of those countries becoming the equivalent of Portwenn.
Get the What to Watch Newsletter
The latest updates, reviews and unmissable series to watch and more!
TV Content Director on TV Times, What's On TV and TV & Satellite Week
I'm a huge fan of television so I really have found the perfect job, as I've been writing about TV shows, films and interviewing major television, film and sports stars for over 25 years. I'm currently TV Content Director on What's On TV, TV Times, TV and Satellite Week magazines plus Whattowatch.com. I previously worked on Woman and Woman's Own in the 1990s. Outside of work I swim every morning, support Charlton Athletic football club and get nostalgic about TV shows Cagney & Lacey, I Claudius, Dallas and Tenko. I'm totally on top of everything good coming up too.