Hallmark Channel Loveuary 2023: all the new movies for February
Four new Hallmark Channel movies to fall in love with.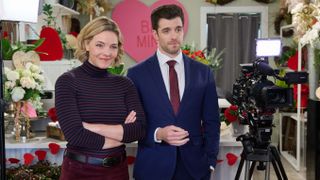 (Image credit: Hallmark Media/Photographer: Craig Minielly)
February is here and with the shortest month of the year comes... Loveuary? Sure, there's Valentine's Day, but why limit the celebration of love to one day when you can celebrate all month long? Hallmark Channel has you covered with four all-new original movies as part of their Loveuary celebration.
Here's what we know about the new movies coming in February on Hallmark Channel.
Hallmark Channel Loveuary 2023 schedule
There's something for everyone on Hallmark Channel this February, from a bakery with the secret recipe for love to falling in love in Paris to a barbeque-related murder mystery. Here is the release dates and breakdown of each movie.
Sweeter Than Chocolate
Release date: Saturday, February 4, 8 pm ET/PT
Where to watch: Hallmark Channel
Cast: Eloise Mumford and Dan Jeannotte
"A local bakery is rumored to have the secret recipe to finding true love on February 14, drawing in a TV reporter to investigate."
A Paris Proposal
Release date: Saturday, February 11, 8 pm ET/PT
Where to watch: Hallmark Channel
Cast: Alexa PenaVega and Nicholas Bishop
"Anna (PenaVega) is an account manager for a New York City advertising agency who has the opportunity to land the biggest client of her career: Durand Diamonds. Much to her chagrin, her boss dispatches her and her colleague Sebastian (Bishop) to the City of Lights to make the pitch and seal the deal. Anna's by-the-books work style clashes with Sebastian's looser approach and over-the-top ideas that dazzle the client but exceed budget realities that land them in hot water. When they arrive in Paris to meet with the client, a misunderstanding leads the Durands to believe Anna and Sebastian are married, making them excited about the prospect of having real-life couple in charge of the creative vision for their brand and forcing them to try to keep up appearances."
Valentine, Nebraska
Release date: Saturday, February 18, 8 pm ET/PT
Where to watch: Hallmark Channel
Cast: Kathryn Davis and Markian Tarasiuk
"It's a week away from Valentine's Day and Olivia (Davis) loses both her boyfriend and her job in the same week. Her sister Vanessa, who still lives in their hometown in Nebraska, convinces Olivia to come back home for an extended trip and help get her back on her feet. Olivia's roommate in New York has a friend, George (Tarasiuk), who's driving out to Los Angeles and agrees to take Olivia to her destination, which is exactly halfway between New York and California, in exchange for a free night's stay in her hometown. Olivia, low on cash after her layoff, agrees to take turns driving so he can get to Los Angeles in less than five days. The two strangers set out on the open road, both on their way to being who they think they're supposed to be. When George's car breaks down mere miles from Olivia's hometown, he has to stay a few more days in Valentine, Nebraska, with Olivia and her sister. After spending so much time together, the two realize that their priorities might have changed, and love is what truly matters."
Made for Each Other
Release date: Saturday, February 25, 8 pm ET/PT
Where to watch: Hallmark Channel
Cast: Alexandra Turshen, Matt Cohen, Aaron O'Connell and Illeana Douglas
"A sculptor (Turshen) uses magic to mold her ideal man (O'Connell) into reality but begins to fall for her real-life friend (Cohen) and embraces the flaws that make love perfectly imperfect."
How to watch Hallmark Channel Loveuary 2023
Loveuary 2023 movies are available exclusively on Hallmark Channel, which is available in most cable packages. If you've cut the cord, there are several options to access Hallmark Channel including Sling TV, FuboTV, Philo, Frndly TV, DirecTV Stream and Vidgo.
Get the What to Watch Newsletter
The latest updates, reviews and unmissable series to watch and more!
Editorial Content Producer
Sarabeth joined the Watch to Watch team in May 2022. An avid TV and movie fan, her perennial favorites are The Walking Dead, American Horror Story, true crime documentaries on Netflix and anything from Passionflix. You've Got Mail, Ocean's Eleven and Signs are movies that she can watch all day long.
When she's not working, Sarabeth hosts the My Nights Are Booked Podcast (opens in new tab) and blog (opens in new tab) dedicated to books and interviews with authors and actors. She also published her first novel, Once Upon an Interview (opens in new tab), in 2022.