'Kathy Burke: Money Talks' — the star puts money under the spotlight in a new C4 documentary series.
From poverty to property, renowned comedian Kathy Burke asks tough questions about money in the new C4 documentary Kathy Burke: Money Talks.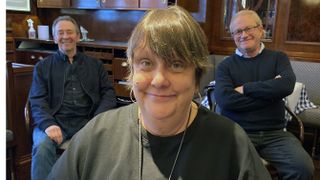 (Image credit: C4)
Straight talker Kathy Burke has delighted fans with her new two-part series for Channel 4 Kathy Burke: Money Talks.

Initially given the working title of All Money, it follows the success of her popular three-part series Kathy Burke: All Woman where Kathy undertook a frank yet warm exploration of what it means to a modern woman.
Her new two-part series, Kathy Burke: Money Talks, explores the concept of money — who has it, who wants it, and why we have such a complex relationship with it.
When is it on?
Episode one of Kathy Burke: Money Talks aired on C4 on Monday, 5 July 2021 at 10pm. Episode two aired the following Monday, 12 July, on C4 at 10pm. It is now available on All4.
What does Kathy Burke cover in Money Talks?
A C4 press release before filming explained: "Across the two episodes, Kathy will aim to meet a raft of people across a broad spectrum of wealth — from the very affluent to those living below the breadline."
Kathy says: "As someone who came from living in poverty in Islington in London to now owning a house there, I feel I'm a perfect person to look into one of the world's most divisive subjects.
"I try not to go in with any preconceived ideas. I like to take people as they come."
Is there a trailer?
No, but both Kathy Burke: All Woman and Kathy Burke: Money Talks are available to watch on C4's streaming platform All4.
Episode one of All Woman examines the idea of beauty, episode two explores motherhood, while episode three asks questions about relationships.
Guest stars in Kathy Burke: Money Talks:
In Money Talks Kathy visits with self-made millionaire Alfie Best, reconnects with Megan Barton Hanson, talks to Cash Carraway author of Skint Estate, meets The Big Issue's Lord John Bird, with and catches up with comedy chums Paul Whitehouse and Harry Enfield. She also meets Ruth Breen, a midwife who won the lottery.

"Self-made millionaire Alfie Best surprised me most," says Kathy. "People born into money don't worry too much about it, yet for someone like Alfie, he still wakes up worried that he might lose it all tomorrow.
"I loved meeting midwife Ruth. The fact she won £1 million on the lottery and didn't move to a bigger property because she'd worked hard to get the one she was in was just great," says Kathy.
"People who win the lottery often get a bad rep. I think that's a way of subliminally showing poor people don't know how to handle money. So to see someone making a success of it is wonderful."
Kathy Burke: Money Talks Episode Guide
Kathy Burke: Money Talks Episode 1
In the opening episode Kathy meets self-made millionaire Alfie Best, pops into a mansion full of Tik Tok entrepreneurs (aside: Kathy asking the young stars to make her a cuppa is worthy of a Tik Tok video in itself!), chats with a lottery winner, opens up about growing up in poverty, and catches up with comedy chums Paul Whitehouse and Harry Enfield to discuss their Loadsa Money and Considerably Richer Than You characters.
Kathy Burke: Money Talks Episode 2

Having visited people with loadsa money in episode one, in this episode Kathy's exploration into British attitudes to wealth and poverty takes her to Jaywick, England's most deprived town, where there are no supermarkets or highstreet.
She also pops in for a cuppa with a community living off-grid in Somerset, talks to Cash Carraway author of Skint Estate, visits a foodbank, meets The Big Issue's Lord John Bird, revisits The Slobs with Harry Enfield and Paul Whitehouse, and is put to work at charity, Recycling Lives.
She has a few choice words for politicians along the way.
Speaking about Jaywick Kathy says: "There isn't a supermarket there because there isn't a road. I think it's really sad. There's a real sense of community with the local shops, but it's the difference between a loaf costing £1.50 or 50p. It could be an amazing place but it's been left and forgotten about.
"I feel you shouldn't be allowed to be a politician unless you've done some sort of real job. Going from Eton to Oxford to parliament, that's not really the route of understanding and empathy."
Speaking to TV Times Kathy explained something that made her think about money in a different light while filming: "Presenter Claudia Hammond said that when you're poor it can affect the brain and the way you decide things.
"The brain can't think straight because money is an overwhelming stressful thing if you haven't got it. It made me think of the phrase 'poor decision' in a completely different way. I'd always associated a poor decision with a bad decision. It was such an eye opener for me."
Has Kathy Burke plans to make a third documentary?
The good news is Kathy is considering her next documentary project.

She says: "Money Talks was quite a tough one to do, particularly because of the pandemic. I do want to do another one. I've sort-of got an idea, but I'm not going to say as someone may nick it!"
Who is Kathy Burke?
Kathy Burke, 57, is a celebrated British comedian, actor, and director.
In her new C4 documentary Kathy Burke: Money Talks, she reveals that by the age of 11 she was babysitting, had a Saturday job in a bakery, and worked in a laundrette after school to help make ends meet at home.
"When I started to make money myself, Saturday jobs and stuff, that's when life felt different to me," reveals Kathy. "I had a bit more control rather than just relying on dad and the family allowance. Once I started earning and could go out and get my NME and Smash Hits, and buy singles — it felt great."
In the 1990s Kathy Burke became a household name playing socially diverse comedy characters in Harry Enfield and Chums — such as snobby Pam "Considerably Richer Than You" Herbert and impoverished Waynetta Slob.
In Money Talks Kathy catches up with Paul Whitehouse and Harry Enfield to discuss their comedy creations.
"It was really lovely to see two old men get out and about during lockdown!" laughs Kathy. "It's always great to see them."
Kathy's other credits include Doctor Who, Absolutely Fabulous, Nil By Mouth, Gimme Gimme Gimme, and Tinker Tailor Soldier Spy.
She is currently working on the adaptation of Graham Norton's debut novel Holding.
Get the latest updates, reviews and unmissable series to watch and more!
Writer for TV Times, What's On TV, TV & Satellite Week and What To Watch
With twenty years of experience as an entertainment journalist, Elaine writes for What's on TV, TV Times, TV & Satellite Week and (opens in new tab)www.whattowatch.com (opens in new tab) covering a variety of programs from gardening and wildlife to documentaries and drama.
As well as active involvement in the WTW family's social media accounts, she has been known to get chatty on the red carpet and wander into the odd podcast.
After a day of previewing TV, writing about TV and interviewing TV stars, Elaine likes nothing than to relax… by watching TV.
Thank you for signing up to Whattowatch. You will receive a verification email shortly.
There was a problem. Please refresh the page and try again.