'King Gary' Season 2: Release date, plot, trailer, and all you need to know
King Gary returns to BBC2 this summer with a new six-part series.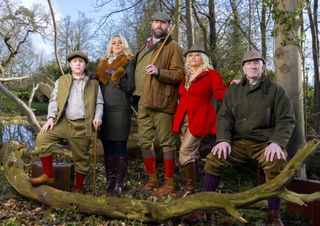 (Image credit: BBC)
King Gary Season 2 will be arriving on BBC1 at the end of July and we can barely wait to find out how Gary King and his loving family have been getting on since we last caught up with them.
Created and starring Tom Davis (Murder In Successville) and James De Frond, the sitcom is set amongst a competitive working-class crescent in the outer London suburbs and follows Gary King, a family man who has taken over his dad's building firm.
With all our favourites from the first series set to return, plus a few exciting new additions to the cast, the second series is one of BBC1's most anticipated comedies of the year. Here's everything we know so far about King Gary series 2...
King Gary Season 2 release date
The first episode of King Gary Season 2 arrives on BBC1 on Friday July 30 at 9.30pm. All six episodes will be box-setted on BBCiPlayer after the first episode has aired. Episodes will also continue to be shown weekly on BBC1 every Friday.
Meanwhile, in the US, the first series is currently available on Amazon Prime, so we expect season 2 will also head there.
When the second series was commissioned Tom Davis said: "We've been overwhelmed by the lovely response to the first series and the way people have taken the King family into their hearts. We are so humbled it resonated with so many and are both excited to be returning to Butterchurn Crescent. Lully stuff."
King Gary Season 2 plot
Series 2 of King Gary will see Gary and Terri attempt to tie the knot, in a fashion fit only for the Kings. Meanwhile, Stuart learns that the only thing worse than having Gary and Terri as enemies is having them as friends — Gary and Stuart unite against a common enemy in the shape of nightmare new neighbour Aaron, while Terri is determined to matchmake Stuart with her mate Alison.
What happened in King Gary Season 2 episode 1?
It's momentous day in Butterchurn Crescent, with the funeral of Gary's next door neighbour, Mrs Watson. But more importantly, Gary has hired a skip.
Gary's skip is everybody's skip - he's more than happy for his neighbours to dump their junk in there too, but when someone throws in a full set of old windows, Gary is soon on the warpath, trying to track the culprits down.
Along the crescent, Big Gary is dealing with a different type of intrusion: a cat who is fouling his front and back gardens every day and making a right mess of his new gravel. Meanwhile is beavering away at her new business - Bad Memory Candles - and she's quick to sign up Stuart as a customer.
Stuart's wife has left him and taken everything, so maybe burning a candle with a picture of her face on it will help exorcise his ghosts? Or maybe not. We also meet Gary's new neighbour, Aaron, who doesn't seem very nice at all!
Tom Davis on his role as Gary King in King Gary
"Gary King is kind of a version of myself and co-creator James De Frond. He's made up of things I bottle up and I try not to let bubble up to the surface.
"There are moments where my wife will now go, 'You're being Gary' when I'm being weird about stuff. Or getting really annoyed about a skip, which actually really, really happened. She's terrified of the show coming out, because she thinks the neighbours will think I'm portraying them. But everyone seems to know a Gary King, I guess he's just the everyman right?
Gary and Terri will be tying the knot in this year's second series and Tom thinks the relationship between those two characters is one of the biggest parts of the show.
"I love making King Gary for so many different reasons, but the bond between Gary and Terri is one of the biggest reasons, they're the heart of the show. We could have cut some stuff about their relationship this time to make room for other stories, but we realised that people have been invested in these two since the pilot, so let's not worry about the laughs let's just worry about the love of these two people.
Gary's bromance with his long-suffering neighbour Stuart Williams (Romesh Ranganathan) also flourishes in this year's second series...
"I love Romesh and I think he's brilliant as Stuart Williams. He's a brilliant comedian, but he's also a phenomenal actor and I think he did himself a bit of a disservice in the past, because he wasn't that confident as an actor and he questioned himself.
"But as soon as we started Stuart's divorce in the Christmas special, which is a very touchy subject and not something we're trying to make light of, he actually decided to take acting lessons, because he saw where the character was going this year and wanted to do more with him. There's a scene where Stuart and Gary are in the woods this time and Stuart is opening up and Romesh just nails it, he blew us all away."
Laura Checkley on her role as Terri King in King Gary
"There are plenty of layers on top, but there's a lot of me in Terri, although I certainly wouldn't wear any of those clothes and her nails are a nightmare. You literally can't do anything with those nails. But when I'm on one I go a bit Terri.
"I'm actually planning my own wedding at the moment and I sent my mum a little picture from the set of me in the wedding dress. She said I should keep it and actually get married in it! All the best comedies have lots of heart and you care about the characters, so that's what we tried to do with Gary and Terri. There are some lovely moments that really get you.
"I could definitely date someone like Gary. He's got a lot going on and he's a diva and all that, but I think ultimately, he's a really kind person. You'd never have to worry about him cheating. I think he's so loyal. He does everything for his family. I think you'd get on your nerves, but he's a real softy and a family man. He's a big old teddy bear!"
King Gary series 2 cast
The show's star and creator Tom Davis will reprise his role as Gary King, while Laura Checkley will be back as his faithful wife Terri.
Simon Day (The Fast Show) plays Gary's dad, Big Gary, Camille Coduri (Him & Her) returns as his mum Denise King, while Neil Maskell (Humans) will play his pal Winkle and Romesh Ranganathan (The Misadventures Of Romesh Ranganathan) will also be back as Gary's neighbour Stuart Williams.
New faces joining the cast for series two include Morgan Watkins (Bulletproof) who plays Gary's troublesome new neighbour and Lily Brazier (People Just Do Nothing), who plays one of Terri's pals.
Is there a trailer?
The trailer for King Gary Season 2 just landed, check it out below...
Get the latest updates, reviews and unmissable series to watch and more!
Feature writer for TV Times, What's On TV, TV & Satellite Week and whattowatch.com
Sean has been writing about all things telly for over 10 years and in that time he's been lucky enough to interview stars like Ian McKellen, Tom Hardy and Kate Winslet. His favourite shows are The Great British Bake-Off, People Just Do Nothing and Succession and in his spare time he enjoys drinking tea, doing crosswords and watching football.
Thank you for signing up to Whattowatch. You will receive a verification email shortly.
There was a problem. Please refresh the page and try again.