'Shetland' season 6: release date, cast, plot, and everything we know
'Shetland' season 6 sees Douglas Henshall back as DI Jimmy Perez.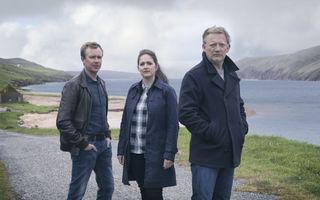 (Image credit: BBC)
Shetland season 6 has now aired in the UK, but there are still more episodes to come for US readers.
Douglas Henshall, who plays leading man DI Jimmy Perez, has declared he's delighted to be back for a new run of the hugely popular crime drama.
"After all we've been through over the last couple of years, it's wonderful to be back filming on Shetland again," he says. "Davy Kane [who's written the series with Paul Logue] has, once again, created stunning storylines in these two new series for Perez and the team to uncover the truth. Being back on the Shetland Isles has been wonderful. There is no location quite like it."
Shetland season 6 release date
Shetland season 6 began on Wednesday, Oct. 20 on BBC1 at 9 pm. All episodes of the sixth season have now aired, and are available to watch on BBC iPlayer in the UK.
Meanwhile, Shetland season 6 debuted in the US on BritBox on Nov. 9, with fresh episodes airing every Tuesday.
Shetland season 6 plot
The plot will see Perez and his team investigate the doorstep murder of a leading figure on Shetland.
Teasing the plot, Douglas tells us: "A very prominent and well-loved local is murdered outside their front door, and we set out to investigate what's obviously a big deal because they're a very important person. And the personal side of it is that his mum's died, so that kind of hangs over him throughout the whole season, and also his dad's got the beginnings of Alzheimer's, or dementia. So there's quite a lot of family stuff going on this year with him."
The BBC teases that the case will take "a shockingly sinister turn". The new series will also see the return of murderer Donna Killick, whose compassionate release aggrieves many of the locals not least Kate Kilmuir, the victim's sister. It's not clear how her release relates to Perez's investigation.
Shetland season 6 cast
Douglas Henshall (Perez), Alison O'Donnell (DS Alison "Tosh" McIntosh) and Steven Roberston (DC Sandy Wilson) are all back. Plus Erin Armstrong (Cassie), Mark Bonnar (Duncan), Anne Kidd (Cora) and Lewis Howden (Sgt Billy McCabe) all return. Fiona Bell (The Nest, Dead Still) is back as killer Donna Killick.
New series regulars include Anneika Rose (Line of Duty, Deadwater Fell) as Procurator Fiscal, Maggie Kean and Angus Miller (Guilt, Doctors) as Tosh's love interest, Donnie.
Plus joining the cast are Stephen McCole (Vigil, The Outlaw King), Jim Sturgeon (Vigil, Small Axe), Alec Newman (Showtrial, The Last Kingdom), Cora Bissett (Rebus, God Help The Girl), Lois Chimimba (Vigil, Trust Me), Conor McCarry (Outlander, Rillington Place), Lewis Gribben (Silent Witness, Deadwater Fell), Andy Clark (Annika, River City), Benny Young (Wild Rose, Outlaw King) and Shona McHugh (Annika, The Loch).
Is there a trailer?
Yes, a trailer has now arrived!
What happened in episode 1?
Shetland episode 1 introduces us to a brand new case, involving the murder of popular lawyer Alex Galbraith (Jim Sturgeon). DI Jimmy Perez (Douglas Henshall) is once again involved in finding out what happened, but it's not going to be easy as there's a whole host of suspects who could all have reasons for wanting him dead.
The long list of suspects include a mother who lost custody of her kids in one of Galbraith's cases, an ex-soldier who is angry that Galbraith refused to represent him, as well as someone linked to Galbraith's wife, who is running in a local by-election and has the backing of a local businessman, so it seems like the deceased has a lot of enemies.
Jimmy's got his own problems too as he's dealing with his father's dementia, with his grief about his declining health mirroring that of Galbraith's family. On top of this, a character from season 4 has returned as killer Donna Killick (Fiona Bell) is released from prison. But does she have anything to do with this?
It seems like we're a little closer to cracking the case when Jimmy manages to find a potential witness named Eamon Gauldie (Thoren Ferguson), who was flying a drone nearby. But Eamon's fate is left unknown after disaster strikes at the end of the episode, has we see him trapped on a dive boat with the room filling with smoke...
What happened in episode 2?
*spoilers ahead*
Eamon Gauldie's fate aboard the ship is revealed, and the race is on to try and find out what caused his death. Jimmy interviews the life support supervisors of the ship and believes that someone on board was ordered to get rid Gauldie by sabotaging a decompression chamber on the ship before he could speak to the police about Alex Galbraith's murder.
Jimmy also begins investigating Lynda Morton, who was a drug user connected to the evidence stolen from Alex's house. He meets her but fails to convince her to cooperate; she then rushes to a pub and tells an associate she "wants out". Sandy Wilson is asked to keep watch on Lynda's whereabouts whilst the search continues for the SD Card in Gauldie's drone.
Later, Jimmy finds out from Alex's daughter that he was having an affair. It later turns out that the Flora M she saw in his phone is actually a place, not a person. Jimmy travels to the religious retreat and asks about Galbraith, but it seems like the nun he speaks to is hiding something about his regular visits…
The SD card is found, but the only footage recovered shows Kate Kilmuir ramming Alex Galbraith's car half an hour before his death; she tells Jimmy she was angry that Galbraith helped get Donna Killick (who murdered her sister, Lizzie) out of prison but that she did nothing else.
Later, Jimmy visits war veteran Logan Creggan as a possible suspect for the person who ordered the death of Gauldie and orders his team to look into Logan's connection to Galbraith. Meanwhile, Sandy Wilson tailed Lynda Morton and her associate out to a remote farmhouse. When he confronted her, Sandy was run over by the man she was with and the two quickly escaped, leaving Sandy on the ground...
What happened in episode 3?
*HUGE spoilers ahead!*
Linda Morton and her escort (later revealed as Curtis Galt) attempt to flee. Whilst he goes to dump the car he used to run over Sandy (who has survived the attack), Linda phoned Jimmy from inside the freight container Curtis locked her in and she is rescued and then brought in for questioning, where she eventually gives up Curtis' identity.
After he's spotted trying to leave Shetland on the ferry, Curtis leads officers on a chase through the streets but is eventually apprehended by an officer after Tosh and Jimmy head Curtis off in the car. Although he confesses to the break-in at Galbraith's house and to dealing drugs, Curtis maintains he wouldn't kill anyone.
Elsewhere, a blood sample on Eamon Gauldie's drone is revealed to be a partial match for Lizzie Kilmuir. Jimmy visits Kate, her surviving sister, and finds her daughter Molly with a cut on her hand. Molly had disposed of the drone in the sea, as she thought it might have shown Kate in the footage, but Kate maintains she wouldn't ever kill anyone.
Jimmy also uncovers that Fiona Bedford had been having an affair with Alex Galbraith for around a year, and briefly suspects her husband Darren might have found out and killed his friend in revenge.
Later, Fraser Creggan confesses to shooting Galbraith, but Jimmy works out that he's just doing it to protect his father and refuses to accept it. Also, the ISA sends over a clue that was found on Eamon Gauldie's body, and Jimmy suspects they didn't investigate the ship thoroughly enough.
Logan apologizes to Fraser for struggling with his mental health and for not being a good father, and they decide to start afresh right as a family just before some masked med arrives. Logan confronts them but they set fire to his property and start a firefight which ultimately led to Fraser's death. Logan calls Jimmy out to his house to investigate, whilst he leaves the property armed with his rifle...
What happened in episode 4?
*Spoiler warning!*
Shetland's latest episode saw Jimmy and the rest of the squad trying to track down Logan Creggan as he sought revenge for Fraser's death. Jimmy locks the island down so that no one can leave whilst Logan is at large, and the team works out that his first target is Eve Galbraith. Luckily, they intervene in time to stop him.
Meanwhile, Sandy investigates an abandoned SUV which matches the description given by a neighbor who saw the gang that raided Logan's home. The SUV is is registered to Strewan Guthrie, Niven Guthrie's brother. He later visits Niven's company, where Strewan maintains he's never driven the car and it's kept at Niven's house. When Jimmy pays Niven a visit, he denies any knowledge that the car was missing the day before.
Logan's friend Nazir offers to help him if he leaves his rifle behind. Before he leaves, Logan calls his estranged wife to tell her about Fraser whilst she happened to be identifying the body, but Logan figures out she is with Jimmy. The team eventually finds Nazir's van heading north and mistakenly assumes he's heading for Eve Galbraith's home, but Logan actually breaks into Niven's house and assaults him because he believes Niven had organized the raid.
Eve phones Niven during the attack. Logan allows him to answer it, and Eve reveals that her daughter, Merran, suspiciously fled her house whilst Jimmy was searching it. Merran ran to the beach to be with her friends, who were actually the "gang" responsible for setting Logan's house alight. Logan arrives and begins interrogating Merran, but Jimmy saves her.
With Logan finally in custody, Jimmy decides to interview him. During the interrogation, Logan reveals his harrowing experiences of Iraq and demands to know why Jimmy is asking about Galbraith and not making progress in finding Fraser's killer. Tragically, Jimmy is forced to reveal to Logan that he was the one who shot his own son; all six bullets found at the scene were shot from his own rifle, including the one that killed Fraser.
After the interview, forensics returns and tells them that the custom bullets Logan had made aren't a match for the one that killed Alex Galbraith, leaving the team without a chief suspect in the case. Will they be able to track down Alex's killer?
Meanwhile, Sister Carolyn received a threatening postcard that scared her into fleeing the religious retreat, and Tosh learned that the person who had leaked the Donna Killick crime scene photos to the press was none other than DI Sandy!
What happened in episode 5?
*MASSIVE spoilers ahead*
In the penultimate episode of Shetland, we learned that Logan would not be charged with the death of his own son. Meanwhile, Tosh found out a crucial detail that could implicate Niven Guthrie: Niven had paid off Carrie McAndrew's business debts just one day before Eamon Gauldie died on the ship which she was the chef on!
Tosh paid Strewan Guthrie a visit to ask about the transaction. Strewan said the business was struggling and that Alex Galbraith and Niven had a bust-up over a business contract. However, Jimmy doesn't think this is enough of a motive to have him killed.
Later, Fiona Bedford contacts Jimmy to tell him that her husband, Darren, was using spyware to track her. Jimmy thinks Darren knew about Fiona and Alex Galbraith's affair and could have killed him to get revenge. Whilst Sandy looks into Darren's alibi, Tosh brings up Marianne Ross again. She convinces Jimmy Marianne's disappearance is relevant because Galbraith was paying for Maurice Ross' care home, even though Maurice thought his daughter was paying for it.
Then, Jimmy and Tosh spoke to Maurice about his daughter. They learned she'd gone to a party the night she disappeared. Maurice hands over the most recent photo of Marianne with her best friend, Lyn Harrison; Jimmy recognizes Lyn as Sister Carolyn, the nun from the religious retreat, and they start trying to trace her whereabouts.
Eventually, Lyn's car is spotted near Minn Beach, and the team goes to confront her. Lyn makes contact with Jimmy and confesses that Marianne Ross actually died at that party in the lodge that night; Niven, Darren Bedford, and Alex Galbraith were all at the party, and Alex had threatened Lyn so she would help cover for him and make it look like Marianne just fled the island. Suddenly, Lyn is attacked in the ruins near the beach.
Jimmy and Tosh find Lyn who is still breathing after the assault. However, Jimmy is called away from the ruins by Duncan. After she learned she was going to be removed from Shetland and sent to a hospice, Donna began pressuring Duncan into helping her take her own life. When Jimmy arrives at Donna's home, he immediately figures out what has happened and tells Duncan to prepare to make his statement to the police. Will Duncan be okay?!
What happened in episode 6?
Lyn Harrison is in intensive care after her attack, and there weren't any witnesses so Jimmy brings in Niven Guthrie and Darren Bedford for questioning. Eventually, Darren cracks under pressure and confesses that he, Niven and Galbraith, and Lyn Harrison had covered up Marianne's death to protect their career and that Galbraith had decided he finally wanted to tell the world what happened just before he died.
After Mick Muir pays a visit to the station, Tosh confronts Carrie McAndrew about a phone call she received from Niven Guthrie. She confesses that Niven told her to frighten him in exchange for paying her business debts and that Eamon Gauldie would be able to stop the uncontrolled decompression inside the dive boat to save himself.
Jimmy works out that Lyn (who passes away in the hospital) was actually in the office the morning Alex Galbraith was murdered, not Eve. Eve had sent Alex to collect some files the morning he was murdered; those files include notes on Eve's very own political campaign, and from this (and an encounter with Merrin Galbraith at the family home), Jimmy figures out Eve was the one responsible for Alex's murder. Eve, like everyone else, stood to lose plenty if Alex came forward, so she persuaded Lyn to help silence Alex Galbraith, and he dramatically confronts Eve where he reveals everything he's figured out.
There's no time to celebrate cracking the case, though. Jimmy is called in by the Procurator Fiscal, who asks about the letter Donna Killick had sent to her lawyer. This was not her will, but a sworn affidavit declaring that, if she died, Duncan Hunter was responsible for her death, and that Jimmy was covering up for his friend.
Jimmy tries to convince Duncan to fight Donna's accusations, but in secret he invites Cassie Perez back to the island to take over managing the wine bar so he can hand himself in and declare Jimmy had no knowledge of what happened. What's worse, Jimmy Perez is also placed under arrest whilst a full investigation into Donna's death is carried out.
Will there be a seventh season?
Yes! Shetland was renewed for seasons six and seven back in Dec. 2019. Covid-19 delayed filming on the sixth season, but production on the seventh season has already begun so we should expect to see it air sometime in 2022.
Get the What to Watch Newsletter
The latest updates, reviews and unmissable series to watch and more!
David is the What To Watch Editor and has over 20 years of experience in television journalism. He is currently writing about the latest television and film news for What To Watch.
Before working for What To Watch, David spent many years on TV Times magazine, interviewing some of television's most famous stars including Hollywood actor Kiefer Sutherland, singer Lionel Richie and wildlife legend Sir David Attenborough.
David started out as a writer on TV Times before becoming the title's deputy features editor and then features editor. During his time on TV Times, David also helped run the annual TV Times Awards. David is a huge Death in Paradise fan, although he's still failed to solve a case before the show's detective! He also loves James Bond and controversially thinks that Timothy Dalton was an excellent 007.
Other than watching and writing about telly, David loves playing cricket, going to the cinema, trying to improve his tennis and chasing about after his kids!