'Showtrial' on BBC1 — release date, cast, plot, trailer and everything you need to know
Showtrial is from the people behind Line of Duty and Bodyguard.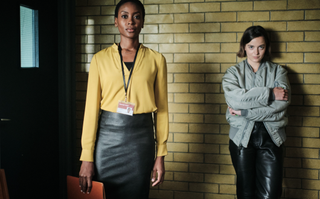 (Image credit: BBC)
Showtrial is a new BBC1 crime drama currently written by Ben Richards (The Tunnel).
The new five-part series joins World Productions' portfolio which includes Line of Duty, Bodyguard and The Pembrokeshire Murders.
The series explores how prejudice, politics, and the media distort the legal process, in a timely legal drama full of dark humour.
Series director Zara Hayes says: "These scripts are thoroughly gripping and yet say something truly resonant about the justice system. I couldn't be more honoured to bring them to life along with such a wonderful cast and the dream team in British TV drama."
Here's everything we know about BBC1's Showtrial...
'Showtrial' release date
The first episode of Showtrial started on BBC1 on Sunday, Oct. 31 at 9pm. The second episode goes out on BBC1 on Sunday, Nov. 7 at 9pm. All episodes can be watched now on BBC iPlayer.
What is 'Showtrial' about?
Showtrial's official synopsis is: "When Talitha Campbell, the estranged daughter of a wealthy property developer, is charged with conspiring to murder fellow university student Hannah Ellis, the trial that follows places victim and accused — and their families — in the eye of a media storm. Into that storm enters Cleo Roberts, the duty solicitor on the night of Talitha's arrest.
"Refusing her father's help, Talitha wants Cleo to lead her defence against a prosecution weaponising Talitha's gender as well as her social privilege against her."
The series is filmed and set around Bristol, and follows the case from arrest to verdict, giving viewers a deep dive into Talitha's story and the case surrounding her.
Who's in the cast?
Showtrial's cast list has been released, and there's a great line-up bringing Ben Richards' story to life. Speaking about the casting, Richard says: "I am delighted with the cast that has been assembled for Showtrial. It is a brilliant ensemble of talented actors that feels modern, energetic, and perfectly suited for the complex characters and storylines."
Here's the full list of names we know so far...
Tracy Ifeachor (The Originals)
James Frain (Star Trek: Discovery)
Sharon D Clarke (Rocks)
Sinéad Keenan (Little Boy Blue)
Celine Buckens (Bridgerton)
Kerr Logan (Game of Thrones)
Lolita Chakrabarti (Criminal: UK)
Speaking about her role as Cleo Roberts, Tracy Ifeachor said: "We first meet Cleo when she's on her way to the police station to pick up what she thinks is a duty case. She meets a privileged young woman and we think its going to be an open-and-shut case, but it unfolds. Cleo doesn't really judge; she's fun, really educated, witty with a dry sense of humour, which is fun to watch and play."
She's starring opposite Celine Buckens who plays Cleo's client Talitha Campbell. Celine said of her role: "Talitha is the main suspect. She is privileged, brassy, riles people and rubs them up the wrong way, especially the detective leading the investigation which is pretty dangerous, but she's also really funny. The complexity in which she's written; she is unfiltered which is quite rare to see in life and on screen, a combination of humour and provocation."
What happened in episode one?
The first episode of Showtrial introduces us to the disappearance of student Hannah Ellis (Abra Thompson), an ongoing investigation that eventually results in spoiled, wealthy university student Tailtha Campbell (Celine Buckens) being taken in for questioning.
Talitha comes across as quite an unsympathetic person, and her overall behaviour plus the revelation that she'd sent some threatening messages to Hannah means suspicions are immediately raised.
But naturally, this isn't an open and shut case and more truths are revealed along the way. Cleo Roberts (Tracy Ifeachor) is brought in to defend Talitha, who learns that she and Hannah had "a falling out" and claimed that she "got on her nerves".
Talitha also confessed she does webcam and escorting work on the side, which Hannah had strong views on. So their relationship didn't seem very strong up until her disappearance, but later on in the episode, it's suggested Talitha could care more about Hannah than she's letting on.
When alone in her cell, Talitha's cocky facade disappears and she's seen singing herself a tearful lullaby. There's also video evidence to suggest the two women were friends, perhaps even more than that, although the true nature of their relationship is still unclear.
It seems Talitha is alone in the world too, after revealing she doesn't get on well with her rich father Sir Damien Campbell. Talitha's housemate Dhillon Harwood (Joseph Payne) also becomes tangled up in the investigation, as he was attending the same party as Hannah and Talitha before Hannah went missing. He's also acting suspiciously, claiming that he doesn't know Hannah which we know is untrue. Soon after arriving home from University, he tells his mum he's going away to the cottage to write his dissertation. Is he involved in what happened to Hannah?
Episode one ends on a shocking revelation, that this is now a murder investigation and the weapon used to kill Hannah was the green scarf that Talitha was wearing on the night she vanished. But did she die at the hands of Talitha, or someone else entirely? The second episode will explore this, as well as the oncoming media storm around Talitha's arrest.
Is there a trailer?
Yes! A trailer for Showtrial has arrived, giving us a glimpse at the two lead women as well as the murder case that Talia has been accused of. With the rest of the world seemingly hating Talia, it's up to Cleo to try and prove her innocence and convince society that there's more to this case than meets the eye.
Thank you for signing up to Whattowatch. You will receive a verification email shortly.
There was a problem. Please refresh the page and try again.