'The Apprentice' 2022 — release date, trailer, candidate line-up, judges, and interviews.
'The Apprentice' 2022 sees Lord Alan Sugar return with 16 hopeful candidates, a £250,00 prize and a new judge.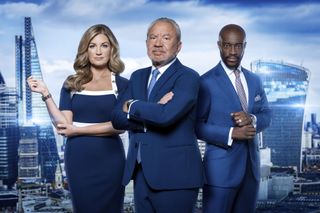 (Image credit: BBC)
The Apprentice 2022 is now underway!
The Apprentice is a jewel in the crown of reality TV and always one of the most talked-about shows on social media when it airs. So, we're delighted to reveal the series is returning to BBC1 in January 2022 with sixteen new candidates who will, no doubt, be giving 110 percent in a bid to impress Lord Alan Sugar.
The boardroom is well and truly back in business. The first task saw the sixteen candidates marketing a new cruise liner, and it led to the first ambitious entrepreneur of the season being sent home for being disruptive during the task.
Here's everything you need to know about The Apprentice 2022…
'The Apprentice' 2022 release date
The Apprentice 2022 returned to BBC1 on Thursday, Jan. 6 2022 at 9 pm. New episodes air weekly at the same time, in the same place.
It is followed by The Apprentice: You're Fired with Tom Allen on BBC2 straight afterwards. Both shows are also available to watch on BBC iPlayer.
There are currently no plans to air The Apprentice 2022 in the US.
What's new in 'The Apprentice' 2022?
Traditionally shown on Wednesday nights, The Apprentice 2022 has moved to a new Thursday night slot in BBC1's New Year schedules.
Fan-favorite Claude Littner is taking a one-season break to recuperate after a serious cycling accident. Lord Sugar has appointed a new aide as his replacement —entrepreneur Tim Campbell, who won the first series back in 2005. Much respected businesswoman Baroness Karren Brady is also returning as Lord Sugar's right-hand woman.
'The Apprentice' 2022 line-up
Sixteen new candidates have been selected to compete for a £250,000 investment in their business should they win Lord Sugar's approval.
Karren Brady revealed to us that this year's line-up was a "really good mix" of contestants. She said: "They're hugely ambitious and self-confident, but we soon find how that goes. They have very different backgrounds, very different business perspectives, and very different life experiences. It's a really good mix."
The line-up was finally revealed on Jan. 4; you can find out a little bit about each of the contestants below and see who has been fired from The Apprentice so far.
Aaron Willis
Aaron is a 38-year-old RAF Flight Operations Instructor from Chorley who wants to set up his own security business. He's also been a milkman, horseman, and butcher in the past but is now a salesman who is "hungry for success."
He said: "My strongest point is that I can sell, to anybody and I think that's the reason why my business will be a success, because people will buy from me."
Akeem Bundu-Kamara
29-year-old Akeem is a strategy manager at a financial firm from London. He considers himself a people person, but also says his analytical abilities will lead to him coming into the competition "with a calculated point of view".
He says he's "got the ambition, the drive and the experience working with strategy" to make him stand out from the other contestants.
Akshay Thakrar
Akshay is a 28-year-old business owner from London. He runs a Digital Marketing Agency and believes he was put on the planet to do one thing: make money. He can speak 7 different languages, a skill which means he can "sell anything, to anyone."
Alex Short
Alex is from Hertford. This 27-year-old entrepreneur owns a successful commercial cleaning company; despite encountering some hurdles along the way, he's currently on the way to tripling his turnover, an achievement which he regards as the most impressive thing he's done in business so far.
He said: "I would compare myself to a Ferrari, shiny on the outside but under the bonnet, there is a lot of fire and I'm coming for you."
Amy Anzel
48-year-old Londoner Amy Anzel started her beauty business a little later in her life than some of the other contestants, but she has now found her passion after having worked in sales, showbiz and jingles.
She takes business seriously and labels herself determined, persistent and a "tough boss".
Brittany Carter
Brittany is a 25-year-old Front of House Manager at a hotel from Bristol. She describes herself as kind, sociable and enthusiastic and wants Lord Sugar's help to kickstart her business idea selling the first alcoholic protein drink.
Talking about her approach to life, Brittany said: "My motto for life is 'always look on the bright side and be grateful for everything' – every day when I wake up, I write 10 things that I am grateful for and when I go to sleep, I reflect on 5 things I am grateful for from that day."
Conor Gilsenan
Conor is a 28-year-old former professional rugby union player turned sales executive from London. He is hardworking and "hyper-motivated" by money who has a record of closing deals and wants to set up a fleet of food and beverage vendors for music and sports events.
He says: "I'm going to be the corporate panther in the boardroom, I'm going to get it done, and I'm going to be Lord Sugar's perfect business partner."
Francesca Wallbank
Francesca is 26 from Surrey and owns a sustainability company. She comes from a line of successful entrepreneurs and is looking for investment in her newest business venture: providing a carbon footprint service for businesses based on an equation of her own creation.
She is confident she'll go the distance, stating: "There are two types of people in the world – there's people that say they are going to do things and people that actually do them, and I'm a doer."
Harry Mahmood - Fired in Week 1
Harry, 35, is a regional operations manager from the West Midlands. He wanted Lord Sugar's help to grow his own bath bomb business and aims to become "the bad boys of the bath bomb world together" with Lord Sugar.
He's very confident in his abilities, stating: "everything I've looked into achieving, I've achieved. I've literally done everything I've put my mind to."
Unfortunately, Harry was the first person to leave the show. In the taxi home, he said: "This isn't the last you've seen of Harry that's for sure. You'll see me again on the Fortune 500 UK's richest people. Watch this space."
Harpreet Kaur
Harpreet, 30, is a dessert parlour owner from West Yorkshire. She plans to level-up her successful, six-figure coffee and cake company into a leading UK brand and is ready to be Lord Sugar's next business partner.
She added: "I'm definitely not in business to make friends, I'm here to make money, and I'm pretty sure Lord Sugar isn't looking for a new mate."
Kathryn Burn
Kathryn, 29, is from Swindon and owns an online pyjama shop. She's worked in a variety of roles including being a mortgage advisor and an events manager, but is now confident that her pyjamas will one day be "worn by everyone."
She says: "My dreams in my head are absolutely huge and I believe I can achieve them."
Navid Sole
27-year-old Navid Sole is a qualified pharmacist and Nicki Minaj superfan from London who aspires to launch their own successful pharmacy brand with Lord Sugar's help.
He said: "Nothing intimidates me because I just feel like I'm a strong character, strong person, strong mindset."
Nick Showering
Nick, 31, is a finance manager from London. After "working in the shadow of his family's business", this qualified accountant now wishes to make a name for himself in the drinks sector with his own line of flavoured water.
As a people person, Nick's plan to beat the other contestants is to "kill them with kindness", even though he describes himself as a "bit of an animal in the boardroom."
Sophie Wilding
32-year-old Sophie owns a boutique cocktail bar in Cheltenham. She describes herself as magical and enchanting and has big plans for the bar's renovation.
With witch school qualifications under her belt and her belief that "failure is not an option, winning is part of my DNA", Sophie hopes to work her magic and come out on top as the winner of The Apprentice 2022.
Shama Amin
41-year-old Shama Amin is a mother-of-five from Bradford who owns a children's day nursery.
She is incredibly passionate about childcare and says she is ready to prove she's got the "skillset that is required to be one of the best, successful businesswomen in the early years sector."
Stephanie Affleck
Stephanie, 28, from Kent and owns an online designer children's clothing store. She has a no-nonsense attitude when it comes to business and wants to be part of the rapidly growing pre-loved fashion industry.
She said: "I'm an East London girl, and I've got that no nonsense sort of work ethic. I've got grit, determination and I'm determined to be successful."
'The Apprentice' 2022 tasks
The press release reveals that during the new series: "The candidates are thrown into the world of children's oral care, there's an adventurous brief to boost Welsh tourism, and the development of an original video game concept will take things up another level. The budding entrepreneurs will also find themselves in the spotlight as they sell live on TV, negotiate fishy waters in Cornwall and navigate a racing-inspired corporate away day at Silverstone."
Karren told us more: "We go to some great locations across the UK and there are some really interesting tasks.
"The candidates get a visit from what I'll call a familiar-looking tooth fairy when they have to design a children's toothbrush. We go to Wales to put together a Welsh tourism campaign - that involves lots of zip wires and steam trains.
"There's also a fishing task where they have to catch fish and sell them. That's quite spectacular. And there's a corporate away day at Silverstone that is incredible."
'The Apprentice' 2022 - Episode Guide
The Apprentice 2022 - Episode 1
The BBC press release says: "With 16 new candidates competing to win a life-changing £250,000 investment in their business, the series launches with a challenge that is anything but plain sailing. Aboard a brand-new cruise ship the candidates are split into teams as they're tasked with designing an advertising campaign for a destination cruise."
We say: "Sixteen aspiring entrepreneurs hooked on landing a £250,000 bounty? It can only mean one thing - The Apprentice is back! Lord Sugar orders a motley new crew to create a marketing campaign for a cruise liner. Setting sail from Portsmouth, with first-class passengers Karren Brady and Tim Campbell keeping a log of any mutinies. The ambitious candidates dive into the task but quickly realize they're out of their depth. With design disasters and an advert that tanks, back on dry land one candidate finds themselves at journey's end - AKA in the back of a cab wondering if they should have rocked the boat…"
The Apprentice 2022 - Episode 2

The BBC press release says: "For Week Two the candidates are summoned to the Eastman Dental Institute in central London. Lord Sugar, in the form of a tooth fairy, reveals they will be creating a brand-new electric toothbrush aimed at children aged between six and eight-years-old, as well as creating an accompanying app that encourages children to brush their teeth. One team takes on an intergalactic space theme with hopes of it rocketing them to success, while on the other team they take a chance with a magical masterplan. But painful pitching and jaw dropping creations, lead to a drilling from Lord Sugar in the boardroom."
We say: "Think you've seen it all on The Apprentice? Well, brace yourself. In this episode Lord Alan Sugar opens up proceedings in the form of the tooth fairy. And, somehow, it suits him! Candidates are asked to create a new electric toothbrush for children with an accompanying app and pitch their products to two major buyers. And it soon becomes clear that some of them have a gap in their knowledge when it comes to appealing to children aged 6 - 8. In the boardroom - you know the drill - everyone fights tooth and nail to keep their place and one entrepreneur is extracted."
The Apprentice 2022 - Episode 3
The BBC press release says: "Week Three and the candidates create and sell non-alcoholic drinks. Manufacturing mishaps in one team and less than sparkling sales in the other, lead to Lord Sugar calling time for one candidate in the boardroom."
We say: "Lord Sugar asks the candidates to meet him at Mayfair's Mercato Metropolitano, a grand old former church that's now a massive market. And speaking of markets, he's keen for his aspiring business partners to tap into the booming non-alcoholic drink sector. The teams are tasked with creating, branding and selling a new booze-free beverage. It's fair to say at least one of their concoctions isn't to anyone's taste! Manufacturing misadventures and a last minute addition lead to sales tanking. In the boardroom one candidate has cold water poured on their dreams. All together now - Show Me The Way to Go Home…"

The Apprentice 2022 - Episode 4

The BBC press release says: "Week Four and the candidates are sailing into the fish business – fishing for a catch of the day down in Cornwall and selling to the public and a corporate client. The teams hit treacherous water when key information is forgotten and poor sales hamper profits, leading to one candidate being set adrift in the boardroom."
We say: "The candidates are asked to tackle the fishing market. Half of each team heads to Cornwall to physically catch fish and cook dishes to sell at a farmer's market. Meanwhile in London, the other half of each team must sell to corporate clients. What could go wrong? Plenty, it turns out. Back in the boardroom everyone angles to keep their place in the competition. But after Karren describes one team's endeavours as 'one of the worst I've ever seen' their fate is cast. A furious Lord Sugar scales back on the remaining candidates. Compulsive viewing. Consider us hooked!"
The Apprentice 2022 - Episode 5
The BBC press release says: "Lord Sugar summons the candidates to the immersive entertainment complex, Samsung KX in London. He reveals that for this week's task they will be creating their own computer game. They will need to create a game demo along with a character for their game, before pitching their concept to a panel of hugely successful games investors. Poor decisions and mistakes mean investments are a struggle, and in the boardroom for one candidate, it's game over."
We say: "Last week Lord Sugar told the losing team their performance was 'the worst failure' he'd seen, and a fourth candidate was fired. This week everyone is determined to raise their game when they're reshuffled and tasked with creating a computer game. One team opts for a classic prison break story while the other decides to tackle global warming. Both ideas get a frosty reception from stony-faced industry leaders. After painful pitches that expose glaring mistakes, in the boardroom Lord Sugar is in firing mode. It's clear some didn't fully compute the challenge, but how many players will he terminate?"
The Apprentice 2022 - Episode 6
The BBC press release says: "The remaining candidates get a surprise house call from Lord Sugar, who reveals they're off to north Wales. One of the UK's tourist hot-spots, the candidates will have the opportunity to capitalise on the booming tourism market, as they are tasked with running their own highland railway and quarry & zip line tours. One team hits a low point when they pay a high price for their tour tickets, and on the other team time is wasted when selling to the public."
We say: "Lord Sugar pays the remaining candidates an unexpected house visit tonight and tells them to get packing. They're off to North Wales to tap into the region's tourist industry. Tasked with running their own tours, one team opts for a highland railway outing while the other goes for a zipline adventure and quarry tour. Both make fundamental mistakes. Ticket pricing errors, slow sales and forgotten tips potentially add up to substantial hits to their profit margins. Lord Sugar is not a happy camper in the boardroom. But hey, at least they've already packed!"
The Apprentice 2022 - Episode 7
The BBC press release says: "Week 7 and the candidates are summoned to Here East, in the Queen Elizabeth Olympic Park in East London for their briefing by Lord Sugar, who arrives not in his usual limo but in a type of driverless vehicle known as a POD. Here, the candidates learn that they must gear up to design, brand and pitch their own electric driverless POD. They will also be meeting with a major corporate client who are looking to lease driverless vehicles - with the team who receives the biggest overall profit driving away with the win. Confusing concepts and mistakes in meetings lead to both teams being driven to distraction. In the boardroom Lord Sugar hits the brakes for one candidate."
We say: "It's Lord Sugar's way or the highway as he tasks the candidates with designing, branding and pitching driverless vehicles called PODs. He also has them meet with a major corporate client who wants to lease driverless vehicles - which all sounds like a licence to print money. But with one team's concept going in the wrong direction and the other misjudging the all-important client meeting, there's a danger of middle-of-road results all round. The suspension (sorry!) in the boardroom is palpable. Who faces a sudden commute home?"
Check back for weekly updates...
'The Apprentice' 2022 Judges
Lord Alan Sugar
Having left school in Hackney aged 16, Lord Sugar started selling electric goods out of a van he bought for £50. In 1968, he founded Amstrad, which he sold to Sky in July 2007.
Lord Sugar, 74, has appeared in all 15 series of BBC One's The Apprentice UK and hosts The Celebrity Apprentice Australia. Lord Sugar has invested nearly three million pounds in entrepreneurs discovered on The Apprentice.
In 2012 he starred in Doctor Who episode The Power of Three.

Speaking at a press junket for the new series Lord Sugar said that he would like to continue making The Apprentice until he reached 20 episodes: "This one is 16, so I've got four more to do to achieve that goal.
"I've already worked out the final task… to arrange my funeral and to see how well they arrange it and what kind of coffin that they would get for me.
"That would be a good one wouldn't it?" he deadpanned, adding: "I'm going nowhere. And the programme's going nowhere.
"I can assure you, there's going to be a lot more. While I've got the health and strength in my body, I will carry on."
Baroness Karren Brady
Karren Brady, 52, is Vice Chairman of West Ham Football Club and a Peer in the House of Lords. She is one of the UK's leading Female Business Speakers and is a non-executive director of global media and university businesses.
Karren has been a vital part of The Apprentice, both as an interviewer and a judge, since 2008.
She also starred in Doctor Who episode The Power of Three in 2012.
Tim Campbell MBE
After winning The Apprentice in 2005, Tim Campbell, 44, landed a £100,000-a-year job at Lord Sugar's company, Amstrad.
He left two years later to found the Bright Ideas Trust, a charity to support young people in setting up their own businesses. He now runs his own digital-growth agency, Marketing Runners.
Speaking to us about joining The Apprentice 2022 Tim said:
"I'm so honored. The Apprentice was such a transformational chapter of my life so to be asked back and get to sit next to Lord Sugar, it's like I've gone full circle.
"I want to see somebody else have the opportunity to work with the man who shared his business brilliance with me. I'm really lucky that I get to pass that baton on to somebody else."
Additional information on The Apprentice 2022
Will there be a return of the iconic losers cafe?
Karren says: "The cafe is definitely a feature this year. It's impossible to have the series without the losers' cafe!"
Where can I watch The Apprentice 2022?

The Apprentice starts on BBC One on Thursday, Jan. 6, 2022 at 9 pm. It is followed by The Apprentice: You're Fired with Tom Allen on BBC2. Episodes of The Apprentice and You're Fired are available to watch on BBC iPlayer after transmission.
Is there a trailer?
Yes! A fun trailer with an AI-version of Lord Sugar, complete with cameos from Karren Brady, Tim Campbell and sixteen wheeled suitcases is available to watch below.
Get the What to Watch Newsletter
The latest updates, reviews and unmissable series to watch and more!
Writer for TV Times, What's On TV, TV & Satellite Week and What To Watch
With twenty years of experience as an entertainment journalist, Elaine writes for What's on TV, TV Times, TV & Satellite Week and (opens in new tab)www.whattowatch.com (opens in new tab) covering a variety of programs from gardening and wildlife to documentaries and drama.
As well as active involvement in the WTW family's social media accounts, she has been known to get chatty on the red carpet and wander into the odd podcast.
After a day of previewing TV, writing about TV and interviewing TV stars, Elaine likes nothing than to relax… by watching TV.