The best Christmas movies on Netflix
Here are the best Christmas movies on Netflix — watch classic festive fare and fresh originals this holiday season.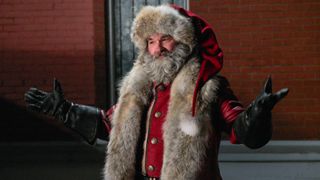 (Image credit: Netflix)
Here are the best Christmas movies on Netflix to enjoy right now.
With the holiday season on the horizon, there's no better time to binge-watch a sleigh full of Christmas movies on Netflix. Between classic holiday fare and fresh originals, the lineup of Netflix Christmas movies will be able to get even the most miser of Scrooge's into the holiday spirits.
Here are the best Netflix Christmas movies you can watch right now.
Our best Christmas movies on Netflix round-up...
Falling for Christmas (2022)
Lindsay Lohan stars in Falling for Christmas, a fun holiday rom-com with a very talented cast. Lohan plays spoiled and entitled hotel heiress Sierra Belmont, who loses her memory after an accident on the slopes. She finds herself at a quaint mountain lodge owned by Jake (Chord Overstreet) and his family. With no memory and no way of figuring out who she is, Sierra stays at the lodge and helps out as they prepare for Christmas. It's the perfect blend of comedy and holiday fun!
Christmas with You (2022)
Aimee Garcia and Freddie Prinze Jr. star in Christmas with You, a feel good holiday movie that will have you singing along. Garcia plays a pop star who is pressured by her record company to produce a Christmas song. Needing inspiration, she decides to fulfil the wish of one of her biggest fans, but the meet-and-greet turns into something she never could have imagined.
The Christmas Chronicles (2018)
Thanks to its sequel, fans of sexy Santa Kurt Russell can celebrate the upcoming holiday with a double feature of The Christmas Chronicles and The Christmas Chronicles 2. Get your start with the original, where two kids named Kate and Teddy sneak into Santa's sleigh, but an issue arises and Santa crashes, losing all of the Christmas presents. Now it's up to the kids and Santa to correctly deliver all of the gifts before Christmas morning.
The Claus Family (2020)
The Claus Family, and its sequel The Claus Family 2, are ones for all the family to enjoy. Billed as a feel-good and heartfelt movie, The Claus Family follows Jules, who loathes Christmas. However, his view changes when his grandfather falls ill and he learns about his family's amazing legacy. But can he save Christmas?
A Castle for Christmas (2021)
Brooke Shields stars as a best-selling author who heads off to Scotland as she tries to escape a recent scandal. There, she becomes enchanted with a castle but is at odds with the grump duke who owns it, played by Cary Elwes. Magical setting, check. Classic rom-com setup, check. Get a fire going and enjoy this charming tale.
Nativity! (2009)
Nativity! is an absolute joy starring Martin Freeman as grumpy teacher Mr Madden who's dumped under the mistletoe by his girlfriend (Ashley Jensen). He's obviously less than thrilled when his headmistress (Pam Ferris) asks him to direct the school's nativity play. In step, Mr Poppy (Marc Wootton), who is determined the show should be a success…
Dolly Parton's Christmas on the Square (2020)
The queen of country, Dolly Parton, performs a Christmas miracle in this Emmy-winning Netflix movie. A cold-hearted businesswoman (Christine Baranski) attempts to sell her hometown's land, but an angel (Parton) attempts to convince her of what will happen if she does. Dolly Parton's Christmas on the Square has that feel of A Christmas Carol/It's a Wonderful Life with a country soundtrack.
The Holiday Calendar (2018)
Unexplainable Christmas magic is one of the greatest gifts to the subgenre, and The Holiday Calendar is one of the very best examples. Kat Graham (All Eyez on Me, Operation Christmas Drop) stars as Abby, a struggling photographer who receives an antique advent calendar from her grandfather. As Abby opens each door, she discovers the calendar's gifts can predict the future, as well as help her find the love of her life.
Jingle Jangle: A Christmas Journey (2020)
Look no further if you're looking for a charming way to welcome the holiday season. Jingle Jangle has the heart of a classic Christmas story, but still feels totally fresh and unique than anything made before. It's a musical fantasy about a jaded toy maker (Forest Whitaker) revitalized with the spirit of creation thanks to his precarious granddaughter, Journey (Madalen Mills). It's the perfect addition to your holiday-watching favorites.
Klaus (2019)
Jesper Johansson (Jason Schwartzman) is the spoiled brat son of the Royal Postmaster General, and has been trying to flunk out of the postman academy. His disappointed father sends him to the distant town of Smeerensburg and notes that if Jesper fails to post 6,000 letters within a year, he will be cut off from his family's fortune.
Once Jesper arrives in the snowy town, the film transforms into a beautiful origin story of Santa Claus, with J.K. Simmons as the titular Klaus. The Academy Award-nominated film is truly something to behold, and an absolute modern Christmas classic.
Let it Snow (2019)
Adapted from the book by John Green, Maureen Johnson and Lauren Myracle, Let It Snow is an entangled anthology starring an ensemble cast of some of the best young actors working today. Kiernan Shipka, Isabela Moner, Matthew Noszka, Liv Hewson, Odeya Rush, Anna Akana, Mitchell Hope and Shameik Moore all-star in their respective gen Z Christmas tales, with Joan Cusack and D'Arcy Carden also featured.
The film follows three different teenagers as they experience a huge snowstorm in the town of Gracetown during the Christmas season, with all of their stories intertwining with Christmas cheer.
Love Hard (2021)
Catfish stories and charming Christmas movies seem like an odd combination, but Love Hard takes on that challenge. An unlucky-in-love Los Angeles girl (Nina Dobrev) fall for a rugged East Coast guy online and decides to surprise him for the holidays. However, when she arrives, she learns that the guy behind the app is actually his childhood friend, played by Jimmy O. Yang.
The Princess Switch (2018)
Mark Twain's The Prince and the Pauper is a classic novel, but it was truly lacking Vanessa Hudgens and an artisanal bakery in Chicago. A week before Christmas, a duchess switches places with a young baker who looks exactly like her.
The duo intend to see how the other side lives, but things quickly grow complicated when they each fall in love with the other's beau. A smash hit on Netflix, The Princess Switch has inspired two sequels, including the brand new The Princess Switch 3: Romancing the Star, also thankful available on Netflix.
Single All the Way (2021)
Every single person knows the awkward questions they can receive when going home for the holidays about why they aren't seeing anyone. In Single All the Way, perpetual single guy Peter (Michael Urie) attempts to avoid that issue by convincing his best friend Nick (Philemon Chambers) to come to his home for the holidays and pretend they are in a relationship.
Rom-com fans can make a pretty good guess at what comes next, but with supporting performances from Jennifer Coolidge, Kathy Najimy and more, you know it's going to be a wonderfully crazy family visit.
Shaun the Sheep: The Flight Before Christmas (2021)
Shaun the Sheep: The Flight Before Christmas is a special featuring the popular Aardman Animation character. In the film, Shaun and the rest of the flock are excited for Christmas, but when a farmhouse raid goes awry Timmy goes missing. Can Shaun get him back before he becomes someone else's present?
We hope you enjoyed our best Christmas movies on Netflix round-up!
Get the What to Watch Newsletter
The latest updates, reviews and unmissable series to watch and more!
BJ Colangelo is an award winning filmmaker and film analyst specializing in dismissed cinema and television. She writes about horror, wrestling, musicals, adult animation, sex and gender, kicking pancreatic cancer's ass, and being a fat queer in places like Fangoria, Vulture, The Daily Dot, Autostraddle, Playboy.com, and a handful of books college students get assigned to read. She's also the co-host of the teen girl movie podcast, This Ends at Prom, with her wife, Harmony.