The Ms. Pat Show season 3: release date, trailer, cast and everything we know about the sitcom
Will Ms. pat and Terry reconnect following season 2's explosive finale?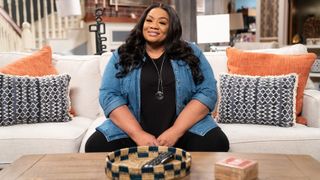 (Image credit: NATHAN BOLSTER/BET+)
The flagship BET Plus show is The Ms. Pat Show, with season 3 of the sitcom right around the corner. Based on the true story of standup comedian Patricia "Ms. Pat" Williams, the series looks into the life of its lead attempting to settle down with her family in small town Indiana after leaving Atlanta as a convicted drug dealer.
Pushing its MA-14 parental rating to the limit, the unfiltered family sitcom feels like a unique blend of All in the Family and Roseanne in addition to the urban fish-out-of-water tale of The Fresh Prince of Bel-Air. The Ms. Pat Show has already earned praise for delivering laugh-out-loud comedy with serious social commentary, including an Emmy nomination in 2022.
Following a cliff-hanger ending for season 2, The Ms. Pat Show returns for season 3 with 10 brand new episodes. Here's everything we know about The Ms. Pat Show season 3.
The Ms. Pat Show season 3 release date
All episodes of The Ms. Pat Show season 3 are set to be released on BET Plus Thursday, February 23.
The Ms. Pat Show season 3 cast
The central cast of The Ms. Pat Show all return for season 3, including Ms. Pat as Patricia "Pat" Ford Carson.
J. Bernard Calloway is back as Ms. Pat's understanding yet flawed husband Terry Carson. Former reality television star known for time on The Real World and Basketball Wives turned actress Tami Roman returns as Ms. Pat's recovering drug addict sister, Denise Ford. Vince Swann, Briyana Guadalupe and Theodore John Barnes return as the lead's live-in children Brandon, Janelle and Junebug. Brittany Inge should be coming back as Ms. Pat's successful eldest daughter, Ashley, as well.
The Ms. Pat Show season 3 plot
There were several unresolved storylines during the last season of The Ms. Pat Show. The biggest has to do with Ms. Pat and Terry getting into a huge fight. As the series lead began to make headway in her ambitions to be a stand-up comic, she decided to get an abortion after discovering she was pregnant, which angered Terry.
Season 3 will deal with the fallout of that argument, as Ms. Pat begins to tour as a stand-up comedian. Denise also begins to succumb to childhood trauma and relapses. Meanwhile, Ashley will have to deal with being cheated on by her girlfriend.
Here's is a quick plot synopsis from BET:
"Ms. Pat gets to tour with one of her comedy idols, but that doesn't mean she gets a break from her chaotic family."
The Ms. Pat Show season 3 trailer
Below is the trailer for The Ms. Pat Show season 3:
How to watch The Ms. Pat Show season 3
The Ms. Pat Show airs exclusively on BET Plus, which means you need a subscription to the streaming service to watch. Interested users without a BET Plus can get a free seven-day trial before the $9.99 subscription fee is applied.
While BET Plus is available as a standalone service, the streaming network can also be added to Prime Video, The Roku Channel, Apple TV and Sling TV. Sometime down the line, BET will eventually broadcast a heavily edited version of the season on their cable network.
Right now, BET Plus isn't available in the UK.
Ms. Pat comedy special
Anyone interested in watching Ms. Pat's comedy routines should check out her hour-long comedy special Ms. Pat: Y'all Wanna Hear Something Crazy, which premiered on Netflix February 2022. The special was directed by celebrated Black director and actor Robert Townsend and produced by comedy veteran Wanda Sykes. Check out the trailer below:
Get the What to Watch Newsletter
The latest updates, reviews and unmissable series to watch and more!
Ural Garrett is an Inglewood,CA-based journalist and content curator. His byline has been featured in outlets including CNN, MTVNews, Complex, TechRadar, LA Weekly and more.