Three Pines: episodes, trailer, cast and everything we know about the mystery series
Alfred Molina headlines Prime Video's new mystery series Three Pines.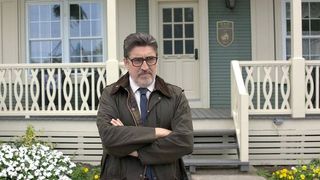 (Image credit: Amazon Studios)
Three Pines is based on Louise Penny's series of best selling novels, which are regarded as a gentler and less gory alternative to many modern crime novels. They've struck a chord with readers and critics. Since the release of her debut novel, Still Life in, 2005, Penny has written 17 more stories that revolve around Chief Inspector Gamache, some of which have been nominated for and won numerous awards.
The Prime Video adaptation of Penny's books is entitled Three Pines because this is the village where the mesmerizing and hugely intelligent lead officer has to repeatedly solve crimes and mysteries.
Want to know more about what's in store in Three Pines? Take a look below to find out what it's about, who is starring in it, watch the trailer and, most importantly of all, when new episodes are coming.
Three Pines release date
The final two episodes of Three Pines have arrived on Prime Video, titled "The Hangman." All eight episodes of the series are now available to stream.
Three Pines plot
Chief Inspector Armand Gamache is a special kind of detective. He's able to spot things that others can't see, find the light between the cracks and the evil in the ordinary.
That's exactly why Gamache is sent to the tiny and seemingly idyllic Quebec village of Three Pines, located in Canada's Eastern Townships. Initially there to investigate the mysterious murder of one of its most hated women, Gamache starts to discover long-buried secrets and crimes in the area.
This even causes Gamache to face his own past and demons, while he also starts to uncover the corruption and failings that have been at the heart of the provincial Quebec police force for decades. Particularly the case of Blue Two-Rivers, a missing indigenous woman.
Three Pines episodes
Here are the synopses for the Three Pines episodes that have been released so far:
Three Pines episode 1, "White Out: Part 1"
"Gamache earns the displeasure of General Director Francoeur when he ignores his superior's orders and begins investigating the disappearance of Blue Two-Rivers. As a punishment, he's dispatched to the remote village of Three Pines to investigate the murder of a wealthy socialite named CC de Poitiers, where he soon discovers everything is not as it seems and he has no shortage of suspects."
Three Pines episode 2, "White Out: Part 2"
"Gamache realises that the key to solving CC's murder lies in her enigmatic past. Discovering that one of the villagers has withheld from him a key piece of information, he is able to crack the case. Meanwhile, Gamache's delight at making a breakthrough in Blue's disappearance is short-lived as the Two-Rivers family rejects his evidence and the anguished Missy is driven into a desperate act."
Three Pines episode 3, "The Cruellest Month: Part 1"
"Gamache returns to Three Pines to investigate the disappearance of the popular resident Marc Fortier but it soon becomes a murder case that leads Gamache and his team into the heart of the village's dark past at St Anthony's. Meanwhile, Lacoste discovers a key piece of evidence relating to Blue's disappearance has been faked, and with Gamache's encouragement secretly reopens the case."
Three Pines episode 4, "The Cruellest Month: Part 2"
"The villagers confront the truth of their past and exorcise their collective demons as Gamache makes a breakthrough in the murder case and realises Marc's killer had a very personal motive. Meanwhile, Lacoste makes a discovery relating to Blue's disappearance that seems to identify a key suspect."
Three Pines episode 5, "The Murder Stone: Part 1"
"The Gamache's anniversary celebrations at the exclusive Manoir Belleforet hotel are cut short by the discovery of a body. Gamache pulls in his team and together they investigate the case, which focuses on the hotel's owners – the dysfunctional Morrow family – who are driven by bitterness and jealousy. Meanwhile, Lacoste receives a surprise call which blows the Blue Two-Rivers case wide open."
Three Pines episode 6, "The Murder Stone: Part 2"
"Gamache and his team get to the heart of the case, excavating decades-old resentments and deeply buried secrets in the Morrow family as they do so, and make the key discovery that enables them to identify the killer. Meanwhile, Lacoste's elation at making a breakthrough in the Two-Rivers case proves short-lived and a tragedy leaves her shell-shocked."
Three Pines episode 7, "The Hangman: Part 1"
"When a man bent on vengeance is discovered in the woods near Three Pines, seemingly the victim of a group lynching, Gamache finds himself wondering whether all the villagers are capable of murder. Meanwhile, Gamache's investigation into Blue's disappearance leads to a terrible discovery that turns Gamache's world upside down."
Three Pines episode 8, "The Hangman: Part 2"
"Gamache and his team unearth a tragic story that provides the key to the victim's desire for vengeance, and by doing so leads the team to his murderers. Meanwhile, it falls to Gamache to apprehend the individual responsible for Blue Two-Rivers' disappearance, putting himself in grave danger as he does so."
Three Pines trailer
Prime Video has released the trailer for Three Pines, which teases an impeccable performance from its leading man, Alfred Molina, who is tasked with figuring out what's leading to so many deaths in the mysterious village.
Three Pines cast
Alfred Molina is undeniably the most illustrious name involved in Three Pines. The Emmy-nominated star of Feud, who has also appeared in Frida, Boogie Nights, Raiders of the Lost Ark, Spider-Man 2 and Spider-Man: No Way Home, plays Chief Inspector Armand Gamache in the eight-episode mystery series.
Molina is joined by Rossif Sutherland, the half-brother of Kieffer Sutherland and son of Donald Sutherland, who previously appeared in Orphan: First Kill. Elle-Máijá Tailfeathers (Night Raiders) and Sarah Booth (Y: The Last Man, Star Trek: Discovery) round out Gamache's investigative team, while Tantoo Cardinal (Legends of the Fall, Killers of the Flower Moon), Julian Bailey (Dark Phoenix) and Clare Coulter (Away From Her) star in the series as Three Pines villagers.
How to watch Three Pines
As a Prime Video original series, you of course have to be a subscriber in order to watch Three Pines. Prime Video is included as part of an Amazon Prime subscription, giving you access to these original and library content along with the shopping deals.
If you're not a subscriber, a Prime Video free trial is available to see if you like it first.
Is there going to be a Three Pines season 2?
Three Pines has not yet been renewed for a second season, or canceled for that matter. We'll update this section when a decision is made. But should the series continue, they have plenty of source material from Penny's books.
Get the latest updates, reviews and unmissable series to watch and more!
Born and raised in England but now based in Philadelphia, Gregory Wakeman has written for the BBC, New York Times, The Guardian, GQ, and Yahoo Movies UK, all while defiantly trying to keep his accent.
Thank you for signing up to Whattowatch. You will receive a verification email shortly.
There was a problem. Please refresh the page and try again.