Wolf Pack: next episode, how to watch, episodes and everything we know about the TV show
Jeff Davis has a new werewolf series, led by Sarah Michelle Gellar.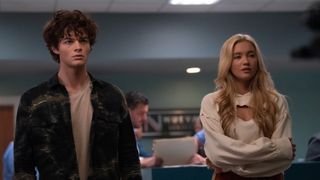 (Image credit: Curtis Bonds Baker/Paramount+)
Wolf Pack is a brand new supernatural teen mystery coming to Paramount Plus. Based on Edo van Belkom's 2004 book of the same name, Wolf Pack features an all-star cast, including the legendary Sarah Michelle Gellar. It's created by Jeff Davis, who previously created the 2011 Teen Wolf TV reboot.
Davis has insisted that Wolf Pack is not a Teen Wolf spin-off. But fans of the franchise shouldn't be too upset, as Davis' Teen Wolf: The Movie releases on the very same day also on Paramount Plus.
When exactly is Wolf Pack being released? Who else is starring? Is there a trailer to watch? You can find the answers to all of these questions below, as we reveal everything you need to know about Wolf Pack.
When is the next Wolf Pack episode?
Wolf Pack episode 2 is now available to stream on Paramount Plus. Here is the synopsis for the episode, titled "Two Bitten, Two Born":
"As the full moon reaches its peak, Everett, Blake, Luna and Harlan are drawn together by an unknown force; Kristen locks into the group as suspects as Garrett tries to survive the wildfire."
A Paramount Plus original series, new episodes of Wolf Pack are released every Thursday on the streaming service. See what else is new to Paramount Plus in February.
How to watch Wolf Pack
Wolf Pack is streaming on Paramount Plus. In order to watch it, you need a subscription to the streaming service. Memberships for Paramount Plus start at $4.99 a month, or you can pay $49.99 a year. This includes advertisements, though. If you want to avoid those you can buy a premium plan for $9.99 a month or $99.99 a year. Paramount Plus plans outside of the US have only one subscription option
Wolf Pack plot
Wolf Pack revolves around teenagers Everett and Blake whose lives are changed forever when they're caught up in a California wildfire. Both of them are wounded by a mysterious, supernatural creature when it attacks a highway traffic jam near the blazing hills and then starts to cause havoc across Los Angeles.
In the aftermath of the tragedy, Everett and Blake are inexplicably drawn to each other, and ultimately realize they've become werewolves. The pair develop an intense bond and even decide to team-up. This leads to them encountering two other teenagers, Luna and Harlan, who were adopted by a park ranger that went through a similar experience in the wildfire 16 years previously.
Unsurprisingly, Wolf Pack really becomes exciting when the full moon rises, which causes all four teenagers to come together and look to solve the secret behind their transformations.
Wolf Pack episodes
Here is the synopsis for all available Wolf Pack episodes:
Wolf Pack episode 1, "From a Spark to a Flame"
"A raging wildfire lures out a murderous werewolf. A bus full of teens are injured. A father goes missing. A hard-nosed investigator looks for the arsonist."
Wolf Pack episode 2, "Two Bitten, Two Born"
"As the full moon reaches its peak, Everett, Blake, Luna and Harlan are drawn together by an unknown force; Kristen locks into the group as suspects as Garrett tries to survive the wildfire."
Wolf Pack cast
Wolf Pack's biggest name is Sarah Michelle Gellar, who rose to fame thanks to Buffy the Vampire Slayer. She also starred in I Know What You Did Last Summer, Cruel Intentions and Scooby-Doo. She portrays Kristin Ramsey, a highly regarded arson investigator who has struggled with loss. She is hired to find out what started the wildfire that reawakened the beast.
As well as Gellar, Armani Jackson (Honor Society, Chad) and Bella Shepard (iCarly, The Wilds) play Everett Lang and Blake Navarro, the two teenagers who are bitten and transformed during the wildfire. Everett has issues with his parents and suffers from anxiety, while Blake is disconnected and isolated from her family.
Wolf Pack also stars Rodrigo Santoro (300, Westworld) as forest ranger Garrett Briggs, who is incredibly protective of his adopted children. These are Luna Briggs, who is looking for friends and family, and her confident and brave brother Harlan, played by Chloe Rose Robertson (Wildflower) and Tyler Lawrence Gray (Our Town, Macbeth), respectively.
Wolf Pack trailer
Paramount Plus has indeed released a trailer for Wolf Pack, which gives a tantalizing glimpse of the supernatural mystery. You can take a look below at the trailer for Wolf Pack, which teases why Davis insists it is more adult than his Teen Wolf series.
Get the latest updates, reviews and unmissable series to watch and more!
Born and raised in England but now based in Philadelphia, Gregory Wakeman has written for the BBC, New York Times, The Guardian, GQ, and Yahoo Movies UK, all while defiantly trying to keep his accent.
Thank you for signing up to Whattowatch. You will receive a verification email shortly.
There was a problem. Please refresh the page and try again.