Wreck — release date, trailer, cast, plot, episode guide, first looks, interviews, and all about the cruise ship comedy horror
Set on a cruise ship, Wreck on BBC3 and BBCiPlayer is a comedy horror following a series of bloodthirsty murders on board.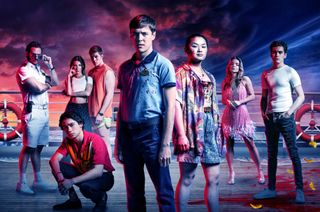 (Image credit: BBC)
Wreck on BBC3 will give you chills, thrills. and make you laugh as as the mystery murderer is disguised a fluffy duck costume! In the middle of the ocean, nobody can hear you scream and that's certainly the case for the victims of the gruesome murders on board The Sacramentum cruise ship.
Formerly called Wrecked, recently changed to Wreck, the show has been described as a comedy with a slice of slasher movie, we see Ladhood star Oscar Kennedy play 20-year-old Jamie, a man determined to find out what happened to his missing sister on board the boat.
He must infiltrate the 3000-strong crew who appear to be completely oblivious to the brutal murders taking place under their noses. With an up-and-coming cast, Wrecked sees Jamie turn detective to uncover the sinister truth.
It's a six-part series filmed in Northern Ireland so check out these first-look images from on board The Sacramentum above and below. Judging by the amount of blood in some of them, there's not much holiday spirit on this cruise!
So here's everything you need to know about Wreck on BBC3...
Wreck release date
The six-part series Wreck will be shown weekly on BBC3 from Sunday October 9 2022 as part of the BBC's Autumn TV schedule. All six episodes will also be released as a box set on BBCiPlayer from that October 9 air date. Watch this space and we'll keep you posted when we discover the US channel and release date for Wreck worldwide.
Is there a trailer for Wreck?
Yes BBC3 has now released a Wreck trailer. It looks terrific Take a peek at all the gruesome fun below..
Wreck plot
In Wreck, you'll take a trip on the cruise ship from hell where a mystery murderer in a fluffy duck costume is running riot. Wreck follows 19 -year-old Jamie Walsh (Oscar Kennedy), who is desperate to find his missing sister Pippa (Jodie Tyack). When Pippa vanishes while working as part of the entertainment crew on cruise ship The Sacramentum, teenager Jamie is convinced something is amiss. Determined to discover what really happened, he secretly gets a job on the same ship six months later so he can investigate…
As Jamie becomes embedded into life aboard The Sacramentum, he's initiated into the mysterious ways of cruising crews and gets a crash course on the tribes within the staff. It soon becomes clear that there are certain tribes within the staff, including the theatre kids, the mafias and the low-paid workers but what they all have in common is they are overworked and underpaid.
Jamie's prime suspect for his sister's mystery disappearance is Pippa's ex-boyfriend Danny (Jack Rowan), but as Jamie digs for dirt on Danny, a killer disguised as the ship's mascot 'Quacky the Duck' is terrorising the ship and murdering his crewmates. So Jamie is forced to turn sleuth in an attempt to discover who is responsible...
Wreck cast — Oscar Kennedy on playing Jamie
Oscar Kennedy told us: "Jamie is a young lad from Sheffield who's had a pretty tough time during his early adolescence. The one person who looked out for him was his sister - then she goes missing. The official story is that she killed herself, but Jamie doesn't believe she'd leave him in that way."
"This show constantly keeps people in this weird cycle of being freaked out, then having a slight relief of comedy. Whenever you feel there's any amount of safety, you're brought straight back to the edge of your seat!"
Rising star Oscar Kennedy started out playing the young Nigel Slater in the series Toast in 2010. He's since gone on to play Edward Turner in the series Hunted and Henry Tudor in The White Queen. Oscar has also had roles in The Politician's Husband, Outlander, Home from Home and Ladhood. Last year he starred in the post apocalyptic school-based movie School's Out Forever.
Thaddea Graham on playing Vivian
Thaddea Graham, plays Vivian in Wreck, says: "A lot of the time, scripts start strongly then the momentum dips. Wreck comes in at 10, then goes to 12, down to 11, up to 14… I couldn't put it down. My friend was auditioning before I knew about it and asked me to help with the Irish accent, so we read the first episode and it was amazing! He told me it was shooting in Northern Ireland and they were looking for a Chinese Mancunian, but I had faith in my agent and after a couple of days she sent me the breakdown just as I was sending a message to her about it. What I love about this show is that you come as you are. It doesn't matter where you're from, what walk of life or whether you've been on a cruise before, the characters take you at face value because none of that other stuff matters in the middle of the ocean – I'd never really seen that before. Plus, I'd never seen a killer duck."
"Vivian and Jamie are called 'bloobs' because they're newbies who wear blue T-shirts. We do all the boring jobs, we're confined to tiny cabins and would ideally never see the light of day, whereas the entertainment crew are more glamorous – they have showers or baths in their rooms. The main hub of activity is a big corridor called the I-95, which is also one of the busiest highways in America. Fortunately, although we should be cleaning in the kitchen and toilets, we manage to find something more exciting to do.
Thaddea is best known for playing Kat in the BBC1 drama series Us which starred Tom Hollander and Saskia Reeves. She played Bel in Doctor Who and starred in the TV series The Irregulars. She was also in The Letter for the King.
Jack Rowan on playing Danny
Playing Danny in Wreck is Jack Rowan who says: "Danny seems to think a lot of himself, but he's definitely misunderstood. There's a picture painted of him from the outside but, much like a lot of people, there's a deeper thing going on inside. He might appear to be one way, but he has a lot more heart than you might think.
"Danny and Jamie's sister Pippa had been in a relationship and, at the beginning of the show, they're going through some difficulties. Danny very much loved Pippa and really misses her. There's a bit where he brings a girl back to his room, then it flashes forward to the post-coital moments and he says, "you can stay if you want". He's trying to be cool and blasé, but I read into it that he really could do with the company.
"I have quite a big moment with Quacky. The last thing I did with our director Chris Baugh was a film called Boys from County Hell, when I was up against an ancient Irish vampire called Abhartach. We were both thinking: what are you doing? Where's the normal stuff? So the first thing I did when I saw it was look at our director Chris Baugh, and burst out laughing… "
Jack Rowan made a name for himself as Callum MacGregor in the hit BBC1 drama Noughts + Crosses. He also played boxer boy Bonnie in Peaky Blinders and starred in Channel 4 drama Born To Kill, plus Adulting and Boys from County Hell.
Who else is starring?
Wreck has a great ensemble cast of young actors. I May Destroy You's Harriet Webb is playing Karen while former EastEnders and Game of Thrones star Alice Nokes plays Sophia. Jack Rowan's Noughts + Crosses co-star Jodie Tyack stars as Pippa, joining newcomers Louis Boyer, Anthony Rickman and Diego Andres. Amber Grappy, who stars in Sky Atlantic series The Baby, is also appearing as is Miya Ocego playing Rosie.
Among the adult crew are Warren James Dunning as Beaker, Harriet Webb as Karen and Louis Boyer as Sam.
Wreck episode guide (with spoilers)
Episode 1
Jamie Walsh boards The Sacramentum. He's paid Cormac (a Velorum crew member) to take his position onboard so he can investigate what really happened to his missing sister, who vanished from the same ship three months earlier. During his induction he meets the ship's autocratic Officers and fellow new recruits - all eager to taste the freedom of being away from home for the first time. As Jamie quickly establishes a bond with fellow newbie Vivian, he bumps into young, charming, Filipino waiter Olly, and there's an instant attraction. Whilst the new recruits attend a wild induction party, a crew member is brutally attacked.
Episode 2
Jamie wakes up with the hangover from hell but is determined to get his investigation back on track. Trusting fellow newbie Vivian enough to let her in on his real reason for being on the ship, they begin forming a plan, which is immediately derailed when they receive grim news about a fellow crew member. However, Jamie and Vivian catch a break, finding a clue that leads them to asking dreamboat Olly for a big favour, one that will bring them down to the ship's engine room and face to face with The Baby, a fearsome figure in the ship's Filipino 'mafia' – one of the many tribes onboard.
Episode 3
It's a big day on the ship – The Captain's Ball, attended by the VIP guests. Jamie shares an intimate moment with Olly whilst Vivian cosies up to Lily, one of the guests, risking big repercussions if she's caught. Jamie and Vivian gather enough evidence to go to the authorities about Pippa's disappearance, they just need the Entertainment Crew to back them up. However, these guys are running their own illegal enterprise and want nowhere near the police, unless Jamie does them a dangerous favour first. As the Captain's Ball draws to a close, a crew member close to home is put in grave danger.
Episode 4
Jamie gains an unexpected ally on board, who promises to investigate Velorum from the inside and get the answers he's desperate for. Meanwhile, as Vivian and Lily grow closer, an unpleasant encounter will force Vivian to face lingering internal doubts. Armed with new information, Jamie and Vivian visit a new area of the ship and make a surprising discovery there, one that deepens the mystery of what happened to Pippa further. However, Jamie's new ally puts paid to his theory that there's a slasher on board the ship, the truth is much, much darker than that….
Episode 5
Whilst Vivian and Lily's relationship reaches new heights, Jamie finds himself in a terrifying situation and must use all his courage and strength to escape. Once reunited, Jamie tells Vivian and the rest of his gang what he's discovered. Together, they form a plan to collect evidence and tell the world what they've uncovered. With each of Jamie's trusted inner circle given a task, the group split up, allowing Jamie and Olly to finally have a moment together. But as our gang go about their business, Jamie uncovers that the truth of what happened to Pippa is just the tip of the iceberg. The Sacramentum is home to a chilling secret bigger than any of them imagined.
Episode 6
Jamie finds himself in a lethal dead end with seemingly no way out. But after a surprise intervention brings some momentary respite, he learns that others are in peril, and it will be a race against the clock to save them. Jamie tells the shocked crew about the true horrors happening on board and desperately tries to enlist them in his battle against the powers that be. Having come such a long way since the start of his journey, Jamie must find the inner courage to become the leader he knows deep down he is. He came onboard with a mission and he's determined to see it through to the end.
Behind the scenes on Wreck
Wreck (originally called Wrecked) was commissioned for BBC3 by Piers Wenger, Director of BBC Drama and Fiona Campbell, Controller of BBC Three and is produced by Euston Films, part of Fremantle with support from Northern Ireland Screen. It is executive produced by Noemi Spanos for Euston Films and Tommy Bulfin for the BBC. Chris Baugh (Boys from County Hell) has directed and executive produced all six episodes.
* Here are more guides to top BBC3 shows below...
Get the What to Watch Newsletter
The latest updates, reviews and unmissable series to watch and more!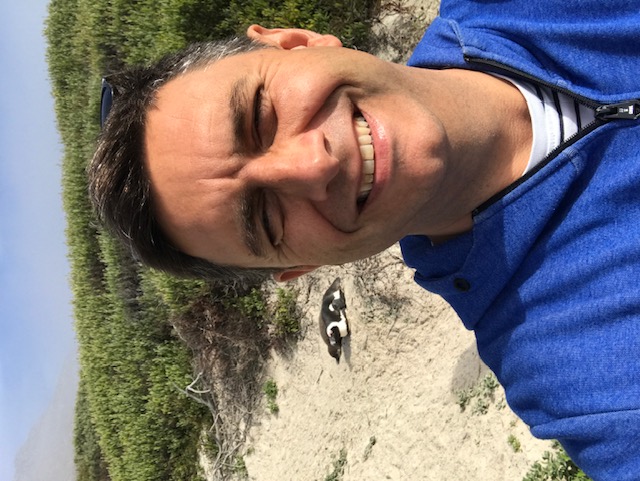 TV Content Director on TV Times, What's On TV and TV & Satellite Week
I'm a huge fan of television so I really have found the perfect job, as I've been writing about TV shows, films and interviewing major television, film and sports stars for over 25 years. I'm currently TV Content Director on What's On TV, TV Times, TV and Satellite Week magazines plus Whattowatch.com. I previously worked on Woman and Woman's Own in the 1990s. Outside of work I swim every morning, support Charlton Athletic football club and get nostalgic about TV shows Cagney & Lacey, I Claudius, Dallas and Tenko. I'm totally on top of everything good coming up too.