Britain's Got Talent studio evacuated due to unexploded bomb discovery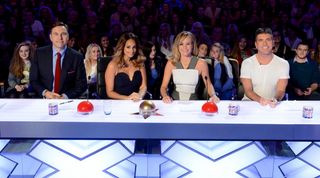 The Britain's Got Talent studio has reportedly been evacuated after an unexploded Second World War bomb was discovered close by.
The 50kg explosive, which is believed to have been dropped over London during Nazi bombing raids in the the early 1940s, was discovered by builders working near Wembley stadium.
The Army has warned of a 'genuine risk to life' as homes and businesses, reportedly including the studio in which BGT is filmed, were evacuated outside a 400m police cordon.
The device was found near Wembley Stadium (Peter Byrne/PA)
An Army spokesman said: "This bomb is a live munition in a potentially dangerous condition so it's important that people listen to the police and evacuate their homes if asked.
"We will do all we can to minimise the disruption, but ask the public to bear with us – any bomb, even under a controlled explosion could cause significant damage to property and there is a genuine risk to life".
Royal Logistic Corps disposal teams from Northolt and Ashchurch have excavated the Luftwaffe Sprengbombe-Cylindrisch general purpose bomb and Royal Engineers have built a blast wall around the site in order to limit an accidental explosion.
"The team is very well experienced. They've dealt with Improvised Explosive Devices in Iraq, Afghanistan and Northern Ireland which are much more complex than Second World War munitions," the Army spokesman added.
The unexploded Second World War bomb found near Wembley Stadium (Sergeant Rupert Frere RLC/Crow)
The Evening Standard said residents in two housing complexes had been evacuated, along with Fountain Studios, where the ITV talent show is filmed.
A spokesman for the Metropolitan Police said: "The device was discovered by builders working at the location.
"Officers are at the scene and a 400m cordon has been implemented around the site whilst work is under way to make the device safe.
"A number of residential and business addresses have been evacuated as a precaution."
He said the number of evacuees was 'relatively small'.
Get the latest updates, reviews and unmissable series to watch and more!
Thank you for signing up to Whattowatch. You will receive a verification email shortly.
There was a problem. Please refresh the page and try again.