Chelsea Halfpenny: 'Alicia thinks Ethan will never find out it's her!'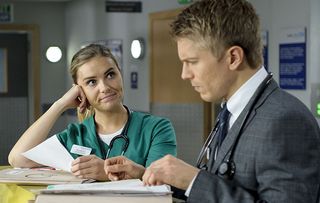 (Image credit: BBC / Alistair Heap)
It's a case of kiss and NOT tell for doctor and secret blogger Alicia Munroe in Casualty…
In this Saturday's Casualty acting clinical lead Ethan Hardy is metaphorically brought to his knees when anonymous blog Rage in Resus makes big headlines in Holby.
Under fire from the hospital board to weed out the culprit, while trying to manage the ED's non-existent budget, keep staff happy, not allow patients to die and making a deal with the devil… we mean… Jac Naylor, Ethan's desperately in need of a supportive shoulder to rest his weary head. And that shoulder belongs to senior doctor, friend and ex-lover Alicia Munroe. The problem is, the hands belonging to that shoulder are secretly responsible for Rage in Resus!
What's on TV talked to Casualty favourite Chelsea Halfpenny about Alicia's predicament and what she plans to do about it…
Why did she initially start the blog Rage in Resus?
"Alicia started the blog because of the stress everybody working for the NHS is under. It was sparked when a young guy ended up in intensive care because they couldn't treat him in the ED. That was the straw that broke the camel's back because Alicia knew it was avoidable."
This week everyone is talking about Rage in Resus. Is Alicia surprised by the response to it?
"She's really surprised by the attention the blog gets. She wanted it to be read, but it's now taking on a life of its own and hurting people, which wasn't her intention!"
This puts her in an awkward situation when Ethan turns to her for support…
"I know! Alicia never intended to personally attack Ethan (George Rainsford). They're friends and she wants to be there for him. She truly believes Ethan doing the best job he can; yet at the back of her mind she knows she's causing him more stress!"
It gets even more awkward when Alicia and Ethan share a tender kiss. What is she thinking?
"At this point she thinks that he'll probably never find out it's her! Alicia feels the blog is important. It's about something bigger than just them – it's about the NHS."
Fans have wanted Alicia and Ethan to reunite for sometime – but maybe not like this...
"Alicia and Ethan have always been will-they won't-they, so I hope fans are chuffed when they rekindle on the very romantic rooftop of the hospital!"
Was the weather kind to you during filming?
"No! It was freezing cold and raining when we filmed Alicia and Ethan's kiss. It was so windy we could barely hear each other, which was really funny!"
Casualty is on Saturday 17th February at 8.20pm.
Get the latest updates, reviews and unmissable series to watch and more!
Thank you for signing up to Whattowatch. You will receive a verification email shortly.
There was a problem. Please refresh the page and try again.