Love Actually cast to reunite for Comic Relief 'sequel' – Red Nose Day Actually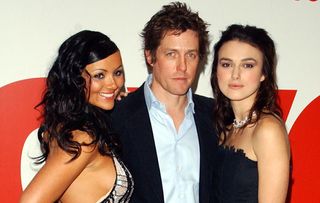 (Image credit: PA Wire/PA Images)
Richard Curtis has pulled off the audacious feat of reuniting the starry Love Actually cast for a very special Red Nose Day 2017 'sequel'
Love Actually writer/director Richard Curtis has written a 10-minute 'sequel' for Comic Relief which will endeavour to find out what the main characters are up to in 2017.
All the key cast will be involved, including Hugh Grant, Martine McCutcheon, Keira Knightley, Andrew Lincoln, Colin Firth, Lucia Moniz, Liam Neeson, Thomas Brodie-Sangster, Olivia Olson, Bill Nighy, Marcus Brigstocke, and Rowan Atkinson.
Titled Red Nose Day Actually, it will be broadcast as part of the live Red Nose Day 2017 show on Friday, March 24 on BBC1.
Richard said: "Over the years I've enjoyed doing Red Nose Day specials of TV things I've worked on – Blackadder, The Vicar of Dibley and Mr Bean. It seemed like a fun idea this year to do a special sketch based one of my films, since Red Nose Day is now in both the UK and America.
"I would never have dreamt of writing a sequel to Love Actually, but I thought it might be fun to do 10 minutes to see what everyone is now up to. Who has aged best? – I guess that's the big question… or is it so obviously Liam? We've been delighted and grateful that so many of the cast are around and able to take part – and it'll certainly be a nostalgic moment getting back together and recreating their characters 14 years later.
"We hope to make something that'll be fun - very much in the spirit of the original film and of Red Nose Day - and which we hope will help bring lots of viewers and cash to the Red Nose Day shows."
A whole host of comedians and celebrities are coming together to support this year's Red Nose Day 2017 . For the first time ever there will also be live comedy gigs taking place around the UK in the lead up to Red Nose Day 2017 as well as an original series of online comedy sketches, written by and starring a host of up and coming talent, which will feature on Comic Relief's YouTube channel.
Now in its third year Red Nose Day 2017 USA will take place on Thursday, May 25 and broadcast on NBC.
Follow Red Nose Day 2017 on Twitter, on Facebook and Instagram. #RedNoseDayActually
Get the latest updates, reviews and unmissable series to watch and more!
Thank you for signing up to Whattowatch. You will receive a verification email shortly.
There was a problem. Please refresh the page and try again.