'Adam doesn't give a damn about Rosie. It's all about what's in it for him,' reveals Corrie's Sam Robertson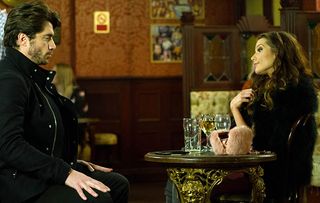 (Image credit: Mark Bruce)
Adam Barlow is in love… with money. And he thinks he can use Rosie Webster to get some, reveals Corrie star Sam Robertson
It's lust at first sight when Adam Barlow meets one-time glamour model Rosie Webster. "Rosie's fit and Adam definitely fancies her," Corrie star Sam Robertson tells Soaplife.
"At first, he sees her as just another conquest. But then he starts manipulating her when he realises there's an opportunity for him to make a big gain for himself."
What kind of gain? "It's to do with the drug dilemma Rosie [Helen Flanagan] faces. She confides in Adam and he immediately starts thinking about how the situation can benefit him. He couldn't really give a damn about her situation. He's thinking about what's in it for him."
And what is in it for him? "Money. Adam's always scheming, conniving and trying to make a fast buck without a lot of hard work. This is his best opportunity yet to do that and he acts upon it. Adam sees money as power and he likes that."
So why does he want Todd Grimshaw's help? "Adam sees Todd [Bruno Langley] as a similar character to himself – a bit of bad boy who likes cutting corners, who likes to make a fast buck and who doesn't necessarily lean on the right side of the law."
How far will Adam go to get what he wants? "Pretty far, but there may be a point where he realises that he's got to rein it in because he's taking liberties in places he won't get away with."
People are calling Adam a mini Mike Baldwin… Do you think he is? "I wasn't aware of the obvious parallels to Mike [Johnny Briggs] to begin with, but after four or five weeks I realised Adam's very much a mini Mike. It was helpful for me to look at what Johnny Briggs did while playing Mike, so I can try to bring elements of his character in. Mike was a bit of a rascal, but he was also dead charming and the viewers liked him. I hope, in the long run, that Adam is as well liked as his dad, Mike, was. Mike was a loveable rogue."
Are you enjoying being part of the Barlow clan revival? "Being a part of the Barlow family is a real challenge because there's a lot of pressure with it. But it's very exhilarating, too. I've been thrown in at the deep end, but I feel really, really lucky and I'm so grateful to Corrie for giving me the opportunity."
Coronation Street, ITV
Get the latest updates, reviews and unmissable series to watch and more!
Thank you for signing up to Whattowatch. You will receive a verification email shortly.
There was a problem. Please refresh the page and try again.