Alan Halsall reveals Tyrone Dobbs' heartbreak: 'Ruby is scared of her own father'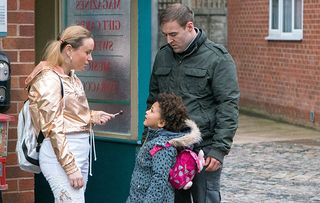 (Image credit: Andrew Boyce)
Coronation Street star Alan Halsall explains the shock storyline that sees Tyrone Dobbs smack daughter Ruby Dobbs and a revelation that leaves him stunned!
Alan Halsall has revealed that his character Tyrone Dobbs is plagued with guilt after smacking a supposedly naughty Ruby. Then he's left stunned by what partner Fiz Stape tells him next...
What's the story?
Fiz knows her daughter Hope is the child who has been misbehaving, but she's letting partner Tyrone believe it's his little girl Ruby.
"Frustrated by what he believes to be his daughter's naughtiness, he ends up smacking Ruby," actor Alan Halsall told Soaplife. "It takes a lot for him to lose his temper but everything that has happened he just snaps."
And then Fiz finally confesses.
What's happening in Coronation Street? See the latest soap storylines.
Alan Halsall's interview with Soaplife on Tyrone Dobbs' heartbreak...
Soaplife: Why does Fiz admit the truth only after Ty's smacked Ruby?
Alan Halsall: "She knows that for him to do something like that to his own child, he's got to be at breaking point. Fiz knows she has no choice but to tell Ty the truth. It forces her to come clean."
S: Where does this leave their relationship?
AH: "At this point their relationship is pretty much in pieces anyway because of Tyrone's drunken mistake with Gemma Winters and also the kids playing up. They're already in turmoil but this is the final straw for Tyrone. Fiz has lied to him – and about something really serious involving their children. In his head, they are done and he can't see any way forward."
S: How is Tyrone feeling after what's happened?
AH: "He'll have feelings of regret over what has happened with both Ruby and Fiz, and will do for a long time. He knows the hurt that being beaten up by Kirsty brought him and is only too aware what damage it can do. He will really live to regret that he smacked Ruby."
S: How is Tyrone and Ruby's father-daughter relationship affected?
AH: "She doesn't really want anything to do with Tyrone and she's scared. This is definitely the first time that Tyrone has ever done something like this and Ruby doesn't know how to deal with it. It breaks Tyrone's heart every time he looks at her to know that she's scared of him."
Get the latest updates, reviews and unmissable series to watch and more!
Thank you for signing up to Whattowatch. You will receive a verification email shortly.
There was a problem. Please refresh the page and try again.