Amy finds out Michelle is pregnant and considering a termination, says Corrie's Kym Marsh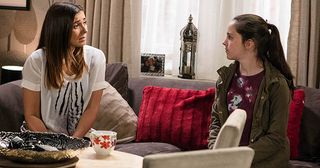 (Image credit: Mark Bruce)
Michelle's baby joy lasted for a nano second. Now she's not even sure she'll keep the baby – as Amy discovers. Corrie's Kym Marsh tells Soaplife what happens
Corrie's Kym Marsh talks to Soaplife about Michelle McDonald's emotional turmoil with her pregnancy...
Michelle really is having a miserable pregnancy, isn't she? "She was just beginning to get excited about her pregnancy when Steve [Simon Gregson] dropped the bombshell about his call from Jim and the possibility of having Myotonic Dystrophy [MD]. Now she can think of nothing else. She doesn't know what's going to happen and she wonders if a termination is the only answer."
And things get worse when Steve's young daughter Amy finds out she's pregnant, don't they? "Liz ends up telling Amy because Michelle's been really snappy with her and Liz [Beverley Callard] explains she's hormonal because she's pregnant. Michelle's looking at abortion information online and Amy [Elle Mulvaney] finds the pages on her tablet and she's devastated."
Why is Michelle thinking about having an abortion? "She's worried she might end up with a situation where Steve gets depressed and they have a child who's also ill and she really doesn't know if she could cope. It isn't something she's thinking about lightly."
Does she speak to Steve about her fears? "Yes, but it's hard for Steve as he's worried, too. And Michelle doesn't know that Steve is also worrying about Leanne's child."
How come Michelle has a heart-to-heart with Robert? "Michelle's upset after Amy confronts her about the abortion. She and Robert [Tristan Gemmill] haven't really seen eye to eye since the whole Carla thing, but he's suddenly someone who calmly listens to her. He tells her she's strong and she can deal with it. He's the opposite of Steve. He can stand back, take stock of a situation and be rational. Steve just goes into panic mode."
Could Michelle forgive Steve if she found out the truth about Leanne's pregnancy? "There's a long way to go before Michelle finds out, but I don't see how she could forgive him. Who knows what the future holds? But I think that big reveal could spell the end of Michelle and Steve."
Coronation Street, ITV
Get the latest updates, reviews and unmissable series to watch and more!
Thank you for signing up to Whattowatch. You will receive a verification email shortly.
There was a problem. Please refresh the page and try again.