'Carla hits the self-destruct button — with Robert,' says Coronation Street's Alison King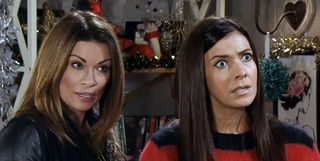 There was a brief moment when Coronation Street's unluckiest lady in love, Carla Connor (Alison King (opens in new tab)), was happy with fiancé Nick Tilsley (Ben Price (opens in new tab)). Heck, Carla was even getting on with her future mother-in-law, Gail (Helen Worth (opens in new tab)).
Then Johnny Connor tells her he's her father… And that bombshell will cause shockwaves that bring about a tsunami of grief. Yes, it's going to be that bad.
"All this time, Carla had the most rubbish parents," Alison says in an interview today.
"Then she discovers she's got a dad who could have been part of her life. It will throw her world upside-down. Things will never be the same again."
Carla and Michelle are horrified by Johnny's confession
For a start, Carla is furious that Johnny helped himself to her DNA to get the test done that proved what malicious Rob Donovan (Marc Baylis (opens in new tab)) had told him during that very uncomfortable prison visit.
"You took my DNA?" Carla asks Johnny, disgusted. "You just took it?"
"I had to be sure," Johnny explains.
But Carla doesn't want to listen — and neither does Michelle Connor (Kym Marsh (opens in new tab))
"Get out, Johnny," Michelle tells him, horrified by what's happened.
Johnny pleads with Carla to understand
But it's Carla who is completely devastated.
"Carla's really hurt and then, of course, the guard goes up," adds Alison. "And then she presses self-destruct because that's what Carla does.
"She's going to get annoyed with Nick because he's trying to help her and she pushes everybody away who's good for her.
"She's drinking, gambling — and that leads to some trouble with somebody who's got their own demons."
That someone is Robert Preston (Tristan Gemmill (opens in new tab)), the chef at Nick's bistro and, until Christmas, the live-in partner of Tracy Barlow (Kate Ford (opens in new tab)). He walked out when he found out Tracy had been to see Rob.
"Robert goes a-gambling as well," adds Alison. " He bumps into Carla. It's not a good time for them. Something huge is going to happen that will change all of their lives."
The trouble starts when they're winning at the roulette wheel. They're on a high and celebrate their success.
"Do you want to take this upstairs?" Robert asks Carla… And she does.
Robert invites Carla to his hotel room - and she goes
"There's lots of drama to come," Alison reveals.
And heartbreak and misery…And maybe even murder when Tracy finds out - and she will find out.
Coronation Street (opens in new tab) continues on ITV, Monday, December 28, 7.30pm.
Thank you for signing up to Whattowatch. You will receive a verification email shortly.
There was a problem. Please refresh the page and try again.