Coronation Street star Sally Carmen reveals all about Abi snogging Steve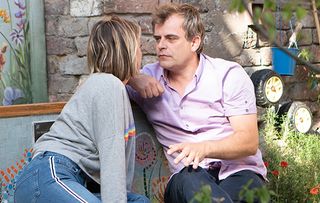 When Steve McDonald comforts Abi Franklin in Coronation Street it leads to a kiss, reveals Sally Carmen… But is it a one-off?
Considering Steve McDonald's chequered past, Abi Franklin would be best off running a mile from him rather than falling into his arms. She's upset when she overhears him saying she's a rubbish mum but then when he comforts her when she's upset about her twins, Charlie and Lexi, being in foster care, Abi ends up snogging him.
What's the story?
"Steve tells Abi about losing his son Ruari and this is something that clicks with Abi - there is a bond there after that, he makes her feel like a human being who has just messed up a little bit and she reaches forward and kisses him," actress Sally Carmen tells Soaplife. How does Steve react?
What's happening in Coronation Street? See the latest soap storylines
Coronation Street star Sally Carmen chats with Soaplife about Abi Franklin's feelings for Steve McDonald
Soaplife: What exactly does Steve say when Abi hears him criticising her as a mum?
Sally Carmen: "She overhears him talking to Beth. It's a real kick in the stomach. Abi being a mum is her massive sore point because she knows better than anyone that she has let those kids down. She tries to get her own back when she suggests to Tracy that Steve do a special first dance at their wedding. Abi understands Steve so she knows he would really dislike having to go through with it."
S: But how come Steve then ends up comforting Abi about her twins?
SC: "She has a home visit with the kids but lets them down because she just unravels. She doesn't trust herself to get it right and it all comes crashing down around her ears. She feels like she has hit rock bottom and just takes off."
S: What happens when Steve finds her at the tram station?
SC: "She is not interested in anything he has to say at first. She is not angry any more but she is just so heartbroken. Steve recognises this because of Ruari."
S: What is going through Abi's mind when she kisses Steve?
SC: "She feels like she has made a real connection with him and it's one of those instant, weird things that happens to people now and again. Maybe it wouldn't have happened if she wasn't so fragile but she lets her emotions take over. She thinks, 'Maybe there is something more to Steve than meets the eye'. They have similar energies, sense of humour and personalities."
S: Does she feel guilty because of her friend, Tracy, Steve's fiancée?
SC: "She feels horrendously guilty because she likes Tracy. Abi's a good person and she is not one to do another woman over - that's not her bag. If she's got it in for anyone it's men, not women. She does appreciate her friendship with Tracy so she feels dreadful."
S: How does Steve react to the kiss?
SC: "He doesn't expect it but you can see he doesn't hate it either. Will the kiss be a one-off? You'll have to wait and see. Abi makes out to Steve that it means nothing but she may well be lying to herself."
Get the What to Watch Newsletter
The latest updates, reviews and unmissable series to watch and more!