Coronation Street star Simon Gregson: Steve McDonald genuinely thinks he has a pass to sleep with other women!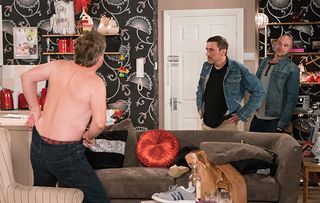 Steve McDonald is 'cocking everything up again', laughs Simon Gregson
Coronation Street star Simon Gregson says that Steve McDonald genuinely thinks his bride-to-be Tracy Barlow has given him a free pass to have sex with other women in a spectacular upcoming mix-up!
The 43-year-old actor reveals Steve's latest cock-up comes when Tracy tells him next week he can have a free pass…. only problem is she means a free pass to the spa!
"She's written the note about the free pass on the back of the actual free pass for the spa, but he doesn't turn it over," explains Simon. "He genuinely thinks that she means he can sleep with someone else before the wedding!
"It comes about because he's been disappearing for secret dance lessons and Tracy's worried he's going off her, so she starts spoiling him. Steve's lapping it up, and when he finds the free pass, his mind is blown."
After nearly 30 years on the cobbles, Simon Gregson knows Steve better than anyone. So why does his alter ego keep making such monumental mistakes?
"He just goes through life cocking everything up, doesn't he?" Simon jokes. "This time, it turns out to be a genuine misunderstanding, but if Steve stopped for a second and actually thought about it, he would realise that there's no way Tracy would allow him anywhere near another woman."
[Check out the latest Coronation Street spoilers]
Unfortunately for Tracy, whether she meant it or not, the seed has been planted and Steve is a mission. Women of Weatherfield, watch out!
"He's been having dance lessons with Abi. They've been getting on well, so Steve thinks this is his chance," says Simon. "The problem is, Steve just loves women. They're most definitely his downfall."
Simon adds: "Peter discovers him up to no good and he's the worst possible person because he's Tracy's brother!"
And, what would happen if Steve, does get caught by Tracy?
"Tracy finding out doesn't bear thinking about," laughs Simon. "Steve's life is about to get very stressful!"
Coronation Street continues on ITV.
Get the latest updates, reviews and unmissable series to watch and more!
Thank you for signing up to Whattowatch. You will receive a verification email shortly.
There was a problem. Please refresh the page and try again.