Coronation Street's Mikey North reveals why Roy batters Gary with a cricket bat!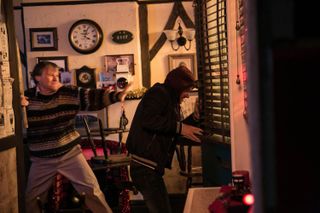 Coronation Street's Mikey North tells Soaplife how desperate Gary does something stupid that earns him a beating from Roy...
Gary Windass has had a bad year - and he's not going to get any peace and goodwill at Christmas… "He's devastated when Alya [Sair Khan] ends their relationship, gutted when Kal [Jimi Mistry] gives his job to Owen, is rowing with Izzy [Cherylee Houston] about Jake and even having words with his mum," Mikey reveals to Soaplife.
And then, after a nightmarish Christmas Day, things unexpectedly turn violent when, sick with worry and shame, Gary does something really stupid: he tries to rob Roy (David Neilson)!
What makes Gary desperate enough to rob Roy's?
"He's broken Faye's headphones that she got for Christmas and is desperate for money to replace them, but no one will lend him any. Gary's mind goes into overdrive - he just knows he needs to do something, anything, to make things right. He spies Anna's cafe keys and pockets them before he can talk himself out of it."
But Roy catches him, doesn't he?
"Gary's overheard Roy saying he's going to see Carla [Alison King] on Boxing night and so Gary thinks the cafe will be empty. He doesn't realise Roy has slipped back in to avoid the teenagers who are hanging around outside. So when he lets himself in, he has no clue Roy is still there. Roy obviously assumes one of the teenagers has broken in and, because he's frightened, feels he has to protect himself. Roy lashes out with a cricket bat and he doesn't realise he's hitting Gary."
Gary's badly hurt, isn't he?
"Gary has to be taken to hospital. He's injured with a lot of bruises, but he will recover."
Will he hate Roy for what he's done?
"No. He wants to protect Roy and he thinks this is all his own doing. Gary resorted to desperate measures and was prepared to rob a family friend. He feels the lowest of the low."
Coronation Street, ITV. Click here for dates and times
Get the What to Watch Newsletter
The latest updates, reviews and unmissable series to watch and more!