Corrie boss Stuart Blackburn: 'Cathy's about to declare her feelings to Roy' (VIDEO)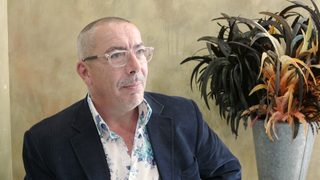 Coronation Street producer Stuart Blackburn says Callum Logan's vendetta against the Platts is the central storyline for the live episode, but added the Roy and Cathy romance will also be a big player.
Stuart told What's on TV: ""We've got Roy and Cathy, which myself and the writer have argued so much about this, everyone at Corrie has. We all want Roy to be happy, but the question is when – Hayley is still so fresh in our memories.
"But Cathy, played by Melanie Hill, is the right person, so as we head towards the live we're going to get to the point that Cathy declares her feelings for Roy, which may or may not have the desired effect."
The biggest plot is Callum versus the Platts.
Stuart said: "We're going to be pushing Callum as hard as we can. Pushing him to further extremes, to the point he's got a vendetta against the whole family. It's not just about Max any more, it's about wanting vengenace, so that's going to escalate and the whole family is going to be at risk. Some of it's going to be quite heartbreaking for Max and as we move forward Jason, who obviously has a history with Sarah Lou and Bethany, is going to step in and try and protect them and that's not going to end well at all..."
Watch Coronation Street producer Stuart Blackburn talk about these storylines plus Steve and Lloyd's ill-fated bromance, above."]
Get the latest updates, reviews and unmissable series to watch and more!
Thank you for signing up to Whattowatch. You will receive a verification email shortly.
There was a problem. Please refresh the page and try again.