Corrie's Cath Tyldesley: 'Runaway Marta will mean trouble for Eva and Aidan'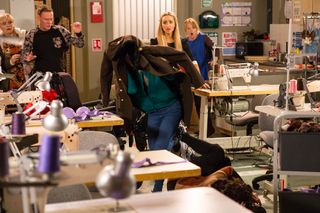 (Image credit: Mark Bruce)
The truth about Marta, the runaway woman hiding at Underworld, means trouble for Eva and Aidan, Coronation Street's Catherine Tyldesley (opens in new tab) tells Soaplife.
How has Marta has ended up in Underworld?
"Unknown to Eva and Aidan [Shayne Ward (opens in new tab)], she jumped into the back of their van after they left a dinner party at the O'Driscolls, the people who could be putting a lot of business Underworld's way. The O'Driscolls who have been keeping Marta as a slave, but Marta doesn't tell Eva this – she just says she's Polish and has run away from a wealthy couple who have been keeping her locked up."
What does Eva do?
"Initially Eva just feels very sorry for Marta [Edyta Budnik (opens in new tab)] and gives her some food and helps her to keep warm. She really doesn't know what to do for the best."
Does she plan to tell Aidan? 0
"If she knew about the O'Driscoll connection, I think she'd tell Aidan immediately but, because she doesn't, she decides to wait for a while – which turns out to be too long."
Why?
"Marta makes a run for it and gets away! Everyone in the factory is stunned to see her. Eva doesn't confess to the factory girls that she knew Marta was there, although she does then tell Aidan. He's shocked by what she tells him. But there is nothing they can do as they have no idea where Marta has gone."
This can't be the last we've seen of Marta, though…
"No. At this point it doesn't seem like too big a deal, but it is in the coming weeks, when the storyline develops in such a way that it will have consequences for the factory, and potentially Aidan and Eva's relationship. Eva will make some decisions that could blow up in her face."
Such as 'outing' the O'Driscolls as, literally, slave drivers?
"It will come out eventually that it is the O'Driscolls who are keeping Marta a slave. And that will really put the Connors – and Eva - in a difficult position…"
Coronation Street (opens in new tab), ITV
Get the latest updates, reviews and unmissable series to watch and more!
Thank you for signing up to Whattowatch. You will receive a verification email shortly.
There was a problem. Please refresh the page and try again.