Corrie's Claire King: 'Erica's worried she'll lose the baby – and Nick'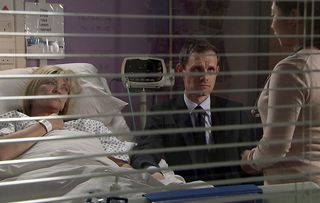 Erica wants Nick's baby but heartbreak looms for them, reveals Coronation Street's Claire King (opens in new tab)…
These aren't happy times for Erica, even though she's pregnant. She's just hit the big 5-0 and is still in shock about having a baby. On top of that, it's clear her baby-daddy - Nick - has eyes for another woman.
"Nick throws Erica a surprise birthday party but she's very touchy about her age," says Claire. "Erica's also aware Nick has feelings for Carla and she's threatened by this."
Does Erica want to be a mum?
"She's drifted through life not being a mother, but because Nick [Ben Price (opens in new tab)] is actually embracing Erica's pregnancy, she's excited too, even though she's of a certain age."
So are they giving things another go?
"I'm not entirely sure and I'm not sure they are! One minute they're saying, 'Let's keep it casual', the next Nick's saying, 'Lets make a go of it'. Then he's yearning for Carla [Alison King (opens in new tab)] and flirting with her. But Erica's starting to have more feelings for Nick…"
She's not happy about his surprise birthday party, though, is she?
"She can't handle it. She wanted to do something quiet, plus Gail [Helen Worth (opens in new tab)] has another go at her because of the baby, and the gossips are out in force. She ends up leaving her own party early."
But the next night is even more horrendous, isn't it?
"Erica's at the Rovers Quiz Night and starts getting a few twinges in her tummy. By the end of the evening she's in a lot of pain and Liz [Beverley Callard (opens in new tab)] tells Nick to get Erica to hospital."
How worried is Erica?
"She's hopeful everything will be fine, but deep down she's worried she'll lose the baby."
And Nick?
"This brings them closer together because it's really just the two of them going through it. He's stood by her so far and he supports her at the hospital."
Coronation Street (opens in new tab), ITV.
Get the latest updates, reviews and unmissable series to watch and more!
Thank you for signing up to Whattowatch. You will receive a verification email shortly.
There was a problem. Please refresh the page and try again.