Corrie's Dean Fagan: 'Jamie blackmails Luke with X-rated photos of his sister!'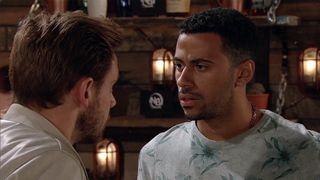 Luke wants to give up racing for Maria, but Jamie needs him to get back behind the wheel, Coronation Street's Dean Fagan (opens in new tab) reveals to Soaplife. And Jamie's prepared to blackmail him to get his way…
Maria gives Luke an 'It's-me-or-the-cars' ultimatum, right?
"Pretty much. When she finds out he's raced again after she asked him not to, she's incredibly angry. Luke feels bad. He wants to be mature and his love for Maria [Samia Ghadie (opens in new tab)] makes him seriously consider packing it in. He doesn't want to lose her."
Does he mean it when he promises to stop?
"I think he does, but then Jamie [James Atherton (opens in new tab)] starts piling on the pressure for him to continue."
Why is Jamie so adamant that Luke races?
"Jamie's in a lot of debt and he needs money. The only way he can think of getting it is by getting his mate, Luke, to race."
But Luke refuses…
"He tells Jamie why and explains he loves Maria, adding that, although they're mates and very good at the racing game, his responsibilities lie with his relationship."
What's Jamie's next step?
"He starts blackmailing Luke. Jamie was previously in relationship with Steph [Tisha Merry (opens in new tab)], Luke's sister. During that time, he took what you might call sexy pictures of her on his phone and he saved them. He realises this is a good way to blackmail Luke into racing. So he texts Luke the images…"
What's Luke's reaction?
"He's appalled anyone, especially a friend, could do such a thing. He also feels very protective towards his sister."
What could it mean for Luke and Maria?
"It's a question of, 'Is blood thicker than water?' and it's a very fine balance. Luke doesn't want to lose anyone. He's just seeing what path he can go down to protect Steph while also not losing Maria. He's very stressed and you're going to see a lot of angry faces!"
What did you think when you heard about the revenge porn storyline?
"It's brilliant and it hasn't been tackled on Coronation Street before. Now people can be prosecuted for distributing these sorts of images without consent, so the storyline is very fresh and current. I'm very excited to see what people think of it."
Coronation Street (opens in new tab), ITV.
Get the latest updates, reviews and unmissable series to watch and more!
Thank you for signing up to Whattowatch. You will receive a verification email shortly.
There was a problem. Please refresh the page and try again.