Corrie's Jennie and Alan suggest getting a box of tissues ready for Fiz and Tyrone's Christmas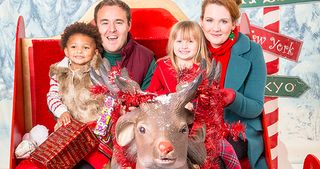 (Image credit: Joseph Scanlon)
Jennie McAlpine and Alan Halsall give the inside story of what promises to be an unforgettable Christmas on Coronation Street for Fiz, Tyrone and family.
It's been a difficult year for the family, given Hope's cancer diagnosis – so how do Fiz and Tyrone feel about Christmas?
Jennie: "Tyrone has been saying they should make it really special, and Fiz has tried to embrace it as much as she can. Everyone's supportive and she's pulled along with that, really."
Alan: "He just wants it to be the best Christmas ever; he feels it is his job to be the provider and he isn't going to let the fact that he has no money get in the way of that."
Tyrone is spending a lot of money – is Fiz aware of how much debt he is in?
Jennie: "No, viewers will have seen him hiding bills, but Fiz is putting all her energies into Hope so she isn't questioning things."
Why isn't Tyrone being honest with her?
Alan: "It makes him feel like he has failed – he is so determined to show he is supporting Fiz and Hope that he has lost sight of what really matters."
Do they buy each other Christmas presents?
Jennie: "No, and it is actually sad on Christmas Day that they don't bother. Fiz is a bit upset. Men out there, reading this – when we say we don't want anything, we don't actually mean it!"
Can you give us a taste of what the Weatherfield 'Lapland' will look like?
Jennie: "The first time we walked onto the set and saw what our brilliant design department had done was really magical. There's nothing I imagined being there that wasn't. There were lots of epic shots where I wasn't needed and I just stood back watching the scene, crying. Everyone will need a box of tissues handy, but in an uplifting 'It's a Wonderful Life' kind of way."
Alan: "It looks incredible – the design team blew us away. It even felt colder! We were all like big kids making snowballs and throwing them at each other even when the cameras stopped filming. There are 24 trees, Victorian lamp posts, and a sleigh with some very special reindeer! "
What can you tell us about Tyrone's proposal?
Jennie: "Fiz is totally caught off guard. Viewers will see that it doesn't happen exactly how Tyrone intends, but the way it ends up happening is magical.
Alan: "As proposals go, it is pretty special."
Would you like Fiz and Tyrone to get married? If so, what kind of a wedding would you like?
Jennie: "I would – and anything better than her last wedding in prison to John Stape would be an improvement! Fiz would love the girls as bridesmaids. I think sometimes she and Tyrone wish they didn't have the pasts that they've had, but if they didn't, they wouldn't have this lovely family with Ruby and Hope."
Alan: "I think it would be nice for them to get married and I know the fans like the idea of it. But who knows how Fiz is going to react when she finds out how much debt Tyrone is in. If they do get married, it's not going to be a grand affair!"
What is your all-time favourite Corrie Christmas episode?
Jennie: "When Cilla tried to cook the turkey on the sunbed. And over the years we've had some great fun at the Underworld Christmas parties. But it was lovely this year that we could give Maisie [who plays Ruby], Faith and Nicole [the twins who play Hope] a really special Christmas and get the real Father Christmas here – although it was probably a bit confusing for them that it happened in October!"
Alan: "I don't have a specific favourite, but I used to love filming the scenes around the dinner table with Jack and Vera. It was a real honour to work with those guys."
What are your own plans for Christmas?
Jennie: "We'll be at home. My partner Chris will be to-ing and fro-ing as he has the restaurant to run [the couple own Annies in Manchester], but we'll cram in lots of family visits and everyone will want to see our little boy, Albert. Last year, he was only a month old and he slept all the way through Christmas dinner. I'm expecting the total opposite this year, so it'll be slightly less relaxing, but probably more fun."
Alan: "Lucy [Alan's wife, actress Lucy-Jo Hudson] and I are doing the entertaining this year and we have both our families round – there's 12 on Christmas Day and 15 on Boxing Day, so a real traditional family Christmas."
What is the best Christmas present you have ever received, and what are you hoping for this year?
Jennie: "A Barbie boutique, when I was little. I always wanted a shop, and it had hangers, carrier bags, a till and changing rooms. What I also wanted and still have never got was an actual till. We have one at the restaurant but it's computerised, and I want a proper one with the receipt thingy. My dad made me one, but I had to do my own beeps."
Alan: "The best present I ever got was when I was about 7 or 8, and me and my brother got a child's size motorbike to share. We have always been obsessed with motorbikes and that was a complete surprise. This year, I wouldn't mind some new irons – I am a keen golfer."
Will you be watching Corrie on Christmas Day?
Jennie: "Of course, and now I know it's going to be a really magical one, I can watch it with everyone."
Alan: "I never watch the show when I'm in it – and I know I am in it a lot on Christmas Day. Lucy will probably watch it on catch-up, though, and let me know how it was!"
Get the latest updates, reviews and unmissable series to watch and more!
Thank you for signing up to Whattowatch. You will receive a verification email shortly.
There was a problem. Please refresh the page and try again.