Corrie's Kate Ford: 'It will be horrific for Tracy if she loses Rob AND Robert!'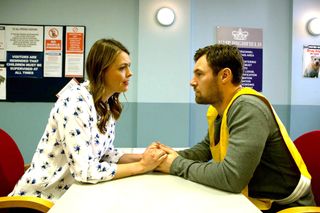 (Image credit: Joseph Scanlon)
Coronation Street's Tracy Barlow is falling for jailed killer Rob Donovan all over again, Kate Ford (opens in new tab) tells Soaplife… But he doesn't want her - he wants revenge!
What has it meant for Tracy to see Rob and hear him say that he still loves her?
"She thought it was over between them after she called the police on him for Tina's murder. So for Rob [Marc Baylis (opens in new tab)] to say he forgives her, misses her, loves her… it's like a weight's been lifted. When he then starts talking about a possible release date she's like, 'OMG! We could go back to what we had!'"
Meanwhile, Robert is planning on proposing…
"Tracy finds the ring when she's tidying up. She's shocked, but very thrilled. The excitement is partly to do with Tracy's ego, because it means Robert [Tristan Gemmill (opens in new tab)] must really love her."
But then there's Rob…
"Tracy's in real turmoil. She's thinking she can't accept any proposal from Robert until she knows whether Rob will be released. But then something happens which makes her think she should marry Robert after all."
And what's that?
"On Christmas Day, she overhears Amy [Elle Mulvaney] saying to Robert, 'Mum's a nicer person with you. I wish you could be my second dad'. So Tracy thinks she'd be a fool not to accept his proposal. She still can't forget Rob, though. He's always on her mind."
And does Robert propose?
"On Christmas night, they're in the Rovers and Tracy's been waiting all day for it. When Rob suggests they sit on their own, she thinks, 'This is it!' When he doesn't propose, she says, 'Come on – I've seen the ring!' Robert stands up and makes a speech, but he hardly comes out with what she's been expecting!"
Would Tracy be heartbroken to discover Rob's told Robert everything and he's deliberately set out to hurt her?
"Absolutely gutted. Rob has the potential to not only break her heart, but also ruin her chances of happiness with Robert."
How would Tracy feel if she lost Robert as a result?
"She'd be OK if she lost Robert and gained Rob. If she's honest, she'd prefer to be with Rob. While she cares for Robert, there was something very special with Rob that she's not had with anyone else and he's the love of her life. But it will be horrific for her if she ends up losing them both."
Coronation Street (opens in new tab), ITV.
Get the latest updates, reviews and unmissable series to watch and more!
Thank you for signing up to Whattowatch. You will receive a verification email shortly.
There was a problem. Please refresh the page and try again.