Corrie's Ryan Thomas: 'Jason blames Liz for his dad's death. He's nasty and malicious'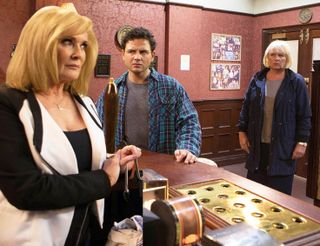 (Image credit: Joseph Scanlon)
Jason's devastated and lashes out when he hears his dad, Tony, has suddenly died in Coronation Street. Ryan Thomas reveals all to Soapllife…
How does Jason find out about his dad's death?
"Eileen [Sue Cleaver] tells him and he feels complete and utter shock, and disbelief. It comes completely out of the blue. It's not like Tony's been ill and they've been expecting it…"
How does he die?
"Heart attack. Tony's found by an old friend three days after he'd died. This really gets to Jason and he blames himself. Jason had stayed in touch with his dad, but he'd not seen him much. Tony [Terence Maynard] had asked him to meet up for a beer and he hadn't called him back, so that makes the guilt worse. Jason knows he hasn't made enough effort recently."
He blames Liz, too, though, doesn't he?
"He's very angry. It's nasty and malicious, but he decides to blame Liz [Beverley Callard] because, in Jason's mind, she drove Tony out of Weatherfield. Jason calls Liz names and he confronts her in the Rovers. It's irrational and unfair to blame her, but Jason's acting totally out of character."
How does Liz react?
"She takes it on the chin, feels Jason's pain and lets herself be the punchbag. She's a mum. She feels for him."
Then Jason turns on Aidan (Shayne Ward)…
"Yes. He's lashing out at everyone and anyone. Everyone's worried about Jason at the moment and they're treading on eggshells around him."
Does he get more violent as he grieves?
"He gets angrier and angrier, and he may find it hard to come back from this. Tony was an important person in Jason's life. He loved his dad dearly and he's missed him being around, but at least he was on the end of a phone. He always thought Tony would return to Weatherfield one day, but knowing that will never happen now is really hard for him to accept."
Is Phelan a father figure to him?
"Phelan's taken on Tony's role. Jason needs a father figure in his life, but he doesn't know the real Phelan [Connor McIntyre]."
So he doesn't suspect that Phelan's up to no good?
"No and he'd never believe what he's really up to. Everything Phelan's doing for Jason seems very positive. Phelan reminds Jason of Tony. He knows a lot of people and he's a bit of a ducker and diver. Jason's latching on to that – especially now - but it's not going to end well for him…"
Coronation Street, ITV.
Get the What to Watch Newsletter
The latest updates, reviews and unmissable series to watch and more!